Bridge repair at Kalighat, Baghajatin
Move aimed to help the structures bear more vehicular load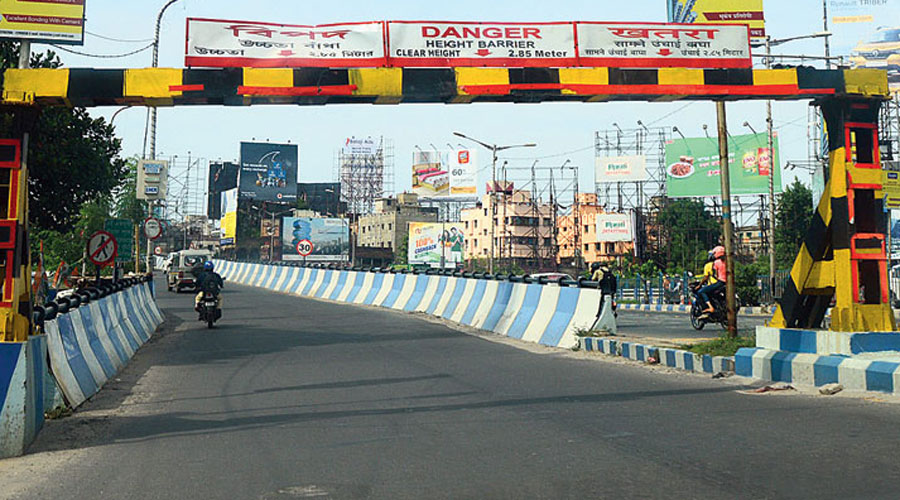 ---
|
Calcutta
|
Published 19.12.20, 01:23 AM
---
Two of Calcutta's bridges, one in Baghajatin and another in Kalighat, would undergo thorough repair that would help the structures bear more vehicular load, the urban development department has decided recently.
The concrete used for constructing the decks slabs of the Baghajatin bridge that stands over railway tracks on EM Bypass would be strengthened and its entire underbelly would be covered with a carbon-fibre wrap to reinforce the structure. Following this, steel props would be set up to hold the concrete deck slab of the bridge.
For the Kalighat bridge, special bonding agents would be used to fill up micro-cracks that have developed on the structure. A steel casing would be used around the structure like a jacket and the bridge will get an anti-corrosive paint. 
It would take close to a year for completing the task for each of these bridges and there would periodic traffic blocks to facilitate the repair works, officials said.
A government-appointed committee running a health check on bridges and flyovers had earlier flagged these two structures for their poor condition.
The committee had suggested immediate demolition of the 56-year-old Kalighat bridge and had said the rail-over-bridge in Baghajatin on EM Bypass should be gradually replaced with a new structure because of its condition.
During a recent review of the health of some of the bridges and flyovers across Calcutta, the urban development department opted for thorough overhauling of these two bridges instead of replacing them after structural engineers offered alternatives whereby the longevity of these two structures could be enhanced by at least five years.
A budgetary allocation of around Rs 45 crore has been made for the repair of the flyovers, which remain key links for parts of east and south Calcutta.
"Recent practices in repair of bridges and flyovers globally were studied and a set of recommendations has been drawn up about how these two structures would be repaired,"  said a senior official of the CMDA, the implementing agency of the overhaul. "The company that is awarded the contract for each will have to follow them to the T."
Built in 2002, the rail overbridge at Baghajatin near Highland Park on EM Bypass left engineers and structural experts shocked when in 2017 some chunks of concrete started peeling off. An inspection later revealed that the structure had been weakened.
The expert committee scanning the health of the Kalighat bridge had found acidic vapour from the waters of the Tolly's Nullah beneath the bridge has corroded parts of the underbelly.
The steel reinforcements of the bridge were heavily corroded and the superstructure was damaged in several parts.