Barriers to protect New Town bicycle track
The blockades made of reinforced plastic are bolted to the road surface and have been fixed at regular intervals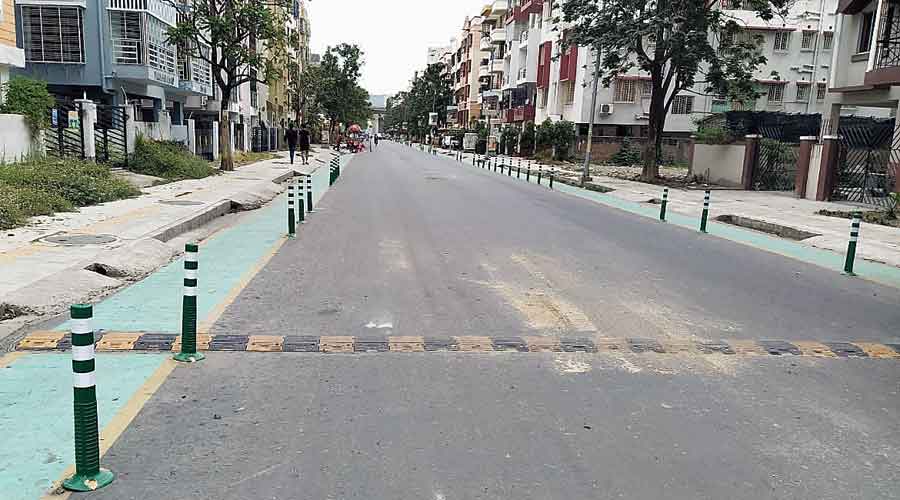 The barriers along the 300m stretch of the road that leads from Swapno Bhor to the Major Arterial Road intersection
Telegraph picture
---
New Town
|
Published 19.04.21, 01:37 AM
|
---
Barriers have been set up along bicycle lanes of a road in New Town to prevent dumping of construction materials and parking of vehicles.
The barriers made of reinforced plastic are bolted to the road surface and have been fixed at regular intervals along a 300m stretch of the road that leads from Swapno Bhor to the Major Arterial Road intersection near the Biswa Bangla Convention Centre in New Town's BE Block.
Hidco, which builds infrastructure in the township, had set up 17km of graded bicycle tracks in New Town. In some areas a bicycle track is a lane set aside for cyclists on pavements, while in other areas such tracks have been demarcated on roads with green paint.
According to a Hidco official the barriers are made out of tough reinforced plastic.
"These barriers can bend in case somebody crashes into them. We installed this type of barrier to ensure that no cyclist gets injured in an accident," the official said.
According to the official, a survey had been carried out to find out the problem places.
The first batch of barriers were fitted after the survey.
Metro had reported in March how these lanes had been rendered useless as motorists and two-wheeler riders would often park their vehicles on the tracks.
Sundeep Agarwal, who pedals for at least two hours in New Town every day, said the obstacles on the tracks were proving to be risky for cyclists.
"We cycle through the tracks because they are safer. Getting off the bicycle because of parked cars and dumped construction materials was painful. Now, at least near Swapno Bhor, things have improved," Agarwal said.
Ashis Bajaj, a resident of Sanjeeva Town in New Town, thanked the authorities for the barriers. "People parking or dumping construction materials on bicycle tracks is a problem and I am happy that the authorities have already taken proper measures to stop it," said Bajaj.
"It is great that the barriers have been placed but the awareness levels of people should be such that they don't park their vehicles or block the tracks in any way." said Lipika Biswas, an Eastern Railway employee who has cycled solo across Europe.
Debashis Sen, the chairman and managing director of Hidco, said they were determined to ensure that cyclists don't have any problems.
"The barriers are being put up in phases and will be out across all the cycle tracks," Sen said.
Institute of Neurosciences Kolkata observes its Foundation Day The Institute of Neurosciences Kolkata observed its Foundation Day on April 15, celebrating 12 years of service in healthcare. The institute has been working in research collaboration with Newcastle University and the University of Oxford for the last few years. An MoU was signed between the Institute of Neurosciences and Ramakrishna Mission Vivekananda Educational and Research Institute, Belur Math.
Present on the occasion was Swami Atmapriyananda,
pro-chancellor of Ramakrishna Mission Vivekananda Educational and Research Institute; Pramod Agarwal, chairman, Coal India Limited; Hrishikesh Kumar, the vice-chairman of the Institute of Neurosciences; AR Sonthalia, a member of the board of directors of the institute; and Avik Roy Choudhury, the CEO of the institute. RP Sengupta, the founding chairman and managing director of the Institute of Neurosciences Kolkata and Arjune Sen of the University of Oxford joined the celebrations online