Arch-rivals submit poll nomination on same day
TMC's Sujit Bose and his former party colleague Sabyasachi Dutta, who defected to the BJP, filed their paper to contest from Bidhannagar seat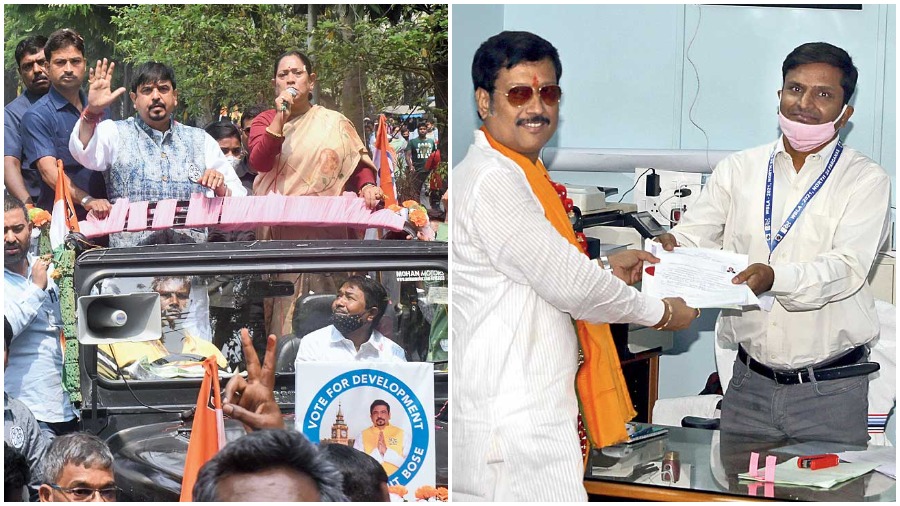 Trinamul Congress candidate Sujit Bose on his way to the Administrative Building at the head of a rally. (Right) Sabyasachi Dutta of BJP submits his nomination to returning officer Biswajit Panda on Wednesday.
Pictures by Mayukh Sengupta
---
Salt Lake
|
Published 26.03.21, 04:11 AM
|
---
Sujit Bose, the Trinamul Congress candidate, and his former party colleague and current rival Sabyasachi Dutta, who defected to the BJP, submitted their nomination paper to contest from the Bidhannagar seat of the state legislature on Wednesday.
Both made their way to the administrative building in DJ Block at the head of rallies of supporters.
Bose, a resident of Sreebhumi, arrived around 10.30am. His supporters were seen carrying balloons and posters of state government welfare schemes like Kanyasree, Khadyasree and Rupasree among others.
Clad in white punjabi kurta teamed with a light blue Nehru jacket, Bose, like previous years, took a small detour and placed a garland on the statue of Bidhan Chandra Roy, the founder of Salt Lake.
Many in the crowd tried to take selfies with him and cries of "Sujit Bose zindabad" rang out regularly.
Near the administrative building, a song composed on Bose played from a small stage erected outside the Udayachal Tourist Lodge.
Bose got into an open jeep and went up to the administrative building's first floor and submitted his nomination papers to returning officer Biswajit Panda at around 11am.
Most of his supporters waited near the small stage and many said that they had come from Duttabad, Sukantanagar, Chingrighata, Dum Dum Park, Sreebhumi, Nayapatty and Golaghata among others.
At noon, Bose got out of the building and headed towards the small stage where his supporters cheered him on and slogans were raised. Bose also gave a small speech where he thanked everyone who had come and asked them to disperse in an orderly fashion. "I am quite confident that I will be able to retain this seat. I have been focussing on development and worked with people. They will not turn their backs on me. Many people are bad-mouthing me and my party but even then the BJP does not stand a chance here," said Bose.
Soon after Bose's supporters cleared out, former mayor of the Bidhannagar Municipal Corporation, Sabyasachi Dutta arrived at the head of a rally that had started from CF Block near the swimming pool.
Apart from his wife Indrani, Dutta had with him former South Dum Dum Municipality councillor Mriganka Bhattacharya who has also joined the BJP recently.
Participants in the rally chanted the BJP's rallying cry Jai Shree Ram and Sabyasachi zindabad while walking to the administrative building.
Many supporters garlanded Dutta and some threw petals on him. Many rallyists carried balloons.
Dutta entered the administrative building at around 12.45pm and walked up to the first floor where he first headed to the conference hall opposite the returning officer's office. "I want to take rest for a few minutes before submitting the nomination," said Dutta. He was in campaign mode even inside the building, greeting officials with the promise that his party would revise their salary scale as per the Seventh Pay Commission if voted to power.
Dutta submitted his nomination papers to the returning officer at 1.15pm. "I had cleaned Salt Lake, freed its pavements of hawkers while I was the mayor. Sujit and the Trinamul Congress have not only let the hawkers back but they have created permanent settlements of dwellers near Rabindra Okakura Bhavan. People will not forget this and we are confident of winning," said Dutta.