Calcutta's hawker-free zone not free of hawkers
Beyond 50ft, violations were rampant — hardly two feet or even less was left for pedestrians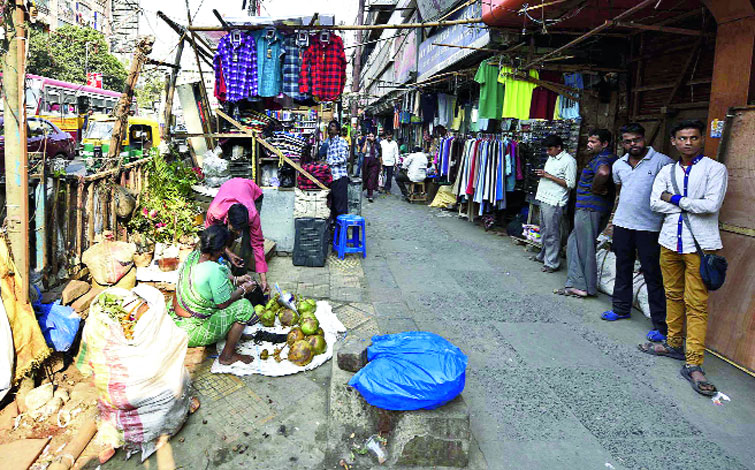 ---
|
Calcutta
|
Published 26.01.19, 11:57 AM
---
Hawkers asked to vacate their stalls within 50ft of the Gariahat junction have left behind their furniture to demarcate territory and new hawkers have moved in to take over empty slots created over the past two days.
A number of hawkers were spotted selling their wares within 50ft of the crossing on Friday.
Beyond 50ft, violations were rampant — hardly two feet or even less was left for pedestrians. At least two-thirds of the width of a pavement, which comes to around seven to eight feet, has to be kept free for pedestrians.
Mayor Firhad Hakim had on Tuesday announced that hawkers would not be allowed within 50ft of "main crossings" across the city and recommended a ban on the use of inflammable tarpaulin and plastic sheets.
The mayor made the announcement two days after a five-storey building at the Gariahat crossing, which houses sari shops Adi Dhakeswari Bastralaya and Traders Assembly, caught fire apparently from flames at a roadside stall.
Hawkers were removed from within 50ft of the Gariahat intersection on Thursday. Some of them returned on Friday, while the space left vacant by some others has been taken over by newcomers.
As for the mayor's recommendation for a ban on tarpaulin and plastic sheets, nothing much has changed on the ground. Such inflammable sheets were spotted at a number of pockets across the city on Friday. In some places they were replaced with bed sheets, which are as inflammable.
A number of hawkers who were seen plying their trade within 50ft of the Gariahat crossing on Friday told Metro that they had not removed their wooden platforms and shelves in the hope that they would set up shop once the heat died down.
"The union leaders have told us to wait for a few days before setting up shop again because the mayor is likely to visit the Gariahat junction. We hope to eventually continue like before. So, there is no point removing the platforms and shelves," said a man who sells cosmetics on the pavement.
"We have not told anyone that removing stalls from within 50ft of the intersection is a temporary measure," said Ajoy Dey, of the Gariahat Indira Hawkers' Union.
Around 40ft from the intersection, an elderly woman was selling green coconuts on the pavement along the Gariahat-bound road from Ruby hospital. She said she had occupied a spot vacated by a man who used to sell plants in earthen pots. The plant seller has left behind some of his items.
Sitting on a platform left by a table mat-seller on the opposite footpath, a man was weighing edible roots.
Beyond 50ft from the junction, bed sheets of various designs were tied with one another to form the rear of the stalls. "Are these bed sheets any less inflammable?" asked the owner of a hardware shop.
On the pavement along the Kalighat-bound flank of Rashbehari Avenue, opposite the fire-ravaged building, there were three rows of stalls across the footpath.