City rings in New Year with toxic air
The state pollution control board blamed the spurt in Calcutta's air pollution on a combination of chill and cloud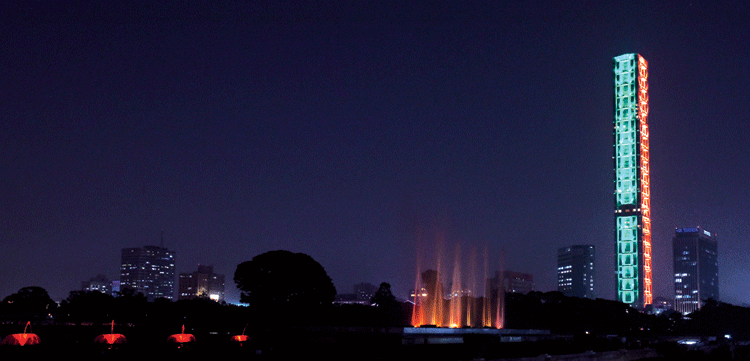 ---
|
Calcutta
|
Published 31.12.19, 08:08 PM
---
The city's air quality varied between "very poor" and "severe" around midnight on December 30, raising concern that January 2020 would be highly polluted.
The state pollution control board blamed the spurt in the city's air pollution on a combination of chill and cloud.
Just after midnight on Tuesday (December 31), five out of the six automatic air pollution measuring stations in the city showed an air quality index (AQI) of 350 to 407 around midnight on December 30.
The station on the Rabindra Bharati University campus on BT Road, which was down between Monday midnight and 11am on Tuesday, recorded an AQI of 322 around noon on the last day of the year.
An AQI of 301 to 400 means the air quality is "very poor" and prolonged exposure to such air can trigger respiratory illness. An AQI of 401 to 500 is indicative of air of "severe" quality, which can "affect healthy people and seriously impact those with existing diseases".
"A combination of cloud cover and low wind speed has resulted in stagnation and magnification of pollution. Moreover, the chill has led to inversion of the pollutant profile, which means the particulates are staying close to the surface," said Kalyan Rudra, the chairman of the state pollution control board.
"Yesterday, we had a persistent cloud cover and the wind speed was 4 to 5kmph," G.K. Das, the director of India Meteorological Department, Calcutta, said on Tuesday.
The Central Pollution Control Board data shows that PM2.5 is the most dominant particulate matter in the city's air. PM2.5 — so called
because such particulates have a diameter of less than 2.5 micrometre — is also the most toxic of all air pollutants.
At a recent meeting in Delhi organised by the Centre for Science and Environment (CSE), a think tank, environment scientists said Calcutta's air was more toxic than Delhi's because of higher concentration of PM2.5.
The experts demonstrated that Calcutta needed to almost halve its PM2.5 content in the air to reach the nationally permissible level.
"Though Delhi's overall pollution load remains high, PM2.5 comprises 45 per cent of the total respirable particulate load. It was much higher a few years ago. Which means the toxicity of Delhi's air has gone down," said Gufran Beig, the project director of SAFAR (System of Air Quality and Weather Forecasting and Research), a centre of the Indian Institute of Tropical Meteorology, which functions under the ministry of earth science.
"Calcutta's air is definitely more toxic than Delhi if it has a higher proportion of PM2.5 compared with Delhi."
According to data accessed by Metro, Calcutta's average respirable particulate load was found to be 124.44 microgram per cubic metre. The PM2.5 was measured at 73.57 microgram per cubic metre, or 60 per cent of the total mix.
PM2.5, being ultrafine, can enter the deepest crevices of the lungs and trigger many respiratory diseases, including cancer.
The other particulate matter (PM10), though harmful, is not as lethal as PM2.5.
"Various toxic and often carcinogenic chemicals enter our respiratory system piggybacking on PM2.5," said Anumita Roy Choudhury of the CSE. The problem, she said, gets magnified in Calcutta because of its compact nature.
"Apart from diesel combustion, which is high in Calcutta, burning of coal and other fuel and solid waste is pushing up the PM2.5 level in the city. In 2020, Calcutta should adopt a strategy to minimise combustion of fuel to counter the trend," Roy Choudhury said.
Environment activist S.M. Ghosh pointed out that more than 95 per cent of all commercial vehicles ply on diesel in Calcutta.
"The city needs to follow in the footsteps of Delhi and adopt the environment-friendly CNG (compressed natural gas) if it wants to combat air pollution. Unfortunately, the state and central governments have been dilly-dallying on the issue over the past two decades," said environment activist Subhas Datta.
Environmentalists point out that apart from replacing diesel with CNG, the city has to cut burning of coal in industrial units and the pollution caused by construction.