Calcutta paintings of native birds exceed price hope
Al-Din works at Sweden auction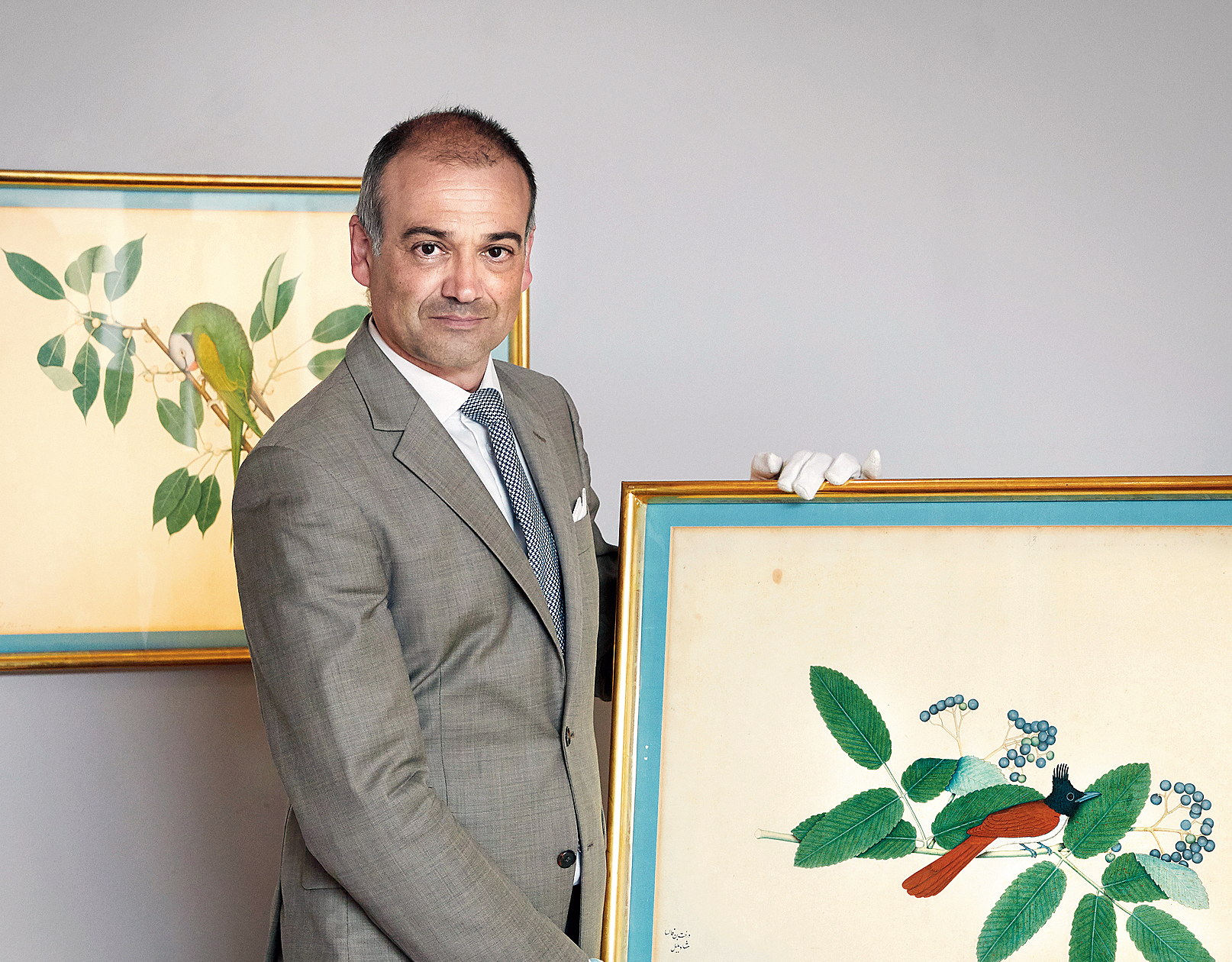 An official shows one of the two paintings during the auction in Stockholm
(Stockholm Auction House)
---
Calcutta
|
Published 23.06.19, 09:37 PM
|
---
Two 18th century Calcutta paintings of native birds fetched higher than estimated prices at an auction in Sweden's Stockholm.
The first painting, titled Darakht ban falsa, Shah Bulbul, sold for 5,20,000 Swedish Krona (Rs 38.02 lakh). The second one, titled Madna Tota, Darakht Pakar, fetched 12,50,000 Swedish Krona (Rs 91.32 lakh).
The base price for both at the June 12 auction was 500,000 Swedish Krona (Rs 36 lakh).
"We are exceedingly satisfied with the outcome of the auction," said a spokesperson for the Stockholms Auktionsverk (Stockholm Auction House), where the two pictures went under the hammer.
The pictures, watercolour and pencil-on-paper, were painted by Zayn al-Din, a pioneer of the Company School of Art. The paintings were commissioned by Mary Impey (March 2, 1749-February 20, 1818), an English natural historian and patron of arts in Bengal.
Her husband, Elijah Impey, was the first chief justice of the Supreme Court at Calcutta.
"The purchaser of the first painting wishes to remain anonymous. The purchaser of the second picture is Grosvenor Gallery in London, which acquired the work on behalf of a museum," the spokesperson for Stockholms Auktionsverk said.
"The work is truly spectacular, and it brings us joy to know that one of the paintings will be placed in a museum so that the public will be able to enjoy it in the future."
Registration of prospective bidders continued for several days. On June 12, the auction started at 7pm local time. Since all the potential buyers were based outside Sweden, the bidding was online and telephonic.
"The price fetched by the second painting is under the world auction record for Shaikh Zayn Al-Din. At Bonhams in New York in March 2018, a painting by the same artist fetched Rs 1.19 crore," said Victoria Svederberg Bojsen, a specialist in classic and modern art at the Stockholms Auktionsverk.
The artworks from the Impey Album rarely reach the international market and the few that did were sold at Christies, Sothebys and Bonhams.
The collection of paintings commissioned by Mary Impey, which came to be known as the Impey Album, was dispersed at an auction in London in 1810.
Several pieces are in museums, including the Metropolitan Museum of Art in New York, Victoria and Albert Museum in London and the Radcliffe Science Library of the University of Oxford.