CMC's safety plea for Tallah bridge
PWD have been requested to ensure that the broken pieces of concrete don't fall on the road below and damage water pipes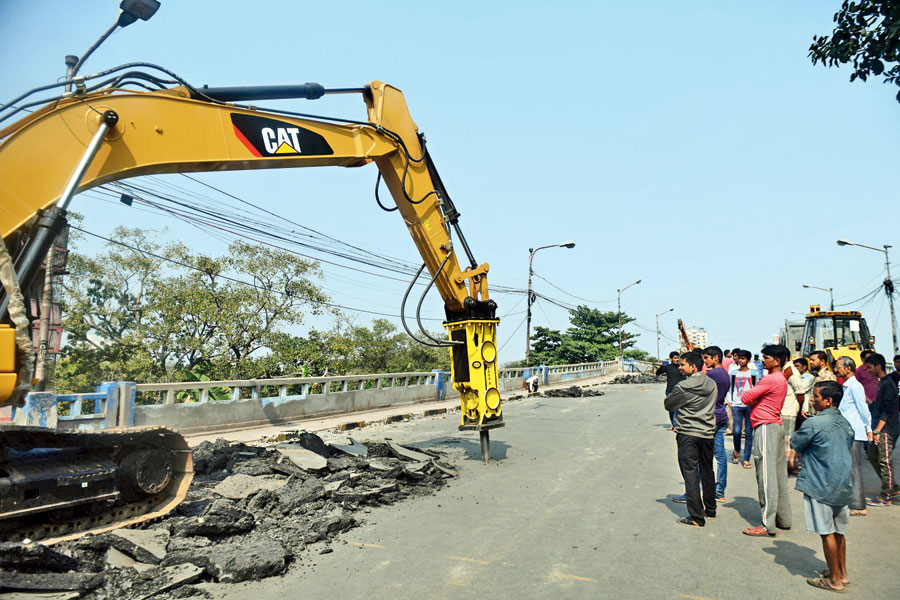 ---
|
Calcutta
|
Published 02.02.20, 07:12 PM
---
The Calcutta Municipal Corporation has asked the public works department to take some safety measures while dismantling the Tallah bridge to prevent damage to water pipes, sources said.
On its part, the civic body plans to put up shields for the pipes.
Thirteen pipes that carry water from the Tallah tank to different parts of Calcutta are located under the road below the bridge.
"The Tallah tank supplies more than half the water Calcutta needs. Any damage to any of the pipes will have very serious consequences," a CMC engineer said.
CMC engineers have requested their colleagues in the PWD to ensure that the broken pieces of concrete do not fall on the road below. The water pipes might rupture under the impact of the concrete chunks hitting the road.
The PWD has also been requested to conduct trial drilling on the road to ascertain the exact location of the pipes.
"We have urged the PWD to put up some kind of net or install other mechanisms so concrete chunks do not fall directly on the road. The huge concrete pieces falling on the road may damage the water pipes under the surface," said a CMC official.
"We have also asked them to alert us whenever they spot any water pipe while digging the road for laying foundation of the new bridge. We will take necessary measures to prevent damage to the pipes," said the official.

An engineer explained that one of the measures the CMC can take was inserting vertical iron sheets next to the water pipes. The sheets will be put in place before the foundation of a pier is laid so that the pipes are not damaged under the impact of digging the soil.
The CMC produces 440 million gallons of potable water every day. A little over half the volume is routed through the Tallah tank, which was inaugurated in 1909.
The demolition of the Tallah bridge started on Saturday, hours after it was closed to traffic. CMC engineers said the PWD had told them that the demolition would take about three months.
On Sunday, large drilling machines were used to scoop out the bitumen layer off the road from the Shyambazar-end of the bridge. Payloaders and trucks were deployed to remove the debris.
Once the bitumen layer is scraped off, the concrete deck slab will be cut into pieces, a PWD engineer present at the site said.
The CMC has decided to station three engineers at the site round-the-clock till the demolition is complete. "They can be contacted during any emergency. If the matter is very important, the engineers will alert senior engineers and officials," a CMC official said.