CMC awaits awareness on plastics
No order from government against single-use bags: civic body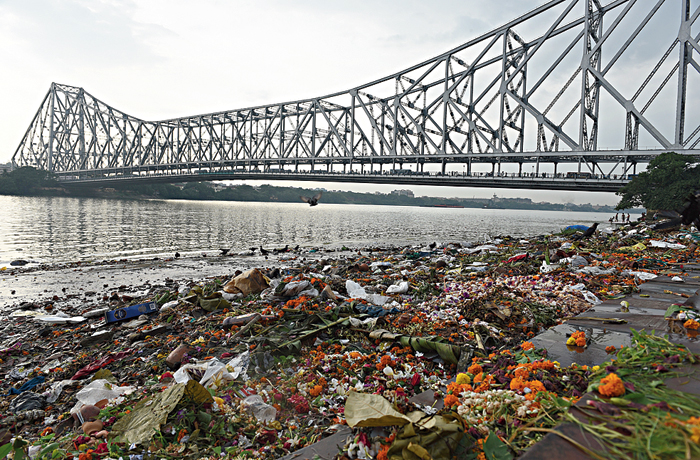 ---
|
Calcutta
|
Published 02.10.19, 01:02 AM
---
The fish-seller routinely hands out the thin, single-use plastic carrier bag and the buyer happily takes it home and dumps it somewhere.
Such bags clog the city's drains and they are non- biodegradable.
Several states have pledged to stop the use of single-use plastic items (less than 50 micron in thickness) from Wednesday but the Calcutta Municipal Corporation "would not do anything drastic so quickly".
Swapan Samaddar, the mayoral council member in charge of environment at the CMC, said the measure could be implemented only when there was enough awareness among people.
"We have been talking about moving away from use of single-use plastics for a couple of years. We have also undertaken awareness campaign. But there is no order from the state government to immediately stop the use of single-use plastic products. Unless we receive any order from the government, we are not going to force anything on people," he said.
Officials in the environment department as well as the state pollution control board said no order had been issued to stop selling products in thin plastic carrier bags.
Traders in several markets in Calcutta said they had heard about stopping the use of single-use plastic bags but the CMC had not issued any formal notice to them. "We are clueless about what to do. Many people are saying any seller caught handing out single-use plastic bags will be fined. But we haven't received any notice from the CMC," said Debu Das, a fish-seller at Lake market.
Officials at the Delhi-based Centre for Science and Environment (CSE) said the Union government was yet to issue any order on stopping the use of single-use plastics completely. "I think people are misunderstanding it. The Centre has not said anywhere that they are going to stop the use of single-use plastic products immediately," said a CSE official.
Waste management specialists said that rather than focussing on a complete bar on single-use plastic bags, the government should try and build an infrastructure for scientific waste management so that no plastic goes to the dumping sites or rivers.
"There is no denying that plastic products serve a lot of purpose and there is hardly any alternative to plastic. We need to start an effective waste management to ensure plastic is not dumped but keeps getting recycled," said Brajesh Dubey, who teaches environmental engineering at IIT Kharagpur.
Dubey said the focus was more on single-use plastics that are less than 50 micron in thickness. "This is because the single-use plastics remain air-borne, flow into the water and clog drains. Their recycle market value is very less," he said.
What attracts traders to single-use plastics is their cheap price. "A pack of 25 52-micron carrier bags costs Rs 57, whereas a pack of 50 single-use plastic bags costs Rs 42," said a trader.
"Most small-scale retailers, like the ones selling vegetable, fish or chicken still use the single use ones, where the wealthier retail chains have started to use thicker plastics," said Ramesh Rateria, the president of Indian Plastics Federation.