Doctors in the city marched on Friday to demand the immediate release of Kafeel Khan, the doctor credited with saving scores of babies in a Uttar Pradesh hospital.
Khan is now in jail for his speech on the Citizenship (Amendment) Act at Aligarh Muslim University in December.
The doctors assembled in front of the NRS Medical College and Hospital and marched along APC Road to show their solidarity with the doctor, who was arrested by UP Special Task Force officers in Mumbai on January 29.
Khan has been booked under the National Security Act. Protesting doctors on Friday said the turn of events proved that the Centre was opposed to free speech but okay with hate speeches delivered by "the BJP's poster boys like Kapil Mishra and Anurag Thakur".
"Kapil Mishra and Union minister Anurag Thakur, whose hate speeches triggered the riots in Delhi, should be in jail. But in Modi's regime those who give hate speeches are celebrated," Suhina Celosia, a second-year student at the Calcutta Medical College and Hospital, said. "Kafeel Khan, who simply exercised his right to free speech to alert students about the dangers of the amended citizenship act, languishes in jail."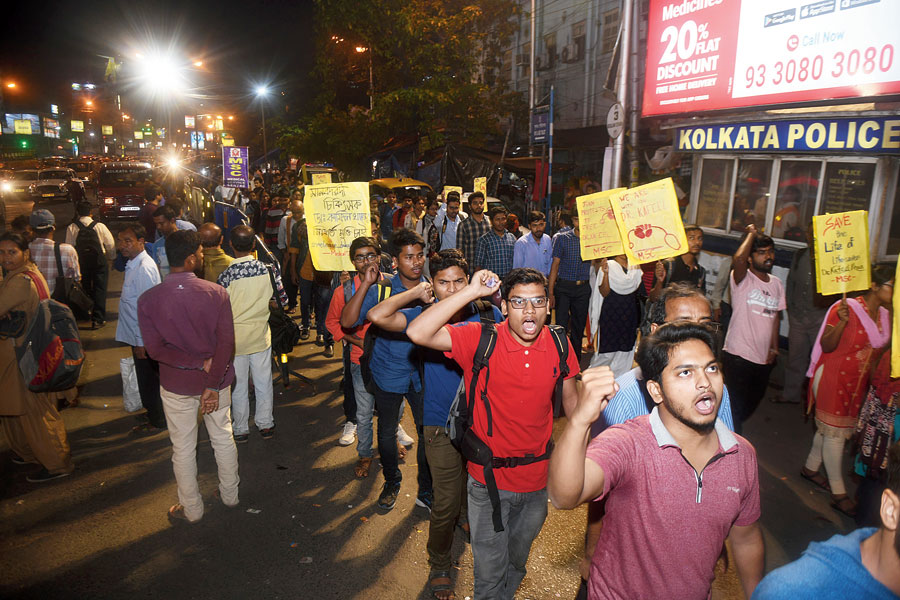 The rally
Celosia was walking with Mahima Khan, a doctor at Dr R. Ahmed Dental College and Hospital.
Mahima Khan said it was unfortunate that Shabista Khan, Kafeel Khan's wife and also a doctor, had to appeal to the people for his release. "How can you jail someone for his speech against a divisive act? His wife has said he hasn't been given food for several days. As a doctor, I feel ashamed to think that a doctor known for his benevolence is being ill-treated."
How can the government forget that Kafeel Khan had arranged multiple cylinders from another hospital to save children at Baba Raghav Das Medical College in Gorakhpur in 2017? she asked.
The Uttar Pradesh government had held Khan and eight others responsible for the death of at least 60 infants over five days. He was absolved after an investigation into the matter found the agency that provided oxygen had stopped supply over non-payment of dues. Khan was lauded for saving the kids.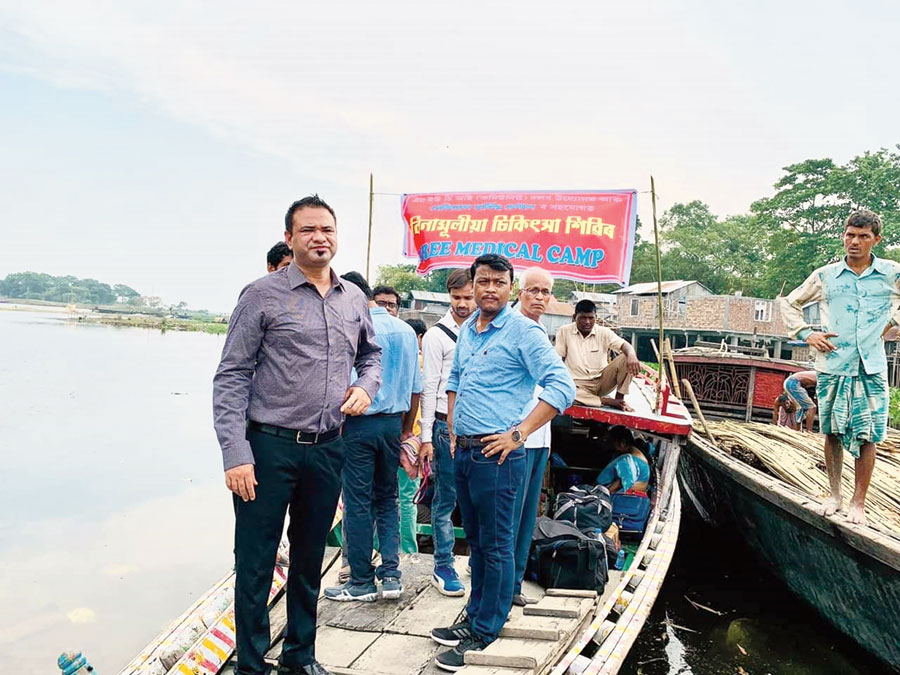 Kafeel Khan during a visit to the flood-hit areas of Assam last year. A doctor from Calcutta Heart Research Clinic, who was present in Assam during the relief drive with Khan, shared the photograph. He was present at Friday's rally
The doctors had assembled under the banner of Medical Service Centre. Kafeel Khan had worked with representatives of the centre during the floods in Assam last year.
Chandan Kumar Sheet, a pulmonologist at Calcutta Heart Clinic and Hospital, who had worked with Khan during the floods, was among those who marched on Friday.
"He had come on behalf of Smile Foundation. We had gone to several islands that were devastated by the floods. I still cannot believe that a person of his stature is locked in jail," Sheet said.
Khan was in Calcutta last July for the screening of a film on his life and the tragedy at Baba Raghav Das Medical College. After the screening, he had delivered a lecture on Public Health in Crisis.
"It has been nearly two years since I have been suspended. I have been without any income. I have not done anything wrong. I should be able to earn for my family," he had told Metro then.
Aniruddha Maity, an intern at the Calcutta National Medical College and Hospital, said: "Kafeel Khan's arrest is a blatant attempt to silence the voice of dissent. The message is clear. If you speak against the amended citizenship act, your voice will be gagged. The fact that he had gone to AMU had infuriated the government as campuses have given them the maximum trouble."
Several doctors were out on the streets, demanding the immediate release of Kafeel Khan. The Telegraph spoke to some of them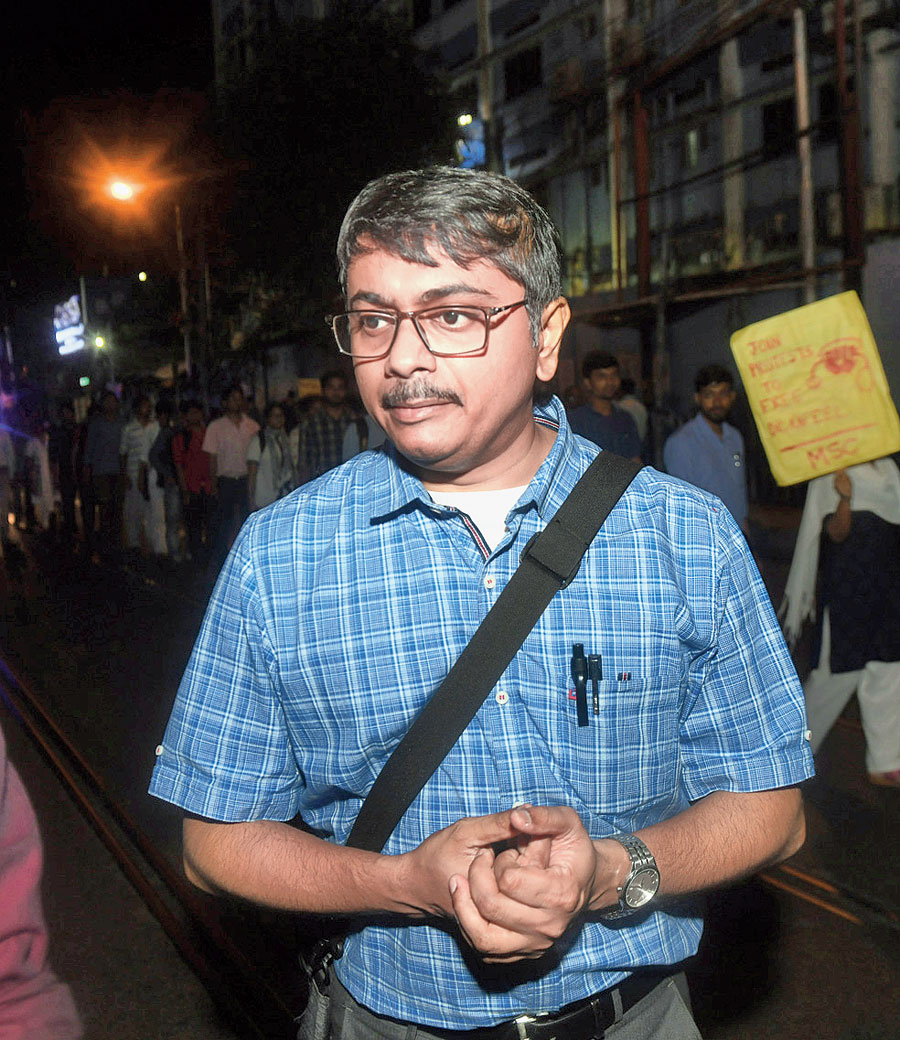 Subhankar Chatterjee, a doctor at Calcutta Heart Clinic and Hospital
How can a man be harassed like this? He has been arrested for his speech on the amended citizenship act. Then, when he was about to be released on bail, charges under the stringent National Security Act were slapped on him. In Narendra Modi's tenure, those who say 'goli maaro… (shoot them)' in full public glare are provided with special security. But a doctor who stands by others is thrown into jail.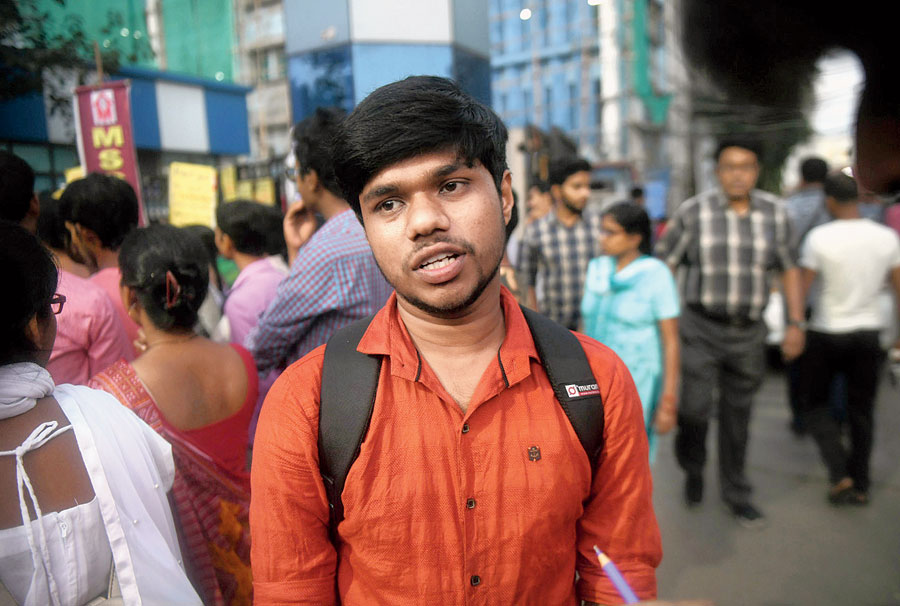 Anindya Mandal, a fourth-year student at NRS Medical College and Hospital
When several children had died at Gorakhpur's Baba Raghav Das Medical College in June last year, Kafeel Khan had offered his help. He did this despite knowing how the Yogi Adityanath government had hounded him in 2017 for what he did in the same hospital. But they did not reciprocate his benevolence. Instead, they have again thrown him into jail.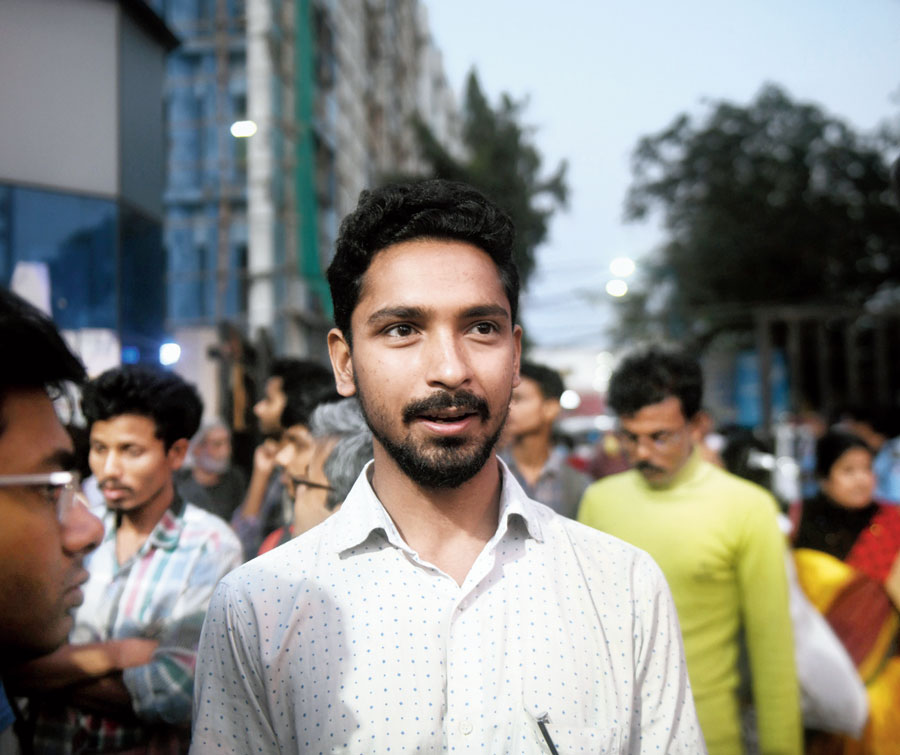 Syed Humayun Kabir, house staff at Dr R Ahmed Dental College and Hospital
The arrest of Kafeel Khan proves that anybody can be arrested any day if he dares to differ with the government on the amended citizenship act. So, this means those of us who are protesting the black law can be arrested any day. We have to fight this draconian approach of the government by resorting to peaceful protests.