Calcutta airport struggles to plug aerobridge leaks
There are 18 aerobridges at the airport; of which at least seven have leaking roofs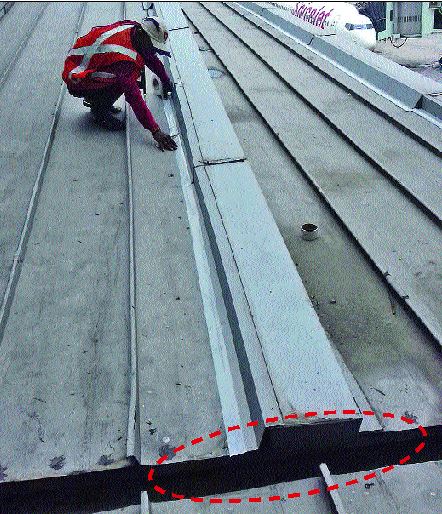 ---
|
Calcutta
|
Published 02.10.19, 10:56 PM
---
Calcutta airport's aerobridges leak whenever there is a heavy spell of rain and authorities have blamed faulty design and construction.
The terminal had a problem of water leaking from various places. The problem has reduced following repairs but rainwater seeping into aerobridges continues, an airport official said.
There are 18 aerobridges at the airport; of which at least seven have leaking roofs.
Among the technical flaws that have been detected are too many sharp curves in the fixed arms of the aerobridges and flat roofs that don't allow for smooth drainage of rainwater, the official said.
"We have undertaken repair work on the roofs of the aerobridges and most have been fixed," airport director Kaushik Bhattacharya said.
"There are a few, though, that cannot be fixed because of a flaw in the design. We plan to change the design and we have referred the matter to a design consultant. They will come up with an alternative," Bhattacharya said.
Metro spoke to airport engineers to find out the technical defects.
Additional curve
The telescopic arm of an aerobridge, the portion built by the airport authorities, which is fitted to the terminal building, has three curves. Each arm is 100 to 150 feet long.
"Usually, the telescopic arms have two curves. But here there are three," an airport engineer said.
Each curve slows down the flow of water on the roof of an aerobridge. "The more the number of curves, the more is the water retention time on the roof," the engineer said.
There is a joint at each curve where a drain has been created to allow the water to flow out, the engineer said.
"But some amount of water in each such joint stays back and it takes time to drain the water out. This causes additional pressure on the sealant that is used to seal the joints," the engineer said.
Sealant is a material used to make a joint air and watertight.
According to the engineer, the sealant often fails to hold a joint resulting in water leakage. Every time this happens, workers are sent on the roof to apply fresh sealant, he said.
Nowadays, various chemicals are being used to strengthen a sealant, the engineer said.
Flat roof
The third arm has almost a flat roof, the engineer said.
"Water often flows from the first two arms and accumulates on the third... and because it is flat, water doesn't flow smoothly," he said. This often creates more pressure on the joints and result in leakage.
"In some private airports in the country, there are additional covers on an aerobridge to prevent such leakage," an airport official said. "But at the government-run Calcutta airport, no such provision has been made."