Calcutta: 10 houses develop cracks in Bowbazar during Metro work
Residents of these houses were being shifted to nearby hotels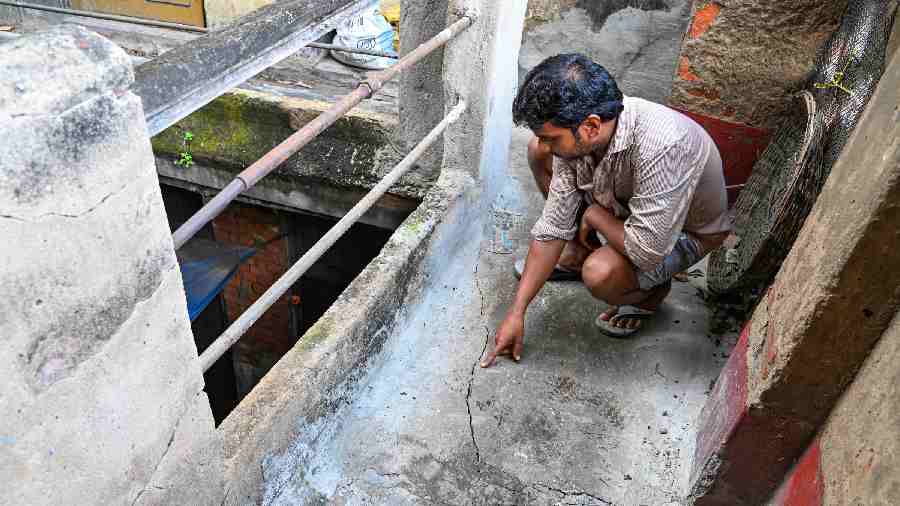 A resident shows the crack appeared at his house owing to some water seepage during work in the East-West Metro tunnel, at Bowbazar area in Calcutta
PTI image
---
Calcutta
|
Published 14.10.22, 10:58 AM
|
---
At least 10 houses developed cracks on Friday morning in the Bowbazar area here following water seepage during work in the East-West Metro tunnel, a senior official said.
"Residents of these houses located at Madan Dutta Lane were being shifted to nearby hotels, Calcutta Metro Rail Corporation (KMRC) general manager, administration," AK Nandy said, reports PTI. 
"Ten houses have developed cracks owing to some water seepage during work in the tunnel," he said.
Nandy said efforts were on to arrest the seepage.
Buildings in the bowbazar area in central Calcutta developed cracks twice earlier during tunnelling work, leading to delay in completion of the the East West metro project.
KMRC is the executing agency for the East West metro project.
Earlier it was reported in The Telegraph, the tunneling work for the East-West Metro project, will resume in Bowbazar within a fortnight, after a gap of over four months. 
In May KMRC had suspended the work of constructing an underground tunnel in Bowbazar in the wake of a fresh round of subsidence on Durga Pituri Lane following leakage of underground water.
The subsidence had resulted in cracks appearing in at least nine buildings on Durga Pituri Lane in Bowbazar, leaving 160 people displaced for the second time in less than three years.
"We will start the work of grouting the underground soil in Bowbazar within a fortnight," N.C. Karmali, director (project) of KMRC told The Telegraph on Thursday.
"After observing the effectiveness of the grouting process we will start planning the removal of concrete that was laid to plug the water leakage in Bowbazar."
Senior KMRC engineers said the act of grouting the underground soil would be carried out under supervision of experts in a step-by-step process, which would include drilling a hole through the concrete mass that has been laid, and the mixture, pumped into the soil under high pressure.
"The whole idea of this grouting is to make the lower base of the tunnel impervious to water so that there is no water inside the shaft. It will take around one and a half months. It is a complex process since one doesn't get to see what's happening underground," said a senior KMRC official.
There are two tunnels of the East-West metro and officials said the grouting work in Bowbazar would be aimed at strengthening the underground soil of the west-bound tunnel. Trains at Sealdah are now running on the eastbound tunnel.Engineers said the work of grouting underground would be followed by the more challenging task of removing the concrete that was poured to stop water leakage underneath Durga Pituri Lane.
"We will have to remove around three metres thick layer of concrete from underground after the grouting work is successfully done. The entire area of leakage was completely sealed with concrete to outlast this monsoon season and avoid further subsidence in the area," the official said.