CAA protest a movement of solidarity: Social activist Harsh Mander
Harsh was in the city to attend a conference on citizenship laws at the National University of Juridical Sciences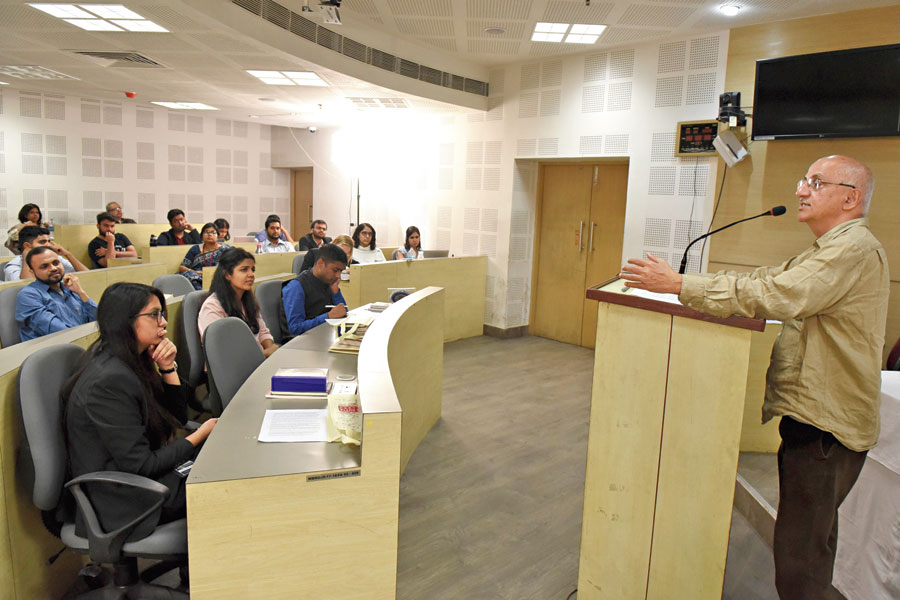 ---
Calcutta
|
Published 22.02.20, 08:34 PM
|
---
When the young woman in Bangalore was saying "Pakistan zindabad" she was also saying "Hindustan zindabad", social activist Harsh Mander said in the city on Saturday.
"I think the young woman in Bangalore when she was saying 'Pakistan zindabad', she was saying 'Hindustan zindabad aur Pakistan bhi zindabad'. And I say that very very strongly here and the cameras are recording. Yes, Pakistan zindabad. Why should I want harm to come to the people of Pakistan? China bhi zindabad. Sab zindabad. That's my love for my country," he said.
Mander was addressing students and teachers at the National University of Juridical Sciences on Saturday evening at a conference on citizenship laws in India. Mander asked the group what loving one's country meant and what it entailed?
"Does loving your country entail you to hate other countries? Does loving your religion entails that you hate people of other religions? Does loving the cow entail that you lynch other people?" asked Mander while delivering the keynote address on Who Belongs and on What Terms: Contestations around Citizenship.
The two-day conference on "Statelessness and the Right to have Rights" has been organised by the Legal Aid Society, WB National University of Juridical Sciences in association with Cornell Law School Human Rights Clinic.
Mander spoke about what seemed to be a "long dark journey into the night" and "an explosion of light" all around "through the protests".
"And I don't think that it will be fair to call them protests any longer. It is a movement," he said.
The first success of this movement is that it has been a movement of solidarity and compared it to Gandhiji's fast in January 1948, two weeks before he was assassinated.
"It has been a movement of solidarity, of Hindu Muslim unity, of Hindu Muslim, Sikh Isai, atheist everybody coming together and there are examples of this everywhere. If you look back in our history when was the last time that we can recall when people came out on the streets in tens of thousands in support of the idea of Hindu-Muslim unity?" he asked.
"It last happened in January 1948 after Mahatma Gandhi's last fast, two weeks before he was assassinated. It's a moment I think we should all remember. To my mind it was morally, probably, the highest point of our entire fabric of freedom. Because our struggle for freedom was not just against British colonialism but also for the kind of country we would build…."
Mander said this was at a time when a million people had died in Hindu-Muslim riots, another country had been formed based on religion, millions, including his family had been displaced from their homes, trainloads of corpses moved in every direction. "It would have been very easy for Gandhiji, for Nehru, for our leaders at that time to say Pakistan is a Muslim country. India will be a Hindu country," he said.
Mander said that at that moment in the Constituent Assembly Jawaharlal Nehru was asked who would India belong to and who qualified to be an Indian.
"His reply was India will belong to all who choose to make this their home. No other qualifications. And yet the hatred had reached a kind of climax pitch…. At the time when the country was celebrating freedom, Mahatma Gandhi was in Calcutta in this very city. He undertook a 40-day fast to end one of the worst communal conflicts that were going on and people tell the stories of those 40 days; how day by day by day the hatred started coming down… he alone managed to bring this city to what it has become and what we fear we might lose in the coming months and years."
Mander spoke of strengthening Hindu-Muslim unity. He said the Citizenship (Amendment) Act or "this battle" would not be resolved in Parliament or the Supreme Court but "in the hearts of the people".
"It's going to be resolved by we, the people of India on the streets.... It's going to be resolved in our hearts. Have we allowed hate to colonise our hearts? If so, the law will happen, more laws will happen. Resistance will be weak. India will change. Therefore I think this is a battle that each one of us have to engage in... in our hearts."
In the second term of the government, the project was to move from "a de facto second class citizenship for Indian Muslims and the de facto Hindu rashtra into a de jure Hindu rashtra by changing the law and Constitution".
It is at a time when unemployment is at a 45-year high, farmer distress is pushed to the ceilings and "crony capitalism has reached new heights", he said.
"…. If you get an even more expanded enhanced mandate then he (Modi) clearly saw it as a mandate from the Indian Hindu to implement the Hindu rashtra. Their time has come. It's a battle they have been fighting for 100 years. And they are extremely devoted…."