Buxa Tiger Reserve villagers protest 'assault' by forester
Demonstrators, many with Trinamul flags, demanded stringent steps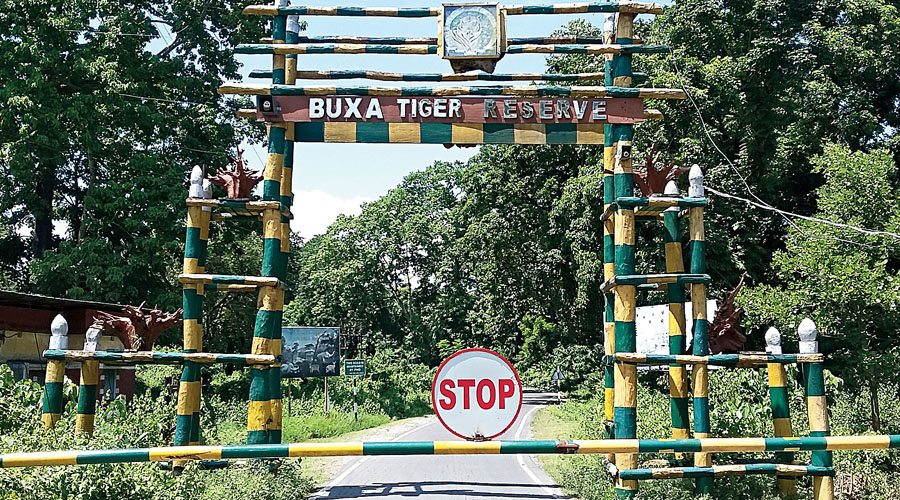 ---
---
Residents of many forest villages of the Buxa Tiger Reserve (BTR) resorted to protests and locked up at least six range offices of the forest department on Monday after a villager was allegedly assaulted by some foresters.
Demonstrators, many with Trinamul flags, demanded stringent steps against foresters who had on Saturday afternoon allegedly beaten up the villager after accusing him of "illegal activities".
Sources said Dhiren Rava, a 55-year-old resident of Gadadhar forest village, along with others had gone to the Cheko stream for fishing. Foresters patrolling the area intercepted Dhiren, a former Trinamul member of Rajabhatkhawa village panchayat, and allegedly beat him up. Others with him did not dare stop the armed foresters, sources said. Later, foresters left Dhiren at his home, but he had to be taken to a private nursing home in Alipurduar. He is still admitted there.
As the news spread, hundreds of villagers, many with Trinamul flags, on Monday marched to forest range offices of Jainti, Santalabari, Damanpur east and west, Gadadhar and Rajabhatkhawa, and locked them up.
Banikanta Marak, chairman of the panchayat level committee of Trinamul in Rajabhatkhawa, said villagers were routinely harassed and assaulted by some forest staff without concrete reasons. "We fail to see what wrong a villager has done by fishing in a local stream. Those who beat up Dhiren should face legal steps," he said, adding that the range offices would stay shut till senior forest officials sat with them for talks.
Asked about the protests under the banner of the ruling party of the state, BTR field director Subhankar Sengupta said: "We do not have any such information."