Bullets puncture girl's dream B'Day gift of bicycle from father
On Friday, Shyamal had called her up to wish her and promised her a new presentation when he came home on leave, tentatively in February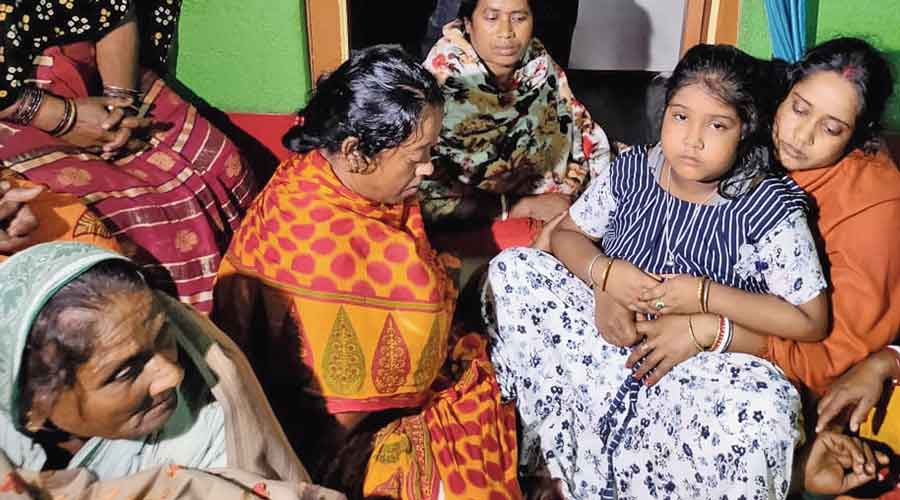 Shyamal Das's family in Khargram, Murshidabad, mourn his death.
Photo Samim Aktar
---
Bolpur(Birbhum)
|
Published 15.11.21, 01:39 AM
|
---
Ten-year-old Diya Das, who celebrated her birthday two days ago, curled up against her mother Suparna's lap on Sunday morning, trying to figure out the hubbub inside their modest home in Murshidabad's Kirtipur. 
On Friday, her father Shyamal had called her up to wish her on her birthday and had promised her a new bicycle when he came home on leave next time, tentatively in February.
Less than a day later, Shyamal, 32, was among seven persons gunned down in Manipur's Imphal during a joint ambush launched by the People's Liberation Army and the Manipur Naga People's Front against a convoy of the Assam Rifles paramilitary force. 
One of the victims, the son of late Col Viplav Tripathi, was younger than Diya.
"I don't know what to tell.her. She doesn't seem to understand that her father will not be coming home... She is asking me who will get her a bicycle," said Suparna, 28, Shyamal's wife.
Shyamal was a constable of the Assam Rifles who joined the force in 2009 and had been serving as Col Tripathi's driver and guard. He was at the wheel when the rain of bullets claimed the lives of the colonel's family and four paramilitary personnel, including Shyamal, on Saturday morning.
Suparna said that she answered the phone around 8pm on Saturday to hear an unknown voice asking in Hindi for Shyamal's father.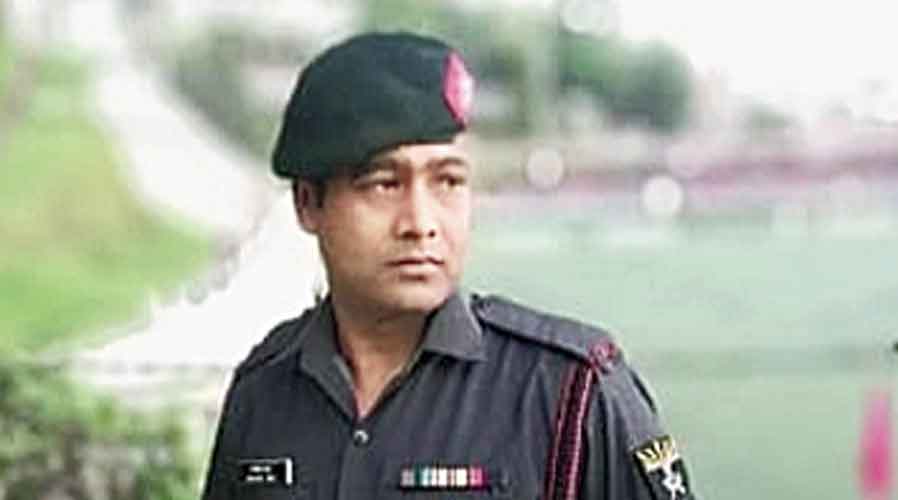 "Shyamal's parents are ailing for years. And they can't understand Hindi. So I was informed of the ambush. Then we turned on the news," said Suparna, maintaining composure before a flood of visitors to her yet-unfinished home, which Shyamal had been building in installments.
"Shyamal lost his brother in a motor accident years ago. He was the only breadwinner," she added. Shyamal's body will reach Panagarh on Sunday night, sources said.
Buddhadeb Das, his brother-in-law, said he could not get over the cruel tist of fate: "The colonel had been making arrangements so that Shyamal could be posted to Bengal from next year and be around during his daughter's formative schooling years," Das said. "Shyamal was from a very poor background and worked hard to rise out of his circumstances. He wanted the best for his family."