Budget by cheat fund govt, says Bengal's chief minister
Mamata accused the Modi government of having done nothing for farmers in full-fledged budgets before this interim one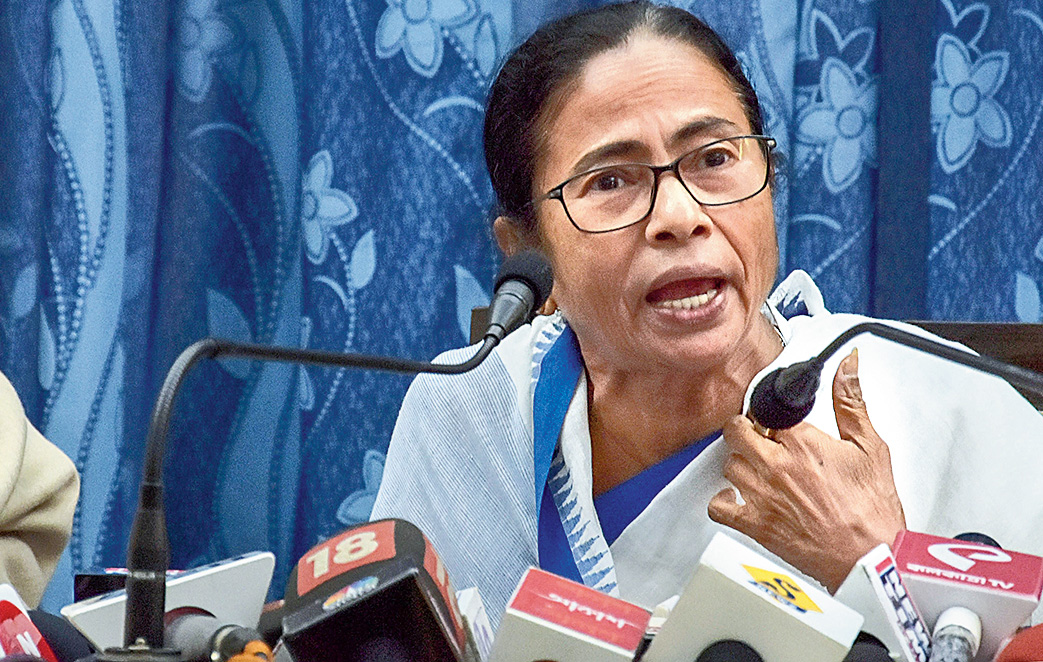 ---
|
Calcutta
|
Published 01.02.19, 08:18 PM
---
Bengal chief minister Mamata Banerjee tore into the interim budget on Friday, calling it a "value-less" "budget of desperation" that wouldn't be implemented as the Narendra Modi government would be voted out soon.
"This is a budget of desperation. This budget will not be implemented. The tenure of this government will be over in a month. After the elections, a new government will come and present a new budget," the Trinamul Congress chief said at a news conference in the Assembly held to react to what she described as the "expiry budget".
"I am not an economist but I have practical knowledge and ideas…. The doctor has come after death. This budget is cheating. All show-off. Where will this money come from? How will it be managed? This government has no moral authority to put forth this budget. This is a value-less budget," she added.
Mamata accused the Modi government of having done nothing for farmers in full-fledged budgets prior to this and questioned the timing of some farmer-friendly schemes announced on Friday.
"Why has this government not announced a single agenda for farmers in the past four-and-a-half years? Why did they not announce these schemes earlier?" Mamata asked.
The chief minister — who addressed the media alongside state finance minister Amit Mitra — went on to criticise several allocation cuts in the budget.
She slammed the Centre for allotting funds for MGNREGA lower than the revised estimates and cutting funds for the Swachh Bharat Mission by 25 per cent and for other vulnerable groups by 20.8 per cent, besides decreasing allocation for the Ujjawala Scheme by 14.9 per cent and for the energy sector by 4.4 per cent.
"Nobody knows what is the financial situation of the country. It is obvious that economic emergency is going on in the country," the chief minister said.
Mamata said both the Centre and the state governments were elected by the people and the Centre couldn't announce programmes on subjects that figured on the state list.
"This is a farce. This is nothing but a BJP manifesto to cheat the people…. I thought they might even announce transfer of Rs 15 lakh to people. This has become a cheat fund government," said Mamata.