BSF links 'harmful beef' to cattle torture
Vigil up on cow smuggling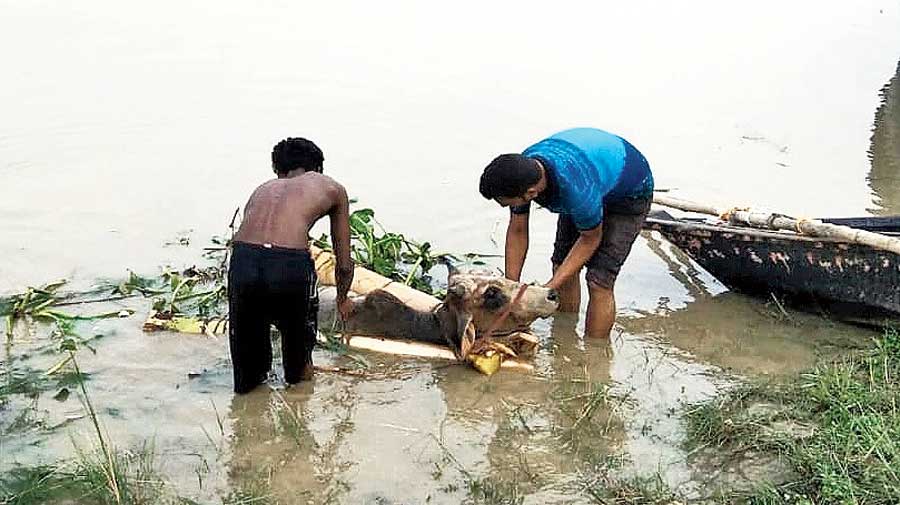 ---
|
Calcutta
|
Published 09.07.20, 01:41 AM
---
The Border Security Force (BSF) for the first time tried to thwart the smuggling of cattle across Bangladesh by pointing out to consumers how the stressed and torturous journey of cattle heads to the neighbouring country negatively impacted the quality of beef.
Sources in the BSF said that every year the smuggling of cattle increased in the run-up to Bakr-Id (Id al-Adha), which is scheduled on July 31 this year.
BSF's South Bengal Frontier DIG (G) S.S. Guleria in a statement said: "Cattle are treated in a very cruel manner by the smugglers. On medical grounds, these cattle are not fit for human consumption...when cattle undergo mental and physical pain before slaughter, its meat does not remain edible."
A BSF spokesperson for South Bengal Frontier said: "Everyone should know how cattle heads are cruelly treated while being smuggled to Bangladesh. The smugglers inject drugs so that the cattle can run violently. Sometimes their tails are cut to make them run faster. The cattle reach the other side of the border with multiple injuries."
Asked about the BSF's claim about the quality of beef, a retired professor in structural biology and bioinformatics of the Madurai Kamraj University, who did not want to be named, said: "Stress on cattle 48 hours prior to slaughter causes change in metabolism. Stress before slaughter affects the quality of the meat as well."
A report on the website of the Food and Agriculture Organisation, a specialised wing of the United Nations, states that stress on cattle before and during slaughter does have serious "adverse effects on meat quality".
Many, however, linked the BSF's sudden zeal to discourage consumption of beef to the rising cow vigilantism in the country that had led to several instances of lynching by Hindutva groups, particularly in north Indian states.
Guleria said they had made "all preparations to meet the challenge of cattle smuggling" before July 31.
"Our battalions deployed in Malda and Behrampore sectors are committed to thwarting the nefarious designs of smugglers," he said.
"In some of the most vulnerable border outposts (BOP) such as Neemtita, Harudanga, Madanghat, Sobhapur in Malda and Murshidabad districts, additional troops and resources have been deployed," Guleria added.
This apart, he spelt out other measures. "Special surveillance has been launched on the riverine stretches as well so that cattle who are put in high streams to be swept away to Bangladesh can be saved. We have also increased night camera tractors and speed boats to save cattle heads."