Bridge fix to take Tallah load
The beams of the arch on either side and the deck will be strengthened to ensure even distribution of load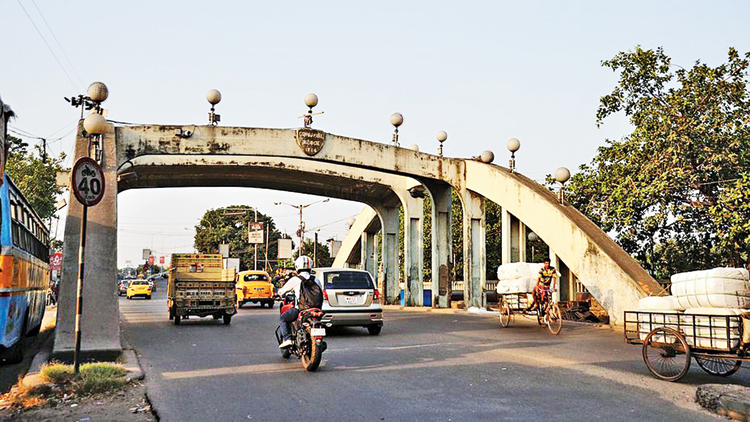 The Cossipore bridge
Telegraph picture
---
Calcutta
|
Published 17.12.19, 08:00 PM
|
---
The urban development department will overhaul the Cossipore bridge in a few weeks so that it can take the extra load of vehicles once the Tallah bridge is shut down and diversions start.
The Cossipore bridge, built in 1934, stands at one end of Girish Avenue, near Women's College Calcutta, and leads to the Lockgate flyover and to Cossipore Road.
The bridge — a vital link, connecting parts of Sovabazar and Bagbazar with Chitpore and Cossipore — gained more prominence when heavy vehicles were banned on the Tallah bridge in September.
The Calcutta Metropolitan Development Authority — the custodian of the Cossipore bridge — has decided to use a mix of old and new technology to repair the Cossipore bridge.
The beams of the arch on either side and the deck will be strengthened to ensure even distribution of load and to increase its load-bearing capacity. The deck is uneven because the northern side of the bridge had been raised to facilitate electrification of the Circular Railway route.
"Instead of dismantling the bridge, we have devised ways to strengthen the structure," a CMDA engineer said. "The arches will be made stronger so that they can bear additional vertical load."
Heavy vehicles were barred from the bridge for some days earlier this year during a round of repairs. When the government fixed the schedule for pulling down the Tallah bridge and police readied the final diversion plan, a CMDA team revisited the bridge and realised the structure needed another round of repairs before it could be made to bear more vehicular load.
Since there isn't much time (the Tallah bridge will be shut down from January 4), the urban development department sought special clearance from Nabanna to award the contract to an agency. The agency will work under CMDA's supervision.
A fortnight's time has been given — a first of sorts for repairs of a bridge or flyover in Calcutta. It has been decided that grouting will be carried out to strengthen the arches and a quick corrosion study of the steel beams done to identify areas that require additional support.
"We will wait for CMDA's final clearance for the bridge's traffic-worthiness before allowing heavy vehicles on it," an officer at Lalbazar said. "Now, every day counts."
Once the demolition starts, buses and other heavy vehicles headed for BT Road from Girish Avenue will be diverted down Cossipore bridge to the Lockgate flyover throughout the day. Small vehicles headed for Central Avenue will move along Cossipore Road and the Cossipore bridge to reach Central Avenue.