Bridge ban, collapse trigger snarls
The bus ban on the Tallah bridge and the absence of the Majerhat bridge have paralysed traffic in large areas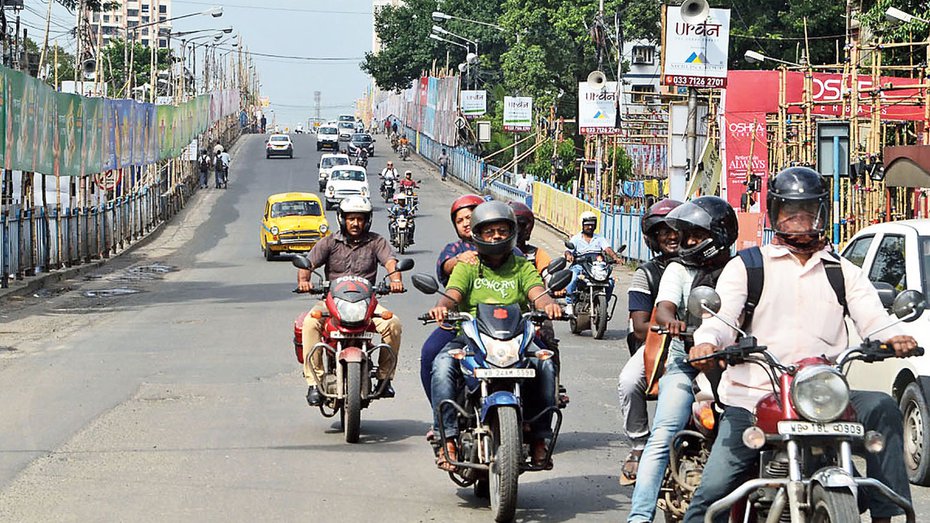 Smooth flow of vehicles through the Tallah bridge on Monday afternoon
Picture by Sanat Kumar Sinha
---
Published 03.10.19, 08:49 PM
|
---
The bus ban on the Tallah bridge and the absence of the Majerhat bridge, which had collapsed in September last year, have paralysed traffic in large areas of north and south Calcutta.
Residents of many areas said the chaos was such that even ambulances and fire tenders would fail to reach the destinations on time.
Metro takes a look at the commuters' peril
Tallah bridge
The ripple effect of the ban on the movement of buses and other heavy vehicles on the bridge, a key link between the city and the northern fringes, was felt even in faraway places such as VIP Road.
It took an elderly couple from Kankurgachi three hours to reach their home from Lake Town on Wednesday night. The stretch is usually covered in 25 minutes.
"There were stretches where it took as long as 20 minutes to move just five metres. The entire VIP Road was chock-a-block with vehicles," said Subhesh Maitra, who was returning home with his wife.
Many residents said the road leading to Jessore Road from the Lake Town-VIP Road crossing was chock-a-block, too. Snarls on Jessore Road have become a regular feature since the bus ban on the Tallah bridge came into effect on September 29.
A resident of Lake Town recounted his experience of travelling to Sovabazar on Thursday afternoon. "It took me 35 minutes to reach Ultadanga. Most autos at Ultandanga were unwilling to go to Sovabazar. One auto demanded Rs 40, though the fare is Rs 12," she said.
Majerhat bridge
A year has passed since the collapse of the Majerhat bridge but the absence is still hurting commuters. The two Bailey bridges built over the railway tracks as an alternative to the Majerhat bridge are not enough to handle traffic.
A resident of Silpara in Behala said it took him an hour to reach home from the Bailey bridges on Wednesday night, a stretch that he said should not take more than 10 minutes to cross.
Auto blockade
Autorickshaws organised a blockade on Ultadanga Main Road, near the Ultadanga crossing, on Thursday morning to protest police's decision that three-wheelers would not be allowed to ply after 3pm during Puja. The blockade, which caused snarls, started at 11.30am and was withdrawn half an hour later following talks with the police.