Book on 'ambulance' dada
Biography on tea garden worker who turned his two-wheeler into a mobile ambulance to help critically ill patients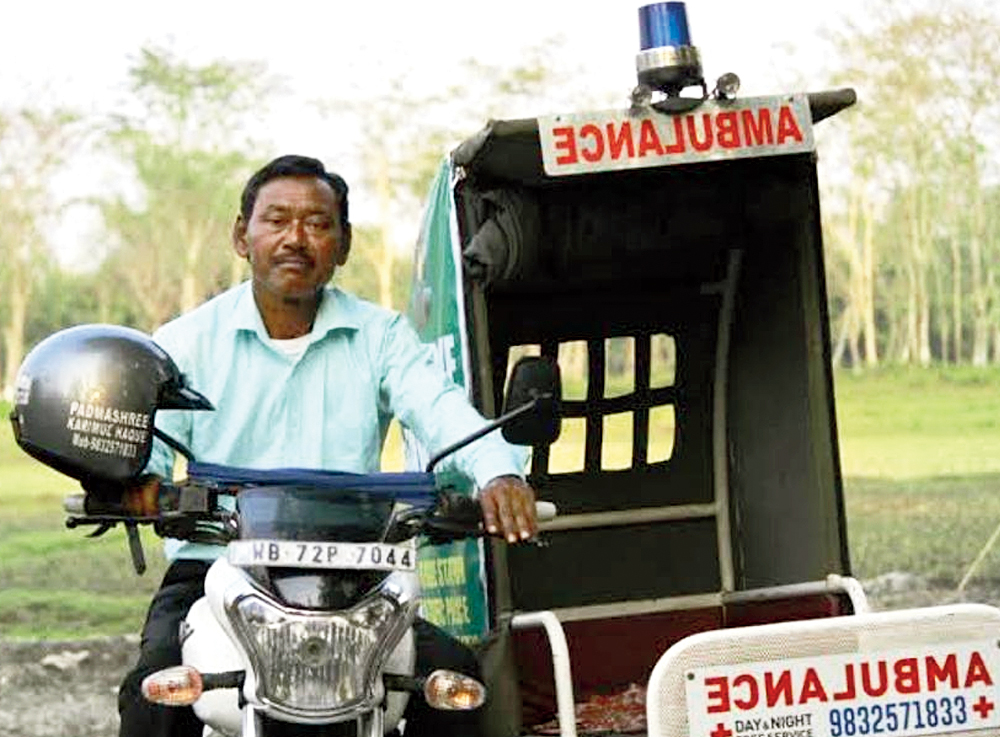 Karimul Haque with his bike 'ambulance'.
The Telegraph file picture
---
Siliguri
|
Published 02.01.19, 08:00 PM
|
---
A journalist-turned-social entrepreneur has started working on the biography of a tea garden worker who tuned his two-wheeler into an "ambulance" to hospitalise patients in remote areas of the Dooars.
For Karimul Haque, also known as "Bike Ambulance Dada", its yet another recognition after being conferred Padma Shri, the fourth highest civilian award India, in 2017.
The same year, a film production house in Mumbai had entered into an agreement with Haque to make a movie on his life.
Haque, a worker of a tea garden in Malbazar block, has been using his motorcycle to carry patients to hospitals. He had started the initiative after his mother had died because of lack of treatment in night hours as the family could not manage an ambulance.
So far, he has carried over 4,000 critical patients to hospitals on his motorcycle. He offers the service voluntarily and spends a portion of his meagre monthly pay of Rs 4,000.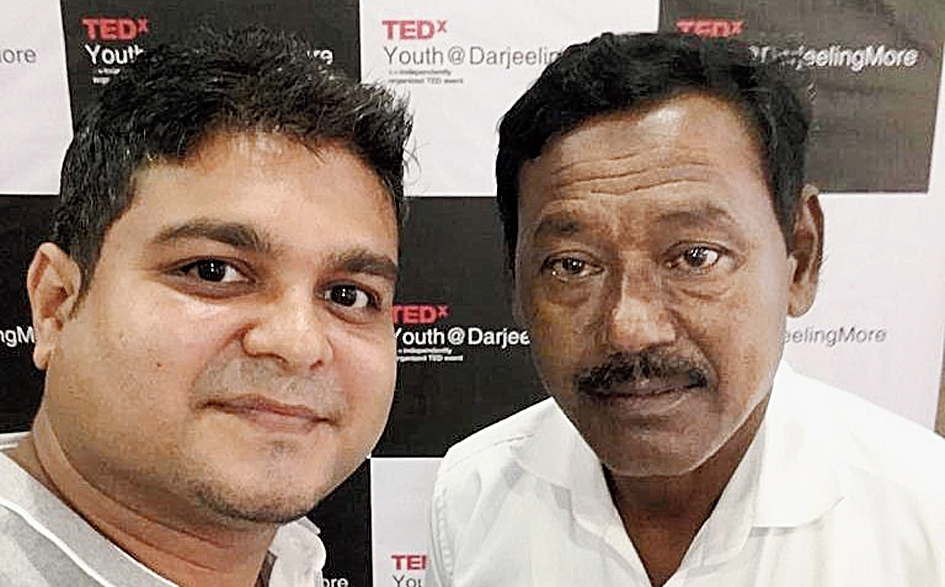 Biswajit Jha, a journalist-turned-social entrepreneur, has taken up the task of chronicling Haque's extraordinary ride. Jha had quit his journalism job to become a social entrepreneur in 2013.
"I had known Karimul Haque even before he received Padma Shri. I was inspired by his life to start social work. Despite being a tea garden worker, he saved lives of thousands of people. He has proved once again you don't have to be an extraordinary person to do extraordinary works in life. Being an ordinary man, you can still do outstanding works for the society," said Jha.
Although Jha had signed an agreement with Haque in November 2017 to write the biography, he could concentrate on the book in the past six months.
"I have talked to him, his family members and friends, villagers and others who have worked with him. I have observed him closely, even stayed at his house for several days to know about his life and work," said Jha.
Initially, the book will be published in English but later, Jha plans to bring out versions in Bengali, Hindi and other regional languages.
"We hope to publish the book in a couple of months. I am in touch with some leading publishing houses in the country," Jha said.
Haque is equally excited.
"There are many incidents in my life which are still unknown to others. People will come to know about those incidents when the book will be published. I hope people abroad will be able to know about my work. It is good that Biswajit (Jha), who himself is into social work, is writing my story," said Haque.
Additional reporting by our Jalpaiguri correspondent