Birds will have to work less to build a nest at Bonobitan. Their jobs have been rendered easier by the hanging of earthen pots (handi) hollowed at a side, in which they can lay eggs, on trees.
"Many birds cannot peck and make holes in trees. If they get a ready-made place where to make a nest, it will help them. We choose handi as it is low cost and they would not be repelled by the smell of earth. We could have used wooden containers too but they would rot through exposure to the elements. I had experimented this way when I was posted in Midnapore and found success," said Rabindranath Saha, deputy conservator of forests, urban recreation forestry division.
The project, called Kichir Michir, has been taken up across 14 parks under the division in south Bengal on the occasion of Forest Week. "This way, the parks will become centres of conservation rather than solely recreation. Because of rapid urbanisation, large trees are being felled and old mansions are being brought down. Birds living in the trees or in the air vents of those houses are being rendered homeless. We are installing over 400 artificial nests to attract birds and revive their chirping," he added.
The division is involving schoolchildren in the project. "Students are funding the cost of the handis. This gives them a sense of ownership. They have also composed 30 word rhymes on the theme. Every week, they will be allowed to come and do bird-watching and note down their findings on behavioural study of birds in the logbook provided to them. Our staff members will accompany them. Identity cards are being issued to two guardians of each student for free entry to the park once a week. This way, environmental ethics will develop in them," Saha said.
Officials are hoping to gather valuable data from the students. At the end of 52 weeks, the government will award students on the basis of regularity and quality of observation. "We have also asked the participating schools to keep their own assessment sheets so they can award their best student on their own," the deputy conservator added.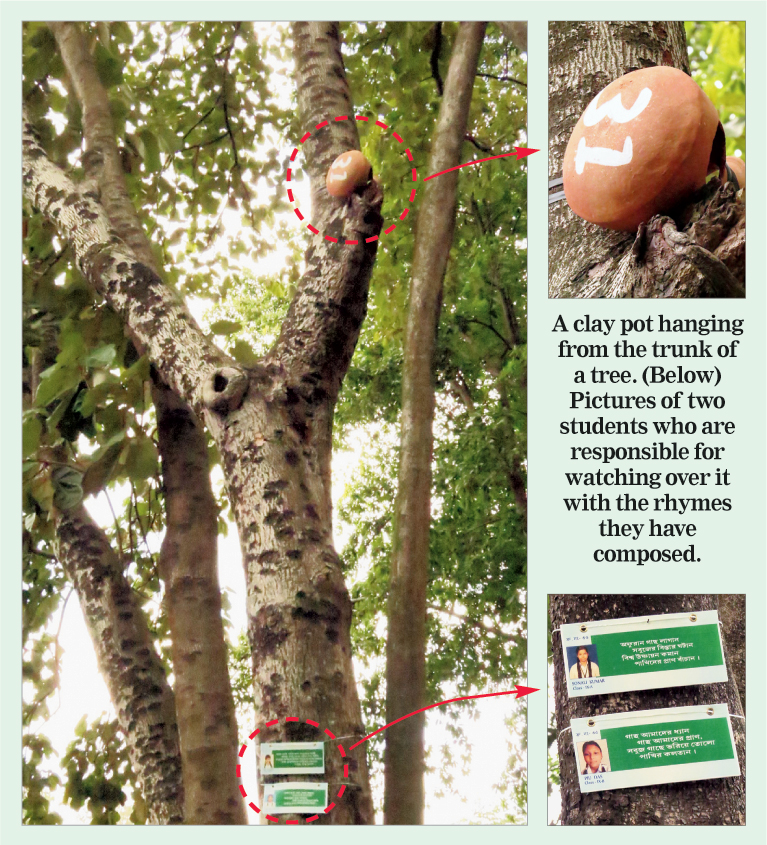 Students in charge
Last Friday, 70 students from Bhagabati Devi Balika Vidyalaya and Bidhannagar Government High School assembled at Bonobitan to take part in the project. "We collected their pictures and the slogans written by them a week ago from their schools," said range officer Ashok Mukherjee.
The trees chosen for the project carried slogans by two students each on them. The handi was hung at a height. "We are using rubber tubes to tie the handis to the branches so the trees are not harmed. Each handi carries a number that corresponds to the name of the student who is supposed to come and keep an eye on it," he added.
Green advice
In her address to the students, Pratibha Poddar, headmistress of Bhagabati Devi Balika Vidyalaya, shared her concern about loss of habitat for the birds as well as the impending water crisis, that has already hit cities like Chennai and Bangalore down south.
Environmentalist at Bose Institute Swati Nandi Chakraborty spoke about characteristic behaviours of birds. "Egyptian vultures, popularly known here as baaj pakhi, drop pebbles with such precision that eggs of ostriches get hit. Penguins always stay in a group as that helps them retain the cumulative body heat. Different species of birds, be it weaver bird or spotted dove, build nests in different shapes. The architecture is to be marvelled at," she said, urging students to appreciate such behavioural details rather than mechanically jotting down nesting data for the sake of marks.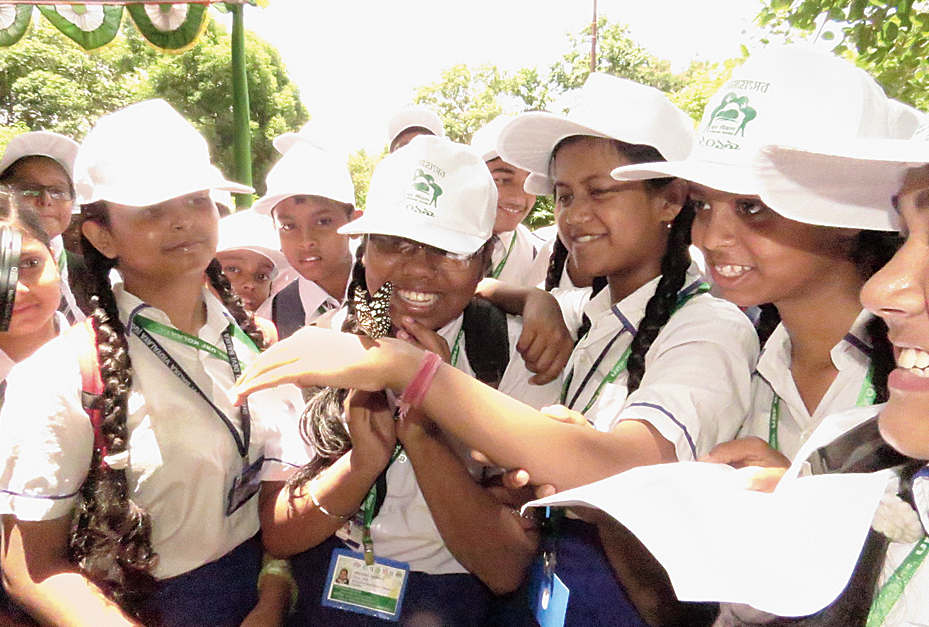 Students gaze at a butterfly they have just set free that settles on the hand of one of them. (Sudeshna Banerjee)
Green activist Urmy Palchaudhuri asked students to save water. "Keep a bucket out when it rains. Use that water to wash utensils. Arrange for a tube to collect the water draining out from the rooftop and insert it deep into the ground. That way the subsurface water table will get replenished." She spoke of a movement gaining ground in various Indian cities called Cutting Paani. "So many customers take just a sip from a full glass and the rest of the water goes waste. The movement pushes consumers to adopt the habit of asking for half a glass of water instead of full since he can always ask for more, if needed. You can adopt this practice at home when serving guests," she said.
A Brahmini myna, about 20 parakeets, an Asian koel, an Alexandrine parakeet and a cormorant as well as a clutch of common mime butterflies were released as part of the programme. "The birds were rescued by us," said a Deer Park official.
The students were impressed with what they saw and heard. "Once we found an injured sparrow. My brother and I tended it back to health," said Baisakhi resident Anjali Sharma, who studies in Class X. She resolved to talk to adults at home to stop their habit of letting the tap run and the bucket overflow as they watched TV. Priya Marjit of BG Block, a Class XI student, recalled her grandmother in the village leaving grains for birds building nests in their cowshed. Wastage was an issue at her home too while filling drinking water in bottles, she admitted.