Bolpur varsity to reflect Tagore ethos
Campus to be designed on the lines of Visva-Bharati but with a modern touch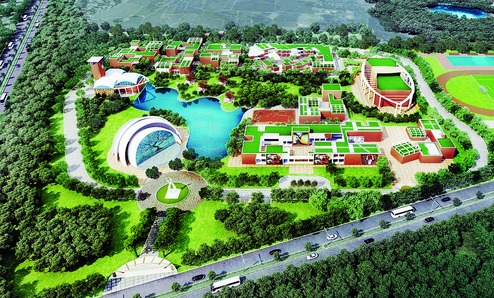 ---
Calcutta
|
Published 01.05.18, 12:00 AM
|
---
Calcutta: The newly conceived Biswa Bangla University will have a campus designed by the Delhi-based CP Kukreja Architects, who won the project in a competition organised by the Bengal government.
The campus will come up on 20 acres in Bolpur, in Birbhum district, with a total built-up area of 600,000sq ft. The project cost has been pegged at Rs 375 crore.
Dikshu Kukreja of CP Kukreja Architects, who was in town recently, said the campus would be designed on the lines of Visva-Bharati.
Confirming the appointment of C.P. Kukreja Architects for designing the Biswa Bangla University campus, Hidco chairman Debasis Sen said: "There was a very fair design competition held to choose the architect for this prestigious project. CP Kukreja Architects won the contest." Hidco is the implementing agency of the project.
"I have submitted the detailed drawings to the government and it has now floated a tender for appointing a contractor," said Dikshu, son of C.P. Kukreja. The senior Kukreja has designed Gautam Buddha University in Greater Noida, which has won the the Best Sustainable Campus prize at the BUIKD 2016 Architecture Awards, London.
The firm has also designed Jawaharlal Nehru University, IIT Jodhpur, South Campus of Delhi University and IIM Lucknow, among other institutions. Biswa Bangla University will be the firm's first project in Bengal.
The brief from the government, according to Dikshu, was to "design the campus on the patterns of Santiniketan, a modern university with the ethos of Visva-Bharati". The challenge for the architect was to come up with a design philosophy that would imbibe into the built environment Tagore's thoughts, values, poetry and art.
"The architecture cannot be isolated from the landscape, the sculpture, art and ethos of Visva-Bharati, that is also physically close to the new university," said Dikshu.
Inevitably, the Bengal School of Art finds expression in the architecture. "The walls of the buildings are like a blank canvas. The writings, thoughts of Tagore, the art and craft of Bengal will be depicted. It (the campus) will be like a living museum," he said.
Set along a state highway, the campus will have the look of a village with indigenous modernity. The buildings will have the traditional Bengali do-chala (double-sided thatched roof) and char-chala (four-sided thatched roof). "The theme of open learning is embedded throughout the campus," the architect said.
The artist's impression shows a modern auditorium, a glass-and-concrete building, dominating the campus.
"There will be 18 buildings and close to 300 trees. None of the buildings will be more than three-storeyed. And the campus will be littered with murals, cultural relief work, bamboo facades," he said.
The campus is likely to be ready in 18 months.