'Bohiragawto' BJP vs 'Bhoomiputro' Trinamul
Since Shahsa five-man army was given the charge of different BJP zones in Bengal, Mamata's party has hurled a barrage of volleys at the saffron camp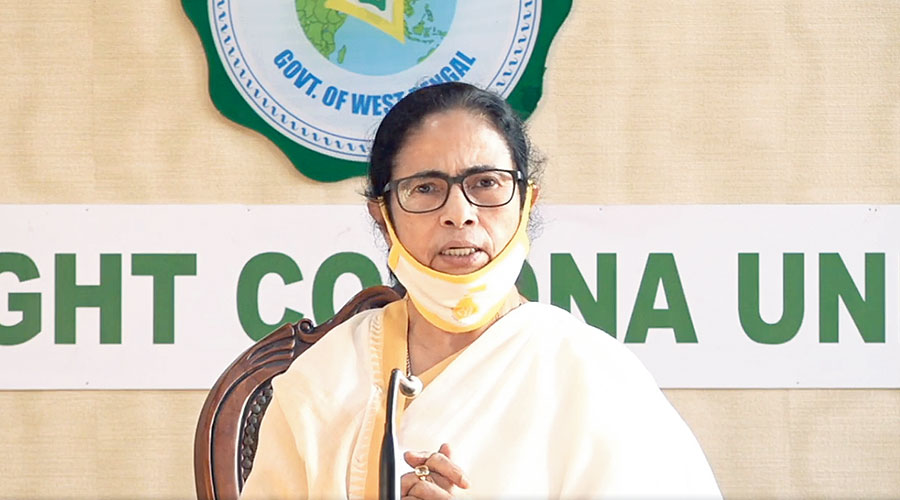 ---
|
Calcutta
|
Published 21.11.20, 03:33 AM
---
The Trinamul Congress on Friday intensified its attack on the BJP over the theme of alleged bohiragawto (outsider) being sent to dictate terms to the bhoomiputro (son of the soil), which is likely to be a leitmotif of Mamata Banerjee's campaign against the saffron camp in Assembly polls next summer.
Trinamul spokesperson Bratya Basu held a news conference, adding a new dimension to the line of offensive launched against the BJP's appointment of central leaders — Sunil Deodhar, Vinod Tawde, Vinod Sonkar, Harish Dwivedi and Dushyant Gautam — to handle affairs of its five organisational zones.
"Outsiders are being brought in to attack Bengal. Some people with no understanding of Bengal or its culture, with no feeling of its pulse have been roaming our great state. This tandawb (rampage) by the bohiragawto is a follow-up to the smashing of Ishwarchandra Vidyasagar's statue, by those with no idea of Rabindranath Tagore and his legacy," said Basu, state science and technology minister, who is also a theatre and film director, playwright and actor.
"Even US president-elect Joe Biden is likely to include a Bengali — Arun Majumdar — in his cabinet. Even Biden understands the significance of Bengalis and Bengaliyana. But Delhi does not. The Centre does not. Narendra Modi does not…. Not one Bengali was ever an RSS chief…. Not one Bengali is a full-fledged minister in the Modi cabinet," he added.
Since the Lok Sabha polls last year, Trinamul chief Mamata has been trying to counter the saffron camp's allegedly communal polarisation agenda with a "BJP versus Bengal and Bengali" spin.
Gaffes or alleged excesses by the BJP have helped the chief minister reinforce the perception. In May 2019, people allegedly from Amit Shah's road show in Calcutta barged into a college and vandalised a bust of Vidyasagar. Earlier this month, the Union home minister offered flowers to a roadside statue in Bankura wrongly identified by his party as that of foremost tribal icon Birsa Munda.
Since Shah'a five-man army was given the charge of different BJP zones in Bengal, Mamata's party has hurled at the saffron camp a barrage of volleys.
"Since the time of Netaji Subhas Chandra Bose, there have been attempts to corner Bengalis with people from north and west India…. People of Bengal will never accept subjugation by non-Bengali outsiders…. History bears testimony to the fact that these attempts never succeed," said Basu, going on to pepper his diatribe with a string of instances from India's history over the past century to substantiate his core argument.
The BJP, unsure of the impact this line of attack might have on the electorate, has asked whether poll strategist Prashant Kishor — a consultant to Trinamul now — is also not an outsider and whether Indians from other parts of the country are unwelcome in Mamata's Bengal.
The Vidyasagar statue incident came increasingly to be viewed as an inflection point in the Bengal chapter of the general election. The BJP won none of the nine seats that went to the polls after the incident. But the party bagged unprecedented 18 of the 33 seats where elections had already been held.
"Trinamul and its supreme leader believe in taking everybody along, leaving none behind… unlike the BJP…. Non-Bengalis are loved and respected here, they thrive here, but the same courtesy isn't accorded to Bengalis in other states," said Basu.
Later in the day, Mamata too broached the subject at a Chhath Puja event in the city.
"There are some who come from outside only ahead of elections, deliver lofty speeches and leave…. Unlike them, we stay with the masses 24x7, 365 days a year," said the chief minister, going on to pray for defeat of those who allegedly try to divide to rule.