BJP seeks to counter Trinamul campaign
The BJP had charted the campaign after Mamata Banerjee had led a huge march in Siliguri on Friday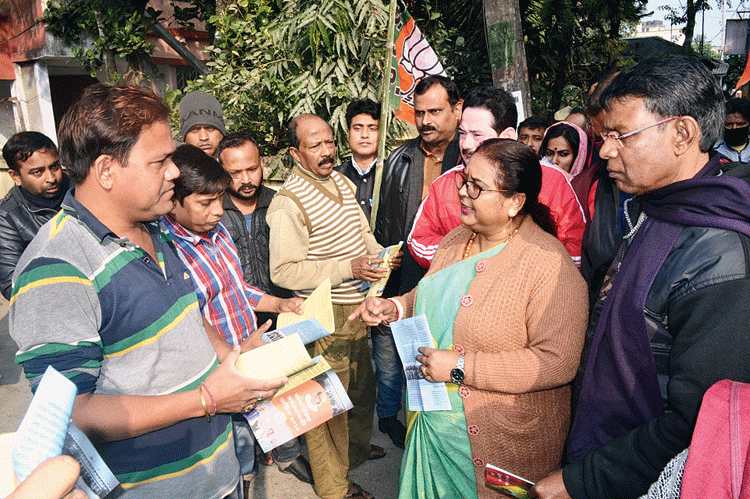 ---
|
Malda
|
Published 05.01.20, 11:33 PM
---
The BJP on Sunday launched a door-to-door campaign in support of the central government's initiatives on citizenship in at least three districts of north Bengal.
The BJP had charted the campaign after Mamata Banerjee had led a huge march in Siliguri on Friday against the Citizenship (Amendment) Act, National Register of Citizens and the National Population Register.
Within 48 hours, the BJP set in motion its machinery in Siliguri, Malda and Cooch Behar.
"The BJP is desperate to retain its support base in north Bengal following its unprecedented win in the Parliament elections. The gathering at Mamata's march and meeting had left many BJP leaders dumbfounded. That is why, it seems, the party was quick to launch the campaign in Siliguri. Also, the Trinamul chief had hinted she would hold marches in Malda and Cooch Behar," said an observer.
In the past one week, BJP's state and central leaders, including Arvind Menon, Rahul Sinha and Mukul Roy, held closed-door meetings with district and block level functionaries of the party in north Bengal. The meetings were held to draw up strategies to counter the campaign by Trinamul and other parties against the CAA.
"It was decided that the BJP's campaign would be carried out in a very sublime manner so that people could openly air their opinions. In Malda and Cooch Behar, people heard the leaders and received the pamphlets and booklets from them on Sunday. But we doubt how many of these people shared their opinions," said a BJP insider.