BJP MP at Aishe home for pro-CAA campaign
The MP spoke to Aishe's mother Sharmistha, before handing her campaign pamphlets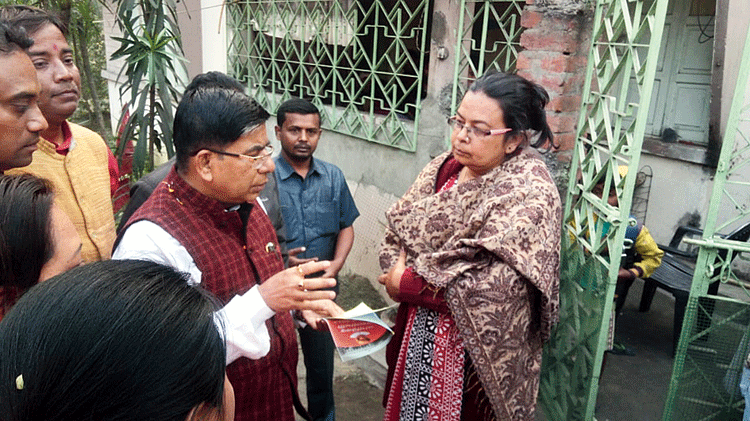 ---
|
Durgapur
|
Published 28.01.20, 07:58 PM
---
Bankura BJP MP Subhas Sarkar, accompanied by party workers, visited the home of Jawaharlal Nehru University students' union president Aishe Ghosh during a "pro-CAA door-to-door campaign" on Tuesday afternoon.
Sarkar spoke to Aishe's mother Sharmistha, before handing her campaign pamphlets. "BJP workers handed me some pro-CAA pamphlets, but there was not much discussion between us," Sharmistha said.
Sources said Aishe's father Debasish, a Damodar Valley Corporation employee, was not at home then.
Aishe had been beaten by alleged RSS-affiliated ABVP activists on the JNU campus earlier this month.
Asked whether Subhas had inquired about Aishe, Sharmistha said: "Yes, he (Subhas) wanted to know how my daughter is and I told him she is recovering. Nothing more than that."
The BJP MP later told reporters that Aishe's frequent appearance on TC indicated she was fit. "Her TV interviews clearly show she is fit and fine," he said, before commenting that he was unsure about the actual number of stitches on Aishe's forehead.
Reacting to the MP's comments: Sharmistha said: "They (BJP) run the government at the Centre and can easily get reports regarding my daughter's injuries. Moreover, why didn't he ask me if he had any doubts."