BJP MLA defects to Trinamul Congress, third in 10 days
Soumen Roy said he was against any partition of Bengal, referring to the statehood cry adopted by some BJP leaders in the region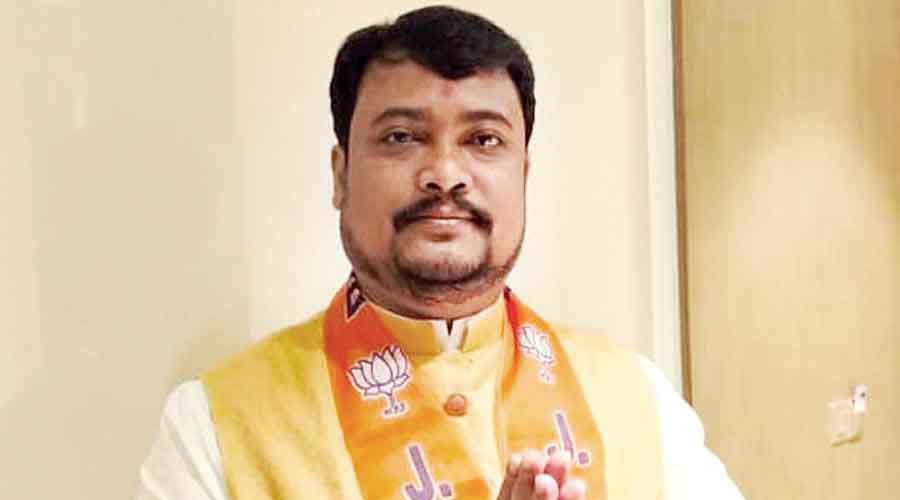 ---
Raiganj, Siliguri
|
Published 05.09.21, 01:22 AM
|
---
Soumen Roy, the BJP MLA of Kaliaganj in North Dinajpur, on Saturday switched over to Trinamul to become the third MLA —  after Tanmoy Ghosh of Bishnupur and Biswajit Das of Bagda — to do so in 10 days.
Roy, who also became the first MLA from north Bengal to cross over, said he was against any partition of Bengal, referring to the statehood cry adopted by some BJP leaders in the region.
In Calcutta, he was inducted into Trinamul by party general secretary Partha Chatterjee, in presence of Kanaialal Agarwala, the district Trinamul chief of North Dinajpur and Mridul Goswami, the Trinamul chairman of Alipurduar district.
"It is true that I got elected on a BJP ticket but could I not accept the divisive politics that the party has adopted these days. I am against any partition of Bengal and want to see Mamata Banerjee continuing as the chief minister  and carrying out development across north Bengal. That is why, I have decided to leave BJP," Roy said after receiving the party flag from Chatterjee.
Ahead of the Assembly elections, Roy, who was with Trinamul since his student life, had quit Mamata's party to join the saffron brigade.
Multiple sources in the saffron camp said his decision exposed the rift in the party over the issue of a statehood for north Bengal that party MP John Barla had first raised.
"In a recent meeting, five (of 29) MLAs and six (of seven) MPs of the party from the region, stayed away. Manoj Tigga, party's chief whip in the Assembly and the MLA of Madarihat (in Alipurduar district), said the remarks of Barla and some other leaders over the issue of statehood were their personal opinion... But Raju Bista, the Darjeeling MP and a BJP national spokesman, defended Barla... It's clear we are divided on the issue," said a BJP source.
Roy attended the meeting but left the BJP two days later.  "He has clarified he could not buy the demand. His departure has reaffirmed that rifts are widening within the BJP in north Bengal over the issue," said senior BJP leader in North Dinajpur.
Basudeb Sarkar, the North Dinajpur BJP president, however, tried to put up a brave face on Roy's defection.
"Soumen Roy's decision to walk out of the party only proves that he is an opportunist. He had joined BJP for his own interests. His defection will not affect the party in any manner," said Sarkar.
Another BJP leader in South Dinajpur said a number of other MLAs and party leaders are upset with the issue. Also, contradictory statements of party leaders have led to confusions.