BJP MLA announces rail roko over lack of train stops
Lack of stops in Bankura triggers agitation plan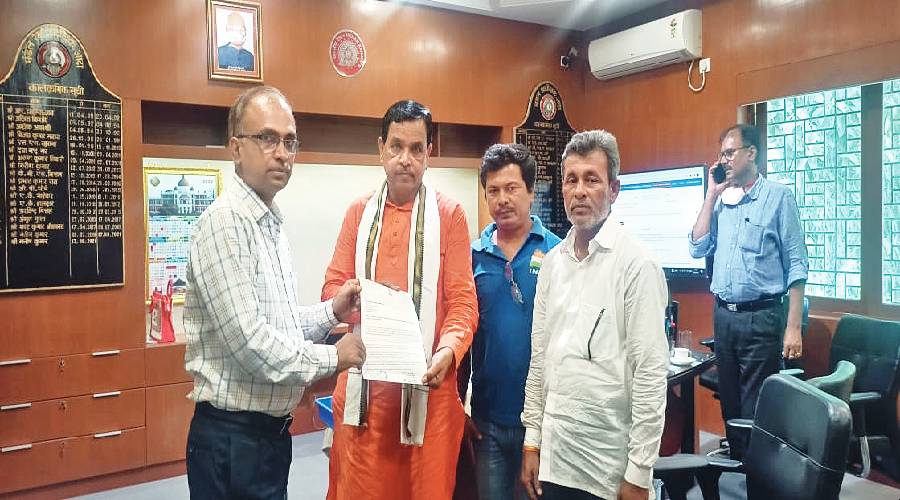 Amarnath Sakha (right) submits a memorandum to the Adra DRM, Manish Kumar.
Rupesh Khan
---
Calcutta
|
Published 30.04.22, 01:28 AM
|
---
A BJP MLA in Bankura district has said he will organise a rail roko over lack of train stops in his constituency and said the agitation has been planned with the permission of the party's state president, Sukanta Majumdar.
The decision by Onda MLA Amarnath Sakha to block railway tracks at Ramsagar station for 12 hours from 6am on May 10 comes close on the heels of a statement from the party's Barrackpore MP, Arjun Singh, that he was ready to take part in a protest programme by the Trinamul Congress for the jute sector if he was invited to.
Both the railway and jute are central subjects.
"I was left with no other option than to launch a movement against the railways as people of my area and the entire district are suffering a lot…. I wrote to several senior railway officials and even the railway minister explaining that we don't have train stops in our area. No one cared to listen to us," said Sakha.
The trigger for the agitation announcement is the railway's decision to withdraw the stops of at least half a dozen trains at different stations in Bankura, including Onda, Ramsagar and Chhatna. Some of the trains in the Adra division, which were running before the pandemic, are yet to resume services.
"The owners of fishing hatcheries of Ramsagar used to send their produce to Calcutta and Haldia by trains, but they can't anymore and it has a bearing on the local economy," said a local BJP leader.
The BJP MLA said: "The interest of people in my area is my first priority. I am a public representative and it is my duty to create pressure on the government irrespective of whether the central or state if people of my areas suffer."
Sakha said before submitting a letter to the Adra divisional railway manager, Manish Kumar, about the rail roko, he had informed Bengal BJP chief Sukanta Majumdar.
"Amarnath Sakha has taken my permission before writing this letter and planning this protest. For the BJP, the party and the government are two separate entities unlike Trinamul. We have told him that he can do anything and everything he wants to, in order to stand by the people of his constituency," said Majumdar.
DRM Kumar did not take calls from this newspaper. A railway official in Adra said they had already sent letters regarding train services to their higher authorities.