BJP duo ask Tea Board to take over hill estates
I want the board to start legal proceedings against the owners of these tea gardens and acquire the estates: BP Sharma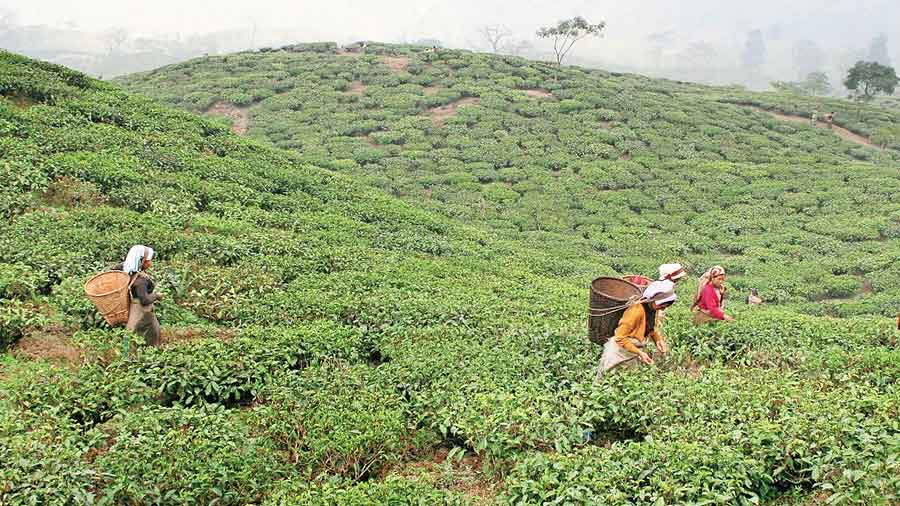 Representational Image
File Photo
---
Siliguri
|
Published 01.10.22, 12:23 AM
|
---
BJP's Darjeeling MP Raju Bista and Kurseong MLA B.P. Sharma have demanded that the Tea Board of India take over 10 gardens managed by the Darjeeling Organic Tea Estates Private Limited (DOTEPL) for its failure to pay workers wages and bonus and run the plantations properly. 
Sharma went one step further and said the Tea Board should close down if it failed to take action against the DOTEPL. Managers had left eight of the 10 estates owned by DOTEPL on the intervening night of Wednesday and Thursday.
Bista and Sharma wrote separately to Tea Board chairman Saurav Pahari demanding that the board invoke the Tea Act of 1953.
"Give the way the tea companies are willing to forsake the lives nearly 10,000 workers and their dependent family members in a lurch, they have exhibited sheer opportunism and lack of empathy for the plight of the workers," reads the letter by Bista, who is also a member of the Tea Board.
"I am therefore requesting you to kindly initiate legal proceedings against the Darjeeling Organic Tea Estate Private Limited (DOTEPL) under 16 of the Tea Act, 1953, including cancellation of their licenses and initiating criminal complaints against them," reads the letter dated September 30.
Sharma, who addressed a news conference in Siliguri on Friday, said: "I want the board to start legal proceedings against the owners of these tea gardens and acquire the estates. If they fail to do so, I think there is no justification for the board's existence and the authorities should close it down."
The board functions under the Union ministry of commerce and industry.
Told that he was raising fingers at a central entity,
the MLA said he was aware of it. "I am talking about thousands of workers who are being harassed and deprived of their dues. I might be an MLA of the BJP but that doesn't mean I will sit silent," he added.
The MLA also sent a letter to GTA chief executive Anit Thapa with a request to him to provide financial assistance to the workers of the 10 gardens. Sharma said the GTA could disburse the ex-gratia from the Covid-19 relief fund which the hill body had collected from people during the pandemic to help the tea  garden population.
Later in the evening, Bista said the Tea Board had sent a letter to the state labour commissioner, saying his department should see that workers of the 10 gardens got their dues.