BJP and Trinamul workers clash during Amit Shah's Calcutta road show
The road show, the BJP chief's first in Bengal, was aborted as Amit Shah left in a convoy of cars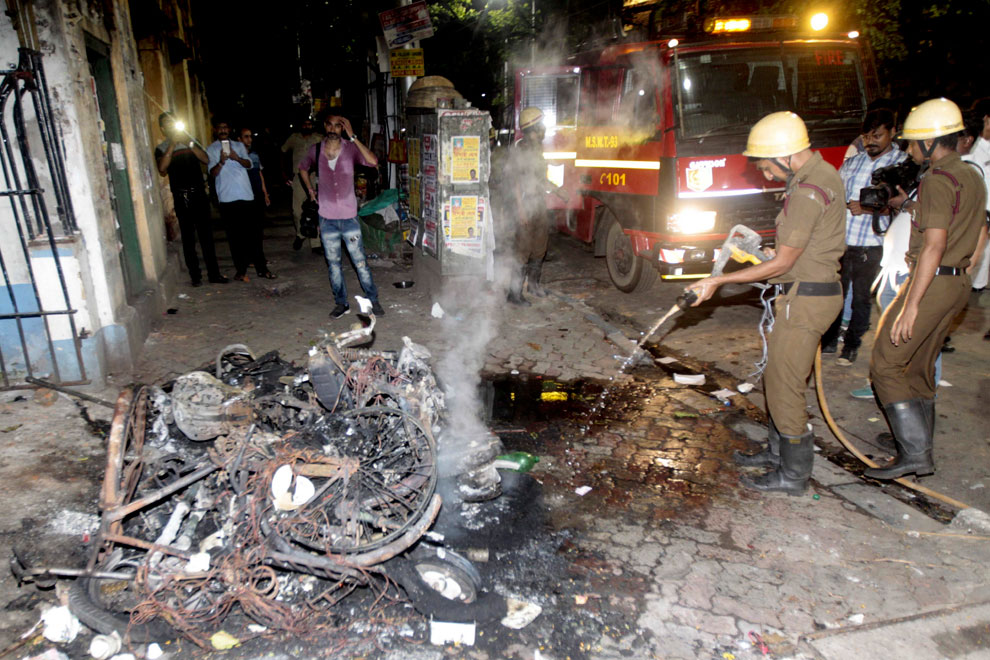 Firemen douse the fire after two-wheelers were set on fire during clashes between Bharatiya Janata Party workers and TMC workers outside Calcutta University in Kolkata on Tuesday, May 14, 2019.
(AP)
---
Calcutta
|
Published 14.05.19, 11:10 PM
|
---
When the cavalcade reached Vidyasagar College around 6.50pm, stones were allegedly thrown at Shah's vehicle from inside the campus.
Trinamul and BJP activists suffered injuries, mostly on their heads. After Shah had left, three motorcycles were set on fire by agitators in front of the college before the college was vandalised. "Some students of the evening section suffered injuries," said a bystander.
Eyewitness said as Shah's vehicle neared the university, a police contingent tried to form a barricade between the road and the varsity gate, but it was breached by people shouting slogans for and against Shah. "Although the situation worsened with the arrival of Shah's cavalcade, Trinamul and BJP workers had been facing off on College Street since early afternoon," said the owner of a bookstore on College Street.
Expecting trouble, bookstall owners had downed shutters after 3.30pm. "If bookstall owners could apprehend trouble, couldn't the police take proper action?" asked a CU assistant professor.
Shah told reporters in the evening at a hotel in Rajarhat that Trinamul "goons" had attacked his road show.
"Frustrated by the overwhelming support for my road show, goons of Mamata Didi's party attacked it. The attack began just 200 metres from my rath. There were attempts to trigger a stampede," he said.
"Despite all this, our supporters made sure that the road show continued…. I unequivocally condemn the violence that Trinamul has been unleashing. I appeal to the people to answer the violence with peace and blessings in the elections, to bring this to an end by removing Trinamul," Shah added.
He tweeted later: "I urge the Election Commission of India to arrest these goons and restore peace in Bengal."
Bengal BJP president Dilip Ghosh said: "First, I saw things flying at us from the university's main gate… the gate was closed. Then later, a similar situation unfolded in front of Vidyasagar College. I saw two of our men suffer serious injuries."
Mamata tore into the BJP, visited the college and the university and announced a protest march on Wednesday afternoon. "This is a sad day for us as the bust of Vidyasagar was vandalised," the chief minister told a rally at Tollygunge Phari before her visit. She alleged that "BJP goons" broke away from Shah's rally and started the vandalism.
"We all know who is Vidyasagar, and to dishonour him like that is a disgrace, a shame. But they do not know anything. Why did they do this? We feel ashamed, we seek forgiveness for what has happened. Why did the police even give permission for the rally?" Mamata said.
She announced a pre-scheduled procession on Wednesday would be converted into a protest march. The march will begin at Shyambazar at 5pm.
At another rally in Behala, Mamata said: "They brought people from UP, Bihar, Rajasthan and Jharkhand to go on the rampage here and destroy the heritage of Bengal. If they try to destroy our heritage, I will not spare them. This is my vow."
Amit Shah's road show in Calcutta ended in clashes, chaos and cultural vandalism on Tuesday as supporters of the BJP and the Trinamul Congress faced off at multiple points along the storied education spine of the city.
Violence broke out in front of Calcutta University on College Street, later spreading to Vidyasagar College down the road and snowballing into vandalism on the second campus of the north Calcutta institution named after an icon of the Bengal Renaissance.
Suspected BJP supporters barged into the college and smashed a bust of Ishwarchandra Vidyasagar, the revered educationist and reformer, alleging that they were being attacked by Trinamul supporters from inside. Motorbikes were set on fire at Bidhan Sarani where the second campus of Vidyasagar College is located.
"Vidyasagar-er din shesh, how's the josh?" student Kunal Dey quoted one of the intruders as shouting while leaving the premises.
Questions were raised on the handling of the situation by Calcutta police, which now report to the Election Commission as the general election is on. 
The unrest began an hour before BJP chief Shah's arrival on College Street.
Police put up barricades at the Bidhan Sarani-Vivekananda Road crossing, stopping the road show from proceeding. Shah's plans to visit Swami Vivekananda's ancestral home on the road named after the monk and place a garland at his statue had to be dropped.
The road show, the BJP chief's first in Bengal, was aborted with Shah getting off his truck and leaving in a convoy of cars.
After the flare-up ended, Shah appealed to people from Rajarhat to end Trinamul rule in Bengal. Chief minister Mamata Banerjee vowed not to spare those trying to "destroy" Bengal's heritage.
The BJP had announced on Monday that Shah would hold a road show from Shahid Minar to Swami Vivekananda's residence at 105, Vivekananda Road.
Shah, accompanied by BJP candidates Rahul Sinha, Dilip Ghosh, Chandra Bose and Babul Supriyo, set out on a decorated truck, followed by nearly 15,000 people on foot and in vehicles, from the Esplanade area at 4.35pm. 
The convoy reached College Street around 6.35pm. The BJP camp alleged that water bottles and pieces of wood broken from flex banners announcing the road show were hurled at Shah's cavalcade from inside the Calcutta University campus.
BJP workers held aloft banners to spare Shah the sight of black flags. It is also alleged that water bottles and sandals were thrown at the BJP leaders. "This prompted those inside the Calcutta University campus to intensify their attack. More projectiles were hurled at Shah's cavalcade," said a bookstall owner.
Shah's security guards — armed central force personnel — blocked the missiles with riot gear. None of those on the truck was injured.