Bitumen peel-off to save bridge in Calcutta
The PWD survey had revealed a 75mm thick layer of bitumen on Tallah bridge, nearly thrice of the ideal thickness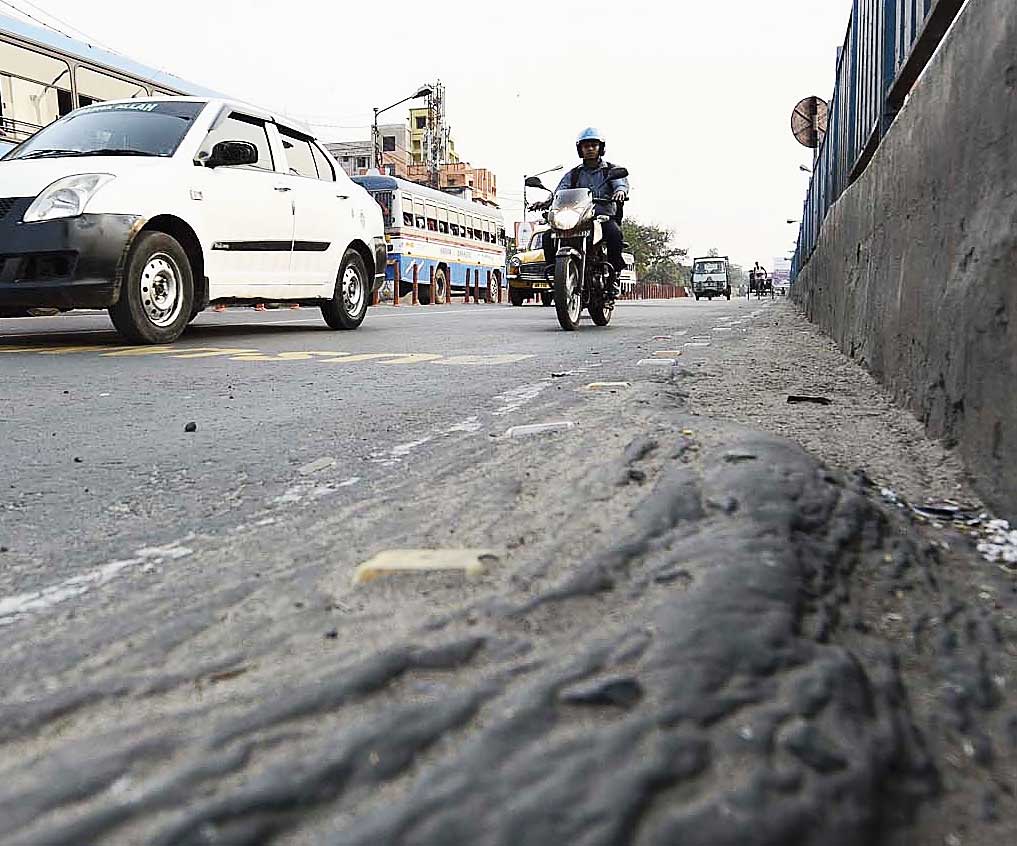 Layers of bitumen on Tallah bridge.
Picture by Gautam Bose
---
Calcutta
|
Published 16.03.19, 08:20 PM
|
---
Layers of bitumen will be scraped off the surface of Tallah bridge after a preliminary survey by the PWD revealed that they may be compromising on the load-bearing capacity of the structure.
Patchwork repair, which involves piling a layer of bitumen, is common on city roads.
When Majerhat bridge collapsed on September 4 last year, a report by Devendra Narain Singh, the institute chair professor with the civil engineering department, geo-technical engineering division of IIT Bombay, had revealed that the bituminous coating on the bridge had more than trebled over half a century, the additional weight possibly proving too much for the bridge to bear.
Engineers said additional weight alone cannot bring a bridge down but it is definitely a contributing factor. An addition of 50mm of bitumen would mean around 16kg of additional weight per square feet, they said.
The Tallah bridge, that connects BT Road with Shyambazar, was put to test after the Majerhat accident. Both the bridges were built in the mid-60s and over the years layers of bituminous coating had accumulated on the surface.
The PWD survey had revealed a 75mm thick layer of bitumen on Tallah bridge, nearly thrice of the ideal thickness. The cumulative weight of the thick bituminous layer could affect the bridge's load-bearing capacity though there are no immediate signs of wear and tear of the structure, engineers said.
Tallah bridge, which runs north of Shyambazar and over the Chitpore Railway yard, remains a key north-south link. More than a lakh vehicles ply on Tallah bridge every day.
Decreasing the bitumen load could give a fresh lease of life to the piers holding up the bridge, engineers said.
"When a layer of bitumen is laid over a concrete pavement, the stress on the bridge decreases," a civil engineer said. "But when this layer of bituminous concrete keeps thickening, the increased load may lead to minor cracks on the concrete slab. If water starts seeping through these cracks, the structure gradually weakens," an engineer said.
The complete layer of bitumen will be removed from the 181m long bridge and a layer of mastic asphalt laid instead.
There have been several inspections on Tallah bridge recently, the last one with senior police officers on Wednesday.
Repair work on Tallah bridge would begin during the week. With one flank off limits, all vehicles would be forced to crawl down one lane. This could lead to congestion for both Shyambazar-bound and Dunlop-bound vehicles.
Officers managing traffic around Shyambazar said repair work should be carried out only between midnight and 5am, when there is minimum traffic movement.
"The width of the bridge is 12.5 metres. We have asked the police to allow us to work on four-metre-wide stretches in phases so that traffic can move in both directions down one flank," said a PWD engineer. "We have set a 10-day-deadline to complete the work."