Binay's 40km march against CAA and NRC
Walkathon from Kurseong to Sukna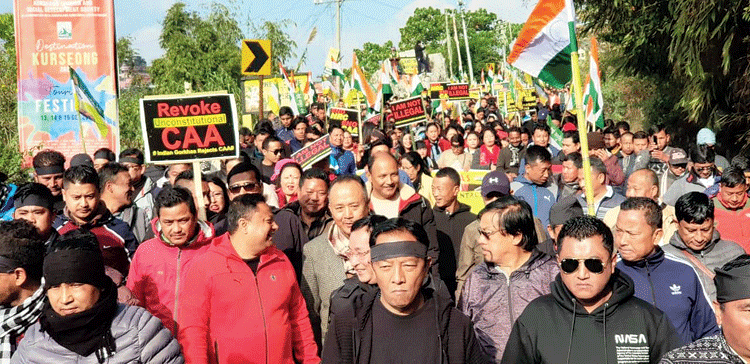 ---
|
Siliguri
|
Published 05.01.20, 11:34 PM
---
Gorkha Janmukti Morcha leader Binay Tamang led a 40km procession downhill from Kurseong against the Centre's moves on citizenship on Sunday, two days after chief minister Mamata Banerjee had held a huge protest march in Siliguri.
The Tamang faction of the Morcha organised the walkathon attended by hundreds along NH55 — formerly Hill Cart Road — from Kurseong to Sukna, which is around 10km Siliguri.
Slogans against the Citizenship (Amendment) Act, National Register of Citizens and the National Population Register rented the air during the march.
"We will never let the CAA or the NRC to be implemented in the hills. The Act would largely affect the Gorkhas and we have seen what the NRC has done to the community in Assam. We don't want it here," said Tamang.
Even though the mercury dipped to eight degrees Celsius in the afternoon, the marchers moved ahead, shouting slogans against Prime Minister Narendra Modi and home minister Amit Shah.
"We don't need the CAA in the hills. The BJP government should tell us what it has been doing to fulfil our principal demand (Gorkhaland). The hills have elected BJP MPs for three times in a row and till date, nothing has been done in this regard," said a protester.
The walkathon started around 9am and reached Sukna after 6.30pm.
This is the second major march held by the Tamang faction of the Morcha in the hills. Earlier, the party had held a procession from Darjeeling to Kurseong.
"It seems Binay Tamang has managed to retain the tempo of the protest after Mamata Banerjee's rally in Siliguri. Among those who walked with him on Sunday were present in the march by the Trinamul Congress on Friday. The Morcha leader has managed to drive home the point that they are the staunchest political force to oppose the CAA and the NRC in the hills," said a political observer.
He said the campaign against the CAA could help the Tamang camp consolidate its base in the hills.
After arriving in Sukna, Tamang said: "We will continue our movement till the Centre withdraws the Act. On January 12, we will hold a 28km march from Pedong to Dambar Chowk in Kalimpong. We will jointly take out a march with Trinamul in Darjeeling on January 22 in the presence of chief minister Mamata Banerjee. It will be a 4km march."
In Siliguri, Trinamul said it planned to intensify the door-to-door campaign against the Centre's citizenship initiatives.
"The BJP has planned a similar campaign on the CAA and so, we need to counter the party through the same strategy. We need to remind people that the CAA is one side of the coin and it will be followed by the NRC. People are with us and we need to retain their support by developing contacts at local levels," said a Trinamul leader.