Binay Tamang continues fast for fourth day
The GJM leader continued his hunger strike, demanding bonus at the rate of 20 per cent for tea workers of the hills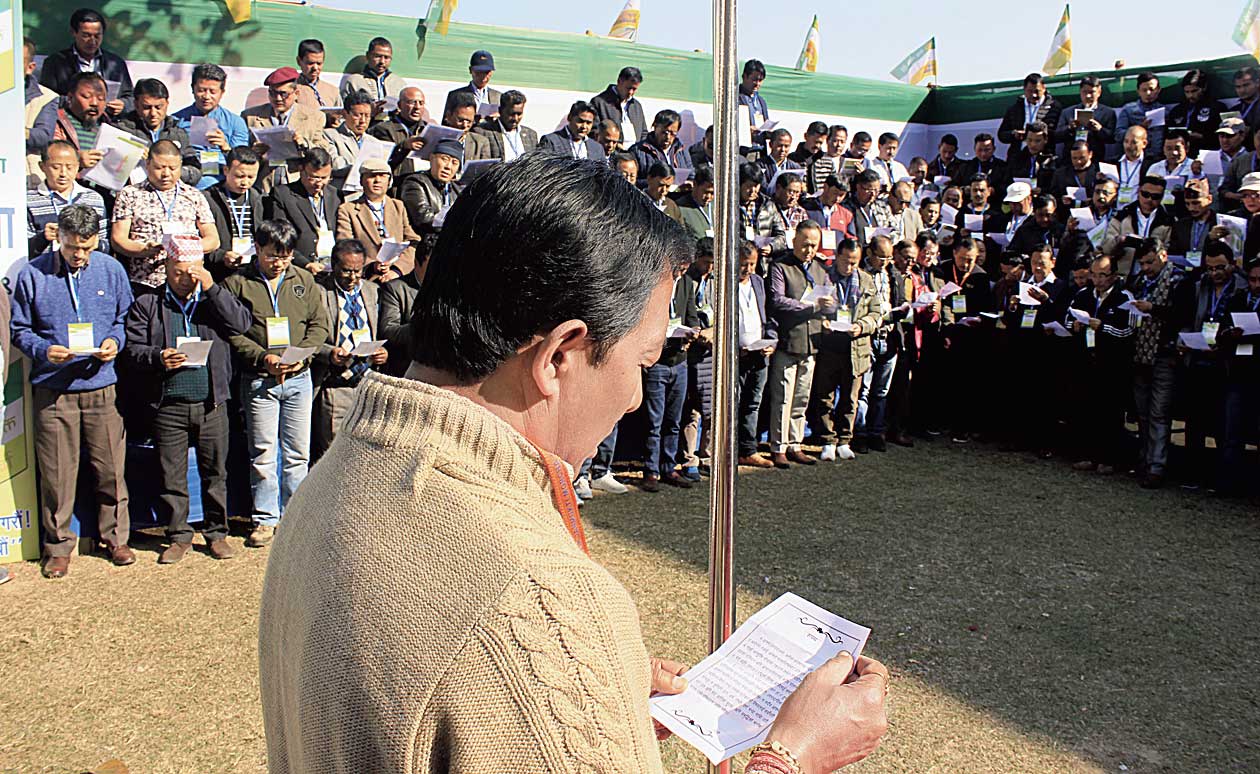 ---
|
Siliguri
|
Published 09.10.19, 07:56 PM
---
Gorkha Janmukti Morcha leader Binay Tamang continued his indefinite hunger strike in Darjeeling for the fourth day on Wednesday demanding bonus at the rate of 20 per cent for tea workers of the hills.
Doctors who examined Tamang, fasting at the Motor Stand in Darjeeling, said he was "serious". Tamang, however, declared he would continue his agitation until his demand was met.
The state labour department sent a letter to tea trade unions and planters' associations on Wednesday saying a tripartite meeting would be held in Calcutta on October 11 to discuss the bonus issue. In the Darjeeling Tea Industry, there are 55,000 permanent and 15,000 casual workers.
Tamang started his indefinite fast on October 6. "He is in a serious condition. He is having stomach pain and his blood pressure has dropped. He has other problems, too," said a doctor of the district hospital who examined Tamang.
Chief minister Mamata Banerjee sent Mohan Sharma — the president of Cha Bagan Trinamul Congress Mazdoor Union — to meet Tamang with the message to withdraw the strike. Tamang refused and said he will wait for the outcome of the October 11 meeting.
Anit Thapa, general secretary of the Morcha (Tamang faction), said the party will hold an emergency meeting on Thursday. "We will also discuss Friday's proposed meeting in Calcutta. Our party chief Binay Tamang wishes to continue his hunger strike despite being in a critical condition. All other leaders will be there to discuss on the emergent situation. The planters will have to pay bonus at 20 per cent rate at a time," Thapa added.
The planters said they were looking to the October 11 meeting. "The planters had proposed an advance bonus of 12 per cent rate ahead of the puja but the unions rejected it. As the state has intervened, they are waiting for the next meeting," said a source.
Plucking relief cry
Small tea growers of north Bengal have cited heavy rains this month and demanded that the Tea Board extend the December 14 deadline for plucking of tealeaves by 10 days.
According to the growers, the rains mean tealeaves of proper quality which would be available till the end of December this year.