Bidhannagar Govt School girl comes 2nd in Higher Secondary exam
Education her weapon in fight against poverty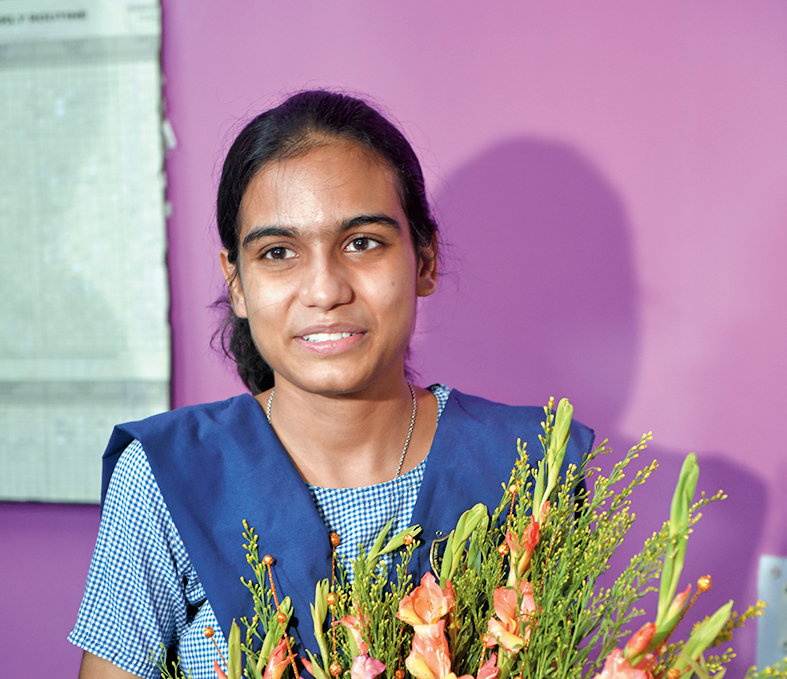 ---
|
Calcutta
|
Published 28.06.19, 12:32 PM
---
Looking at the frail frame of Sanjukta Bose, few would imagine she is so determined of spirit. That she has fought devils in her mind about mathematics as well as mounting
financial adversities that threatened to put an end to her education every step of the way. That today she stands on the Higher Secondary (HS) examination podium.
Sanjukta, a student of Bidhannagar Government School in BD Block, has come second in the examination, scoring 496 out of 500.
"Had it not been for BD school I could not have afforded her education," says her mother Chaitali, seated in their Baguiati flat. She has brought up Sanjukta on her own ever since her birth. She stiffens at any enquiry about her father. "Let it be said that he is in some other city." Chaitali had to support not just herself and her daughter. Her speech-impaired sister and her mother were her responsibility too. "I make ends meet by tutoring nursery children and the rent we get from a room. I could send her to school because it was free till Class X. Even the text books were free till Class VIII. I only had to pay for her bus rides and the Board exam fee."
The school teachers helped out all along by giving her free tuitions as part of the batches they tutored in private. For HS, she went to tutors outside school for mathematics and English. "Even they gave us a concession."
Sanjukta herself was always alive to her family's economic condition. "I would give her Rs 20 on school days. She would spend Rs 14 on bus fare and often bring back six rupees. I would ask her: 'Tui ki pnach takar biscuit-o khabi na?' Never has she yielded to the temptation of a rickshaw ride, no matter however heavily it was raining. If you take her to a clothes shop, she would quickly check the price tags and tell you that the Rs 150 dresses hanging outside on the pavement were best for her."
In fact, after Madhyamik, she declared that she did not need any new clothes for two years and asked her mother to save the money for books. She has repeated the pledge for the next three years of college too.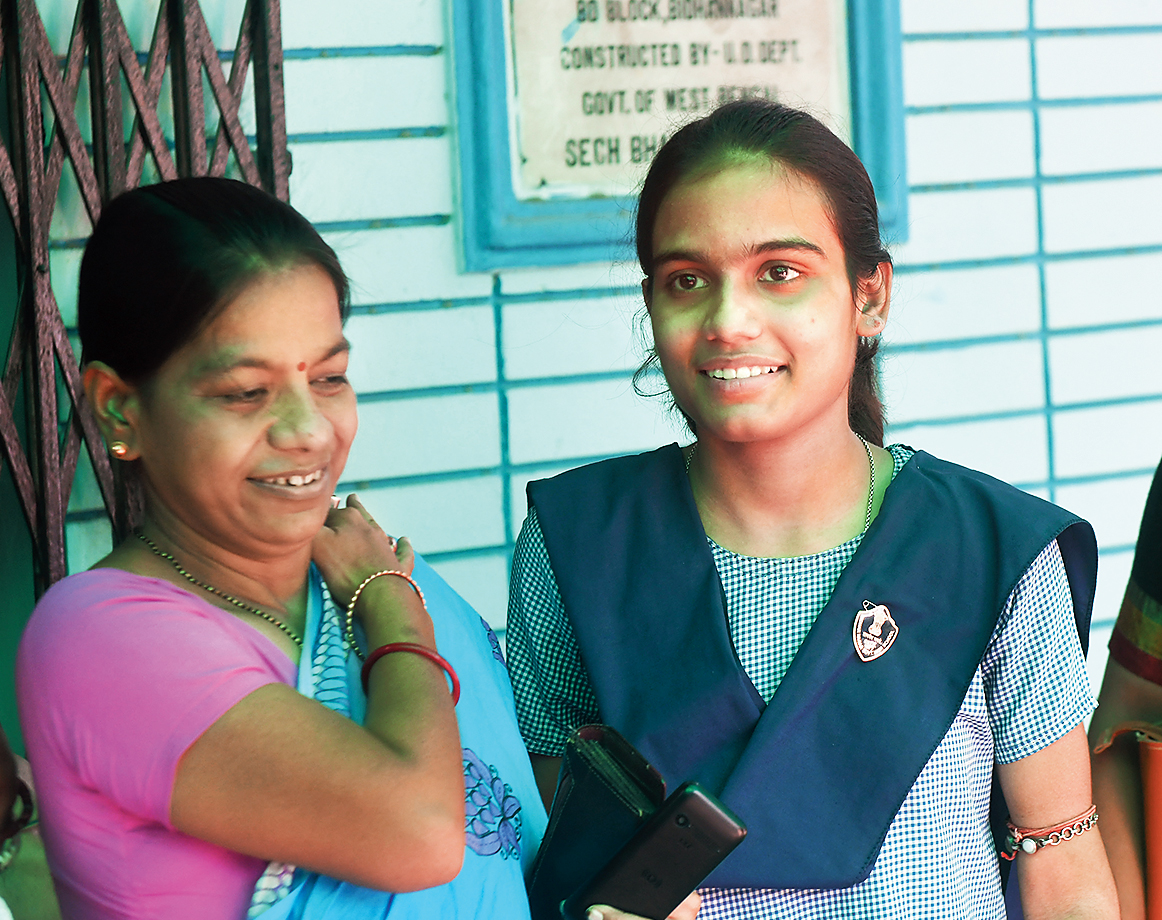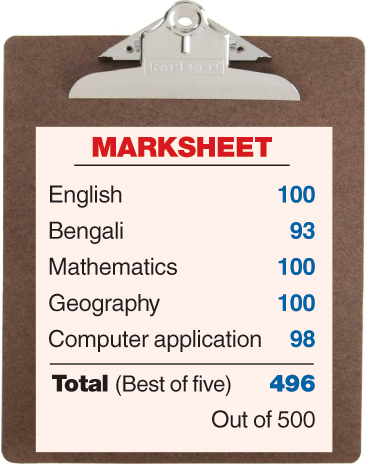 Devil in numbers
She had a primal fear of mathematics in the primary classes. On the day of math exam, meals were practically off at home. She would start crying from the morning, taking a break only to revise as she walked from the footbridge to the school — her friends say it's a miracle that she did not get run over — and resume in the exam hall. Minutes would pass by but she would refuse to even accept the question paper. Invigilators would plead with her to wipe her eyes and take a look. "They called her 'knaduni (the wailing one)' and warned that she would see the figures double with blurry eyes."
And when the test got over, she would come out of school "like a lowly beggar — face fallen, eyes bloodshot, shoulder drooping to a side." "Even students who would score no more than 20 out of 100 walked out with a smile on their faces, not my daughter. Once Sikha ma'am, the invigilator, called me saying that she had got all the sums right yet she was still crying."
Chaitali says she had never asked her daughter why she could not do better in any exam. "But it perhaps pained her to accept that she was not up to the challenge. She has always been an introvert."
On math mountain summit
Things changed when Asim Jana, the school's mathematics teacher, started teaching her from Class VI. "He is god to us," mother and daughter say in chorus. "He is the one who laid my foundation in mathematics. He would arrange not just for our evening snacks but offered tea also to the waiting guardians. If his wife was away, he asked them to even use the kitchen at his Baisakhi apartment and help themselves. Even with a fortnight to go for Madhyamik to start, if he found we had some free time he would ask us to go over for another round of revision."
So when the time came to choose the stream for HS, Sanjukta did not hesitate to pick math despite warnings from acquaintances. "But I wasn't confident about physics. So it could not be science. I chose economics and geography."
Since she did not get her desired marks in Madhyamik — her aggregate of 625 was less than the 642 she had scored in the school selection test — she put her heart and soul into HS preparations. "Whenever I saw her, she was solving sums. That got me worried about the other papers. Since the geography practicals took ages, with a weather map or a topographical sheet taking at least two hours, she figured out a routine for the days she did not have school. "I would study other subjects from 7.30am to 1.30pm, take rest till 4.30pm, study again from 5pm till midnight and then start with the
geography practicals on which I worked till dawn. Thankfully, they were over with about four months to go for the exam," she says.
Though the HS aggregate takes into account marks in only the top five subjects, Sanjukta did not take it easy with any paper. "I was scared of messing up both Bengali and computer application if I focused on one. Many of my batchmates with economics had ignored computer application thinking it would not count. But since this year the statistics paper, which many had opted for in place of geography, was tough they got less in both computer application and statistics, dragging their aggregate percentage down to the 80s."
After the exams, Sanjukta felt confident of doing well. "We were hoping for a top 10 rank. In fact, while watching TV two days before the results, her grandmother said everyone would see her on TV soon."
Though the mathphobia had subsided (she has scored full marks in HS in the subject), Sanjukta still clings to some superstitions. "You cannot mention egg, banana or rasogolla in her presence on the days of any exam. Even if egg is cooked at home for lunch, she would give it a miss if she had a test in her tuition classes in the evening," Chaitali laughs.
Ever since her results have come out, Sanjukta has been flooded with felicitation calls. But it is the 13th, hosted by her school on June 20, which has been the most special. "I met all the teachers, even from the morning sections," she smiles.
London dreams
With dreams of making it to the London School of Economics some day, Sanjukta has enrolled in St. Xavier's College. "The BD School alumni have also stood beside her through the years. So have neighbours and parents of her friends whenever I could not pay her tuition fees in time. Even then, I would not have dared to go ahead with her higher education with just my Rs 25,000 savings and the Kanyashree grant of Rs 25,000. But a publication company has promised another Rs 50,000 for endorsing their HS text books." She is also banking on the promise of local Durga puja Bandhumahal which has invited her to their khuti puja and promised to sponsor some of her text books.
Sanjukta's original wish was to be a criminal lawyer. But that course would have been too expensive. "Look at it this way. I would not be able to take it if you ever had to veer from the path of honesty or truth," Chaitali tells her daughter, as Sanjukta nods in agreement.