Bid to breed gharials in artificial environs
Mukesh Sarkar, the supervisor of the mini zoo, said they had learned about artificial breeding from the authorities of Nandankanan Zoological Park in Odisha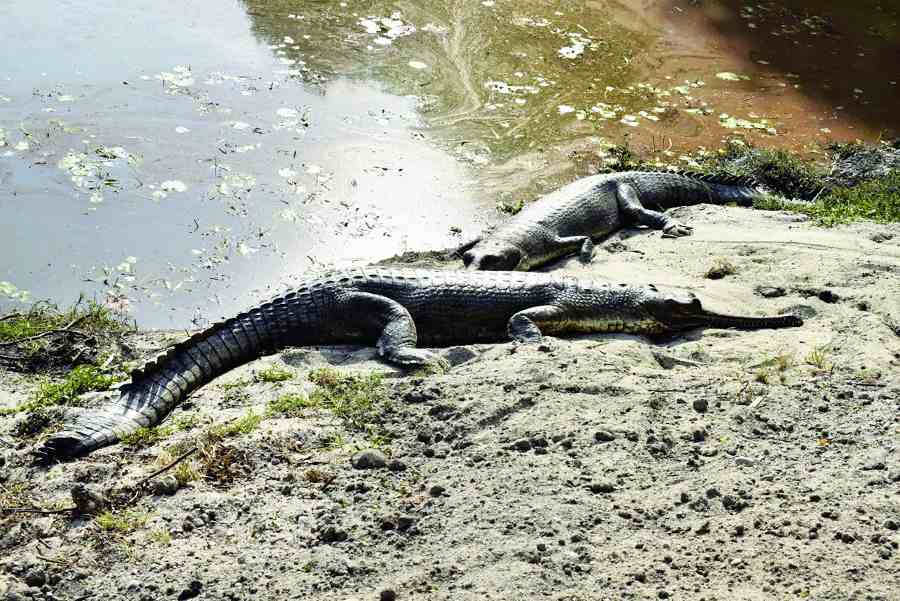 Gharials at the Rasikbil mini zoo.
Main Uddin Chisti
---
Cooch Behar
|
Published 10.05.22, 02:00 AM
|
---
The state forest department has taken up the task to breed gharials — fish-eating crocodiles — in an artificial environment at the mini zoo in Rasikbil of Cooch Behar.
Located in Tufanganj-II block of Cooch Behar, the mini zoo spread over 20.17 hectares has an enclosure for gharials, along with two leopards, two pythons, a fishing cat, three peacocks and over 100 spotted deer.
It is a popular tourist spot of people from Cooch Behar, Alipurduar and also the neighbouring state of Assam.
"We have 11 gharials of which nine are female. Earlier, they laid eggs but those decomposed before birth of the hatchlings because of inclement weather. That is why now we have collected the eggs and kept them in conducive temperature, relative humidity and other required conditions for breeding. The plan is to breed gharials in an artificial environment so that their population increases at the mini zoo," said Sanjit Kumar Saha, the divisional forest officer of Cooch Behar.
According to him 66 eggs have been collected so far.
"We have made a hatching room for the eggs. The incubation period is 60 to 90 days after which hatchlings will arrive. Our people are monitoring the room," added Saha.
Gharials, foresters said, are an endangered crocodile species. The International Union for Conservation of Nature (IUCN) that lists gharials (Gavialis gangeticus) as a critically endangered species that needs conservation.
Mukesh Sarkar, the supervisor of the mini zoo, said they had learned about artificial breeding from the authorities of Nandankanan Zoological Park in Odisha.
"They could successfully breed gharials. We hope to do the same. If we succeed, ours would be the first such centre of gharial breeding in north Bengal," said Sarkar.