Bharati Ghosh in poll-day storm
As she went around booths, Ghosh found herself at the receiving end of the administrative and political might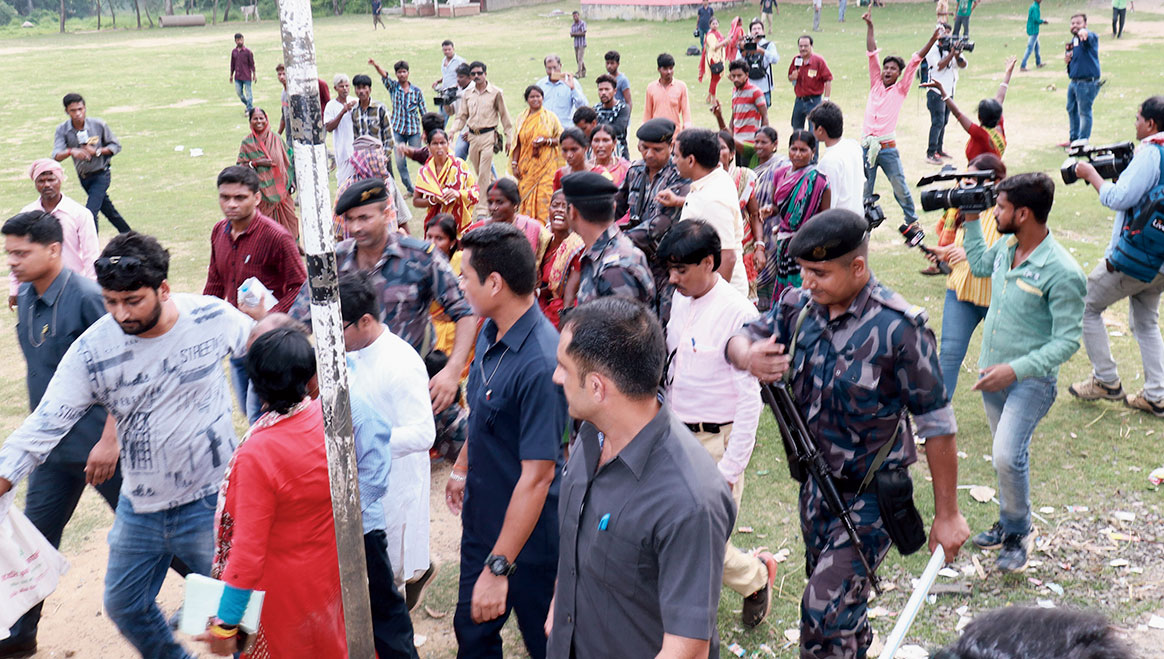 Ghosh being escorted out of a booth in Keshpur after being heckled by Trinamul supporters.
Picture by Saikat Santra
---
Midnapore
|
Published 12.05.19, 08:07 PM
|
---
Bharati Ghosh's writ once ran over Jungle Mahal. On Sunday, the former top cop of the area was a picture of helplessness as the BJP's Ghatal nominee, reduced to tears after being confronted and chased by alleged Trinamul-backed villagers and demonstrating against the very police she once led.
Known earlier for her proximity to Mamata Banerjee in her days as the West Midnapore and Jhargram police chief, Bharati was often accused of excesses. On Sunday, as she went around booths, Ghosh found herself at the receiving end of the administrative and political might. By the end of the day, Ghosh — who once referred to Mamata Banerjee as the "Mother of Jungle Mahal" — was crying foul and had an FIR lodged against her. A timeline of Ghosh's day out in the field:
8.45am: Ghosh is prevented some women from entering booths at Shibshakti High School in Keshpur after she tries to take a BJP polling agent inside. She had rushed there after complaints that BJP agents were chased out by alleged Trinamul workers. The women push Ghosh and she falls down. The women shout anti-Bharati slogans, recounting the "harassment" they faced during her days as a top cop in the area. Ghosh is seen sobbing after she hurts her foot during the scuffle.
9.30am: A complaint about the violation of the model code is lodged against Ghosh after she films proceedings inside a booth on her mobile phone. Her aides allege proxy voting by Trinamul workers in the booth.
9.45am: Ghosh's car is ransacked in Dogachia in Keshpur. Her aides said say she had gone there after complaints that Trinamul supporters were intimidating voters. A group chases Ghosh as soon she alighted from her car. Soon, stones are pelted on the vehicle, leaving a CISF jawan guarding Ghosh with a head injury. Other guards whisk Ghosh away.
10.45am: A villager, Baktiar Khan, is injured after Ghosh's guards allegedly open fire to save her from a mob in Dogachia. Ghosh had noticed "unauthorised" gatherings in front of a booth and asked the police to disperse the mob. Instead, Ghosh is chased. Khan, an alleged Trinamul supporter, is in hospital and stable. 11.15am: Police seize Ghosh's car in Keshpur Bazar, claiming she does not have permission from the Election Commission. Ghosh then starts a protest, squatting in a temple and alleging that she is being prevented from visiting booths. A little later, stones are thrown in Ghosh's direction, forcing her to take shelter in the nearby Keshpur Police Station. She leaves after another car is arranged by the BJP.
2.30pm: Ghosh and her guards are waylaid by villagers at Jhentla in Keshpur when she tries to visit a booth again. The mob ransacks her vehicle, alleging she had harassed villagers as the SP.
4pm: Brakes are slammed on Ghosh's booth trips after the police stop her convoy near Pingla.
What Ghosh said: "The Election Commission could only see that I clicked a video in a booth… They could not see I was heckled, attacked and prevented from entering booths. Entire Keshpur was on fire and the poll panel could not see that." Union minister and BJP vice-president Mukhtar Abbas Naqvi called the seizure of Ghosh's car "illegal".
What Dev, Trinamul's Ghatal candidate, said: "I feel sorry about what she (Ghosh) faced. But what she did in the past few days was not right. She threatened people in the area and police officers in the district. This is not right."