Bengal too 'safe' for start-ups
Biocon boss blames risk-averse nature for laggard status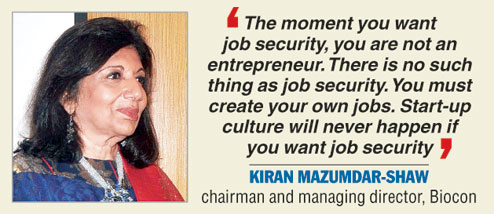 ---
Published 19.08.17, 12:00 AM
|
---
Aug. 18: Bengal lacks a start-up culture "because the risk-taking ability of Bengalis is low", biotechnology pioneer Kiran Mazumdar-Shaw said at Presidency University today while recalling how she started her career working for a brewery in Calcutta before chasing her entrepreneurial dreams elsewhere.
Mazumdar-Shaw, chairman and managing director of Biocon, had landed a job in the Calcutta of the Seventies as the technical head of a brewery on Diamond Harbour Road. She went on to start her own company in Bangalore and shape it with the help of a retired tractor mechanic and a fresher from IIT Madras.
At Presidency University to receive a honorary doctorate in science, Mazumdar-Shaw said her early days of struggle were primarily because people would not take a woman entrepreneur seriously. She credited Bangalore's thriving "start-up culture" with helping her company grow even back then.
When Metro asked her why the same culture was missing in Bengal, Mazumdar-Shaw said: "That's because maybe your risk-taking ability is low. To become a good entrepreneur, you have to take risks. Culturally, people in certain areas are not risk takers. I am a Gujarati. Gujaratis are big risk-takers. People in the south... they are also huge risk-takers. Same can be said of the Punjabis."
The Biocon boss added: "But Bengalis like comfortable, secure jobs. The moment you want job security, you are not an entrepreneur. There is no such thing as job security. You must create your own jobs. Start-up culture will never happen if you want job security."
Bye-bye Calcutta, hello Bangalore
Between 1976 and 1978, Mazumdar-Shaw had worked in Calcutta for Jupiter Breweries. "As the first female brew master, I was tasked to commission a brewery. Since the technical head had walked out, the job came my way at Jupiter Breweries," she recalled.
But she was in for a "rude shock".
"I had the gallant job of commissioning a brewery, yet I did not get a permanent job anywhere in the country. Everybody argued that while women were good as trouble-shooters, they could not be considered for a permanent job in this profession," she said. " So instead of starting my career in brewing, on the rebound I started my company in biotechnology."
Mazumdar-Shaw was 25 when she shifted to Bangalore. "I started my venture in a garage with Rs 10,000," she said.
Her focus, she recalled, was on "building credibility". Biocon is today regarded as Asia's premier biopharmaceutical company and the Bengal she left behind an industrial has-been.