Bengal surpasses 5 lakh Covid-19 tests
It took 44 days for Bengal to attain the tally of 5,08,001 after it had gone past the 1 lakh test milestone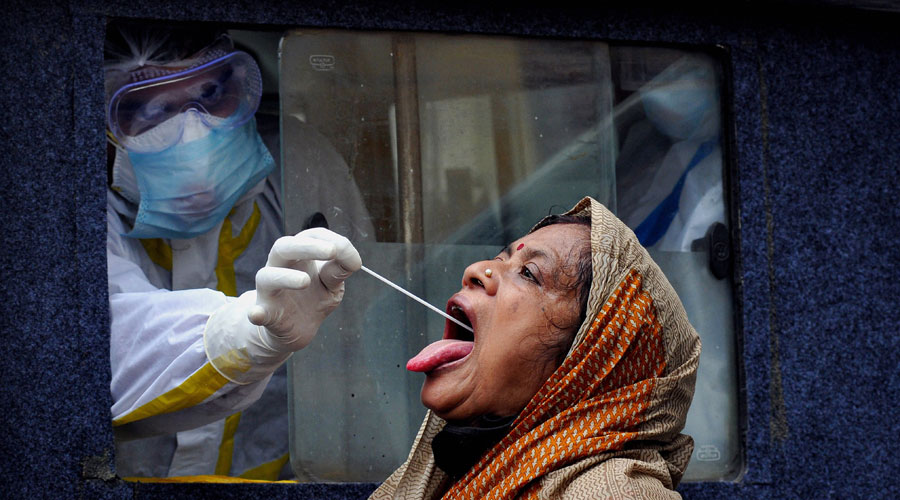 ---
|
Calcutta
|
Published 03.07.20, 04:14 AM
---
Bengal on Thursday went past the landmark of total 5 lakh Covid-19 tests with 10,405 tests in 24 hours and became the seventh state to reach the figure.
It took 44 days for Bengal to attain the tally of 5,08,001 after it had gone past the 1 lakh test milestone. The state started Covid-19 testing in the first week of February and took over three-and-a-half months to get past 1 lakh on May 19.
"However, after that, we crossed 2 lakh in 12 days (on May 31), 3 lakh in 11 days (on June 11), 4 lakh in 10 days (on June 21) and 5 lakh in 11 days. By the end of this month, we will certainly be past the 7 lakh mark. We are pushing ourselves to get past 8 lakh within July," said a Bengal minister.
"Some other big states got to this stage earlier than us, but they had many more Centre-approved laboratories to begin with. When we started out, we just had one. Now, we have 51," he added.
The state now has 5,644 tests per million. A month ago, it had 2,475.
However, owing to the considerable rise in new cases, the positive confirmation rate — the percentage of people found infected among those tested — deteriorated from 2.77 to 3.9 per cent in a month.
Bengal on Thursday reported 649 new Covid-19 cases, which took the total to 19,819. In the past seven days, the state recorded 3,629 new cases. The total active cases went past 6,000 and are 6,083 now.
Of the 649, around 97 per cent were reported from districts that experienced high volumes of returns of migrant workers and others stranded elsewhere in the country during the initial stages of the lockdown. Calcutta alone reported 218 cases.
The death toll from Covid-19 rose by 16 to touch 699. Of them, Calcutta alone accounted for 394. The state government reported 536 deaths or 76.7 per cent as those with comorbidity "present". In a month, the death toll has risen by 364.
Around 6.14 lakh people successfully completed quarantine and they included nearly 2.53 lakh Shramik Special returnees. Barely 75,000 people remain in quarantine now.
Bengal also logged 509 recoveries in 24 hours, taking the total past 13,000, with 13,037 now. Of them, 2,502 were reported in the seven-day period since Friday.
"The recovery rate is 65.78 now and it improved by 10 per cent in two weeks and 26 per cent in a month. National rate is 59.51," said the minister.
The state's mortality rate is 3.52 now. It has improved from 5.43 in a month. Calcutta's mortality rate is 6.11, whereas it was 9.67 a month ago. The current national mortality rate is 2.94 per cent.
Bengal also reported occupancy of 22.76 per cent of 10,489 Covid-19 beds at 78 dedicated hospitals.