Bengal: Sovan switches to BJP with associate
The former Calcutta mayor joined the BJP amid reluctance of a section of leaders in the saffron camp over his induction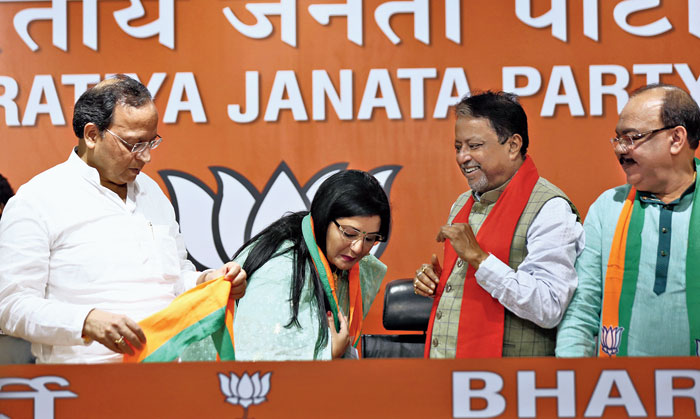 ---
Calcutta
|
Published 14.08.19, 08:36 PM
|
---
Trinamul Congress leader Sovan Chatterjee and his close associate Baishakhi Banerjee joined the BJP on Wednesday amid a drama indicative of reluctance of a section of leaders in the saffron camp over their induction.

"I joined the BJP to combat the politics of negativity in Bengal. I support the development agenda under Narendra Modi and Amit Shah," Chatterjee said at the BJP headquarters in New Delhi.
He was Calcutta's mayor and most trusted aide to Trinamul chief Mamata Banerjee.
Fellow Trinamul Congress turncoat Mukul Roy facilitated the induction of Chatterjee – Kanan to Mamata – who is still the Behala East MLA and ward 131 councillor.
"I joined the BJP to combat the politics of negativity in Bengal. I support the development agenda under Narendra Modi and Amit Shah," Chatterjee said on his joining, repeating a sentence that most turncoats have said in recent months.
Sources in the BJP said Chatterjee, despite reservations in several sections of the BJP, was allowed to join with an eye on the Calcutta Municipal Corporation elections next year.
More than discussions on what he can offer to the BJP or what will be Trinamul's loss due to his defection, a drama over his formal – conspicuously lacklustre – joining ceremony at the BJP national headquarters in Delhi drew more eyeballs.
The reason behind the drama was the prospects of joining of a third, Trinamul's Raidighi MLA Debosree Roy, a former close associate to Chatterjee.
The delay, according to sources, was because of the drama related to rooms 240 and 241 on the second floor of the sprawling saffron headquarters in the capital.
"It all started after some journalists accidentally spotted actor-turned-politician Debosree, sitting with an associate in room 240. Chatterjee and Banerjee were with Mukul in room 241, allotted to Bengal co-minder Arvind Menon," said a party source.
As word spread that Debosree too would join the party along with them, Banerjee apparently refused and Chatterjee, said sources, echoed his professor friend.
Mukul apparently told the duo that he was unaware about the Debosree development, which he briefed journalists later. After sometime, Debosree couldn't be spotted in room 240 and the news conference for the joining of Chatterjee and Banerjee commenced.
"Debosree struck a deal with some others in the BJP leadership…. Neither the Mukul lobby, nor the state leadership knew about her," said a BJP insider.
But there was no clarity on who took her to the BJP office or what she was doing there till late on Wednesday evening. Repeated calls to Debosree's mobile phone were met with the response that it was switched off.
Amid this, BJP sources said that Sovan apparently laid some conditions before the party. "Sovan, by the way, has told even (working president) J.P. Nadda that he would resign from the BJP the day Debosree joins the party…. He still has a certain skill-set. She brings very little to the table. The leadership is unlikely to disregard Sovan on this," he added.
After Debosree disappeared, Chatterjee and Banerjee – who did not appear pleased – went to the news conference along with Mukul and Menon.
But there, no prominent central leader seemed keen on sharing the dais with the duo.
In the end, general secretary and Odisha minder Arun Singh – virtually unknown to the Bengal audience -- was asked to complete the formality.
That Singh had agreed reluctantly was visible during the news conference, as he turned towards Mukul when asked to give the membership slip to Chatterjee, who was seated right beside him. Singh was also visibly reluctant to speak on the occasion.
"There is considerable discomfort over Sovan's induction given his past, especially his alleged involvement in the Narada scam," said a BJP state unit functionary.
"There are also many questions on what value he can actually add to the BJP. He used to be a good funds mobiliser, event manager and administrator in his time in Trinamul. But he also has considerable baggage of his past, both in his public and personal lives, which could now become the BJP's liability," he added.
Reacting to Chatterjee's joining, BJP state chief Dilip Ghosh – who has been disapproving of several defections engineered by Mukul in the past – said he was informed prior to the joining this time.
"I never approached him, urging him to join. He had contacted our leadership in Delhi, expressing his keenness," said Ghosh. Sources close to him said he too was not comfortable with the induction of "tainted" leaders from Trinamul. They said the state leadership was informed, "not consulted", about the joining.
Ghosh directly responded to questions on graft allegations against Chatterjee.
"There are political compulsions behind his inclusion. He has not been proven guilty yet. If he is proven guilty in future, the option to show him the door exists," said Ghosh.
"But many leaders with problematic pasts have also turned a new leaf and become good after joining the BJP," he added.
Responding to the defection of Chatterjee, his old friend and long-term colleague in Trinamul Firhad Hakim, who succeeded him as the mayor, said it was a "mistake he would regret".
"He will, eventually, realise what he has done. But then there will be nothing left to do," he said.