Mercury rising: Sweltering heat conditions prevail in South Bengal
Bankura records Monday's highest temperature of 43.9 degrees Celsius in the state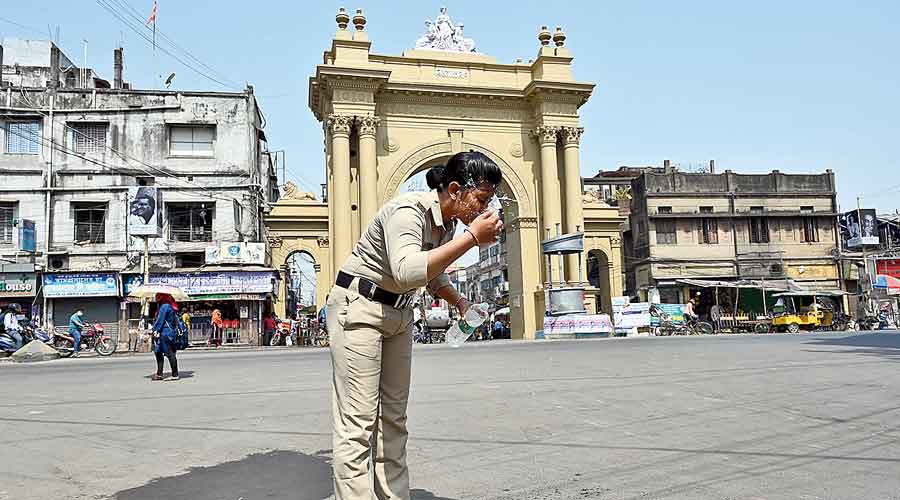 A police woman sprinkles water on the face in front of the Curzon Gate in Burdwan on Monday.
Munshi Muklesur Rahaman
---
Calcutta
|
Published 26.04.22, 01:24 AM
|
---
Bengal's highest temperature on Monday was recorded in Bankura at 43.9 degrees Celsius as "heat wave conditions" continued to prevail for the second straight day in southern districts.
The Met office has asked people not to expose themselves for long duration in the sun as it might lead to heat stroke. There seems to be no respite from the heat in the immediate future, according to the Met forecast.
Bankura on Monday reported the highest temperature in the state as the mercury touched 43.9 degrees Celsius. Many other districts saw the mercury breaching 42 degrees.
The maximum temperature in Panagarh was 43.1 degrees Celsius. Asansol, Purulia, Burdwan, Jhargram were among other places in south Bengal where the mercury touched the 42-degree mark.
The state government on Monday asked all the districts to be on guard.
District magistrates of Bankura, West Burdwan, Birbhum, Purulia and West Midnapore have conducted meetings with block officials to seek reports on the alleged crisis of drinking water and infrastructure at rural hospitals.
The Met office has warned of the heat wave prevailing from April 25 to 28 across south Bengal districts and Malda and South Dinajpur in north Bengal.
Dry heat is not new to districts like Bankura, Purulia and West Midnapore. But in between the hot and dry spells, a squall brings a temporary cool phase. This year hasn't seen that phenomenon.
"The summer has been exceptionally dry this year, even for the western districts of Bengal," said a Met official.
"Usually, moisture-laden easterly winds from the Bay of Bengal dominate the area above the surface of the earth during summers in Calcutta. Their range is around 2km from the earth's surface. North-westerly winds often prevail but above that range. As a result, the conditions are sweaty," he said.
"But so far this summer, the north-westerly winds have been prevalent even in the zone earlier dominated by the easterly winds," he added.
The roads of Bankura town and adjoining blocks wore a deserted look from 11am.
The Bankura district administration has convened an emergency meeting on Tuesday that will be attended by officials of the irrigation and public health engineering departments and local bodies to discuss the scarcity of drinking water in several pockets.
"We will take stock of areas facing drinking water crisis and take necessary action to keep the water supply intact from other sources. The other precautions have been taken," said K Radhika Aiyar, the Bankura district magistrate.
The Bankura DM has asked all the blocks to ensure drinking water and oral rehydration solutions (ORS) at all worksites under Mahatma Gandhi National Rural Employment Guarantee Scheme.
 "The workers under MGNREGA work under the direct sun and the community is likely to face the heatwave in large numbers. So, we have directed all the BDOs to ensure drinking water and ORS at every worksite," said Aiyar,
Mercury level crossed the 41 degrees Celsius mark in most south Bengal districts including Birbhum, West Burdwan, West Midnapore and Purulia. The Birbhum administration had also asked BDOs to submit a report within Monday night about areas facing scarcity of drinking water.
 "As soon as we get the report, we will send water tankers or arrange other sources of water in those pockets. Hospitals have been asked to prepare with sufficient beds as many people can face diseases like dehydration and diarrhoea during the heatwave. Health officials have also been asked to store ORS pouches as much as they can," said Birbhum district magistrate Bidhan Ray.
In their alert, the Met office has suggested people not to expose themselves for long duration in the sun as it might lead to health issues like heat stroke.
"We have asked officials in rural pockets and municipal areas to advise people, mainly elderly people and those with ailments, to avoid stepping out in the daytime," said a senior state government official.
Like Bankura, all south Bengal districts on Monday wore a deserted look and people on cycle or motorbikes were found using shades or scarves to save themselves from heat.