Bengal option for some not on NRC list
Those living in areas like Simultapu and Srirampur – localities near the border were spotted in huddles, busy in passing suggestions and information to each other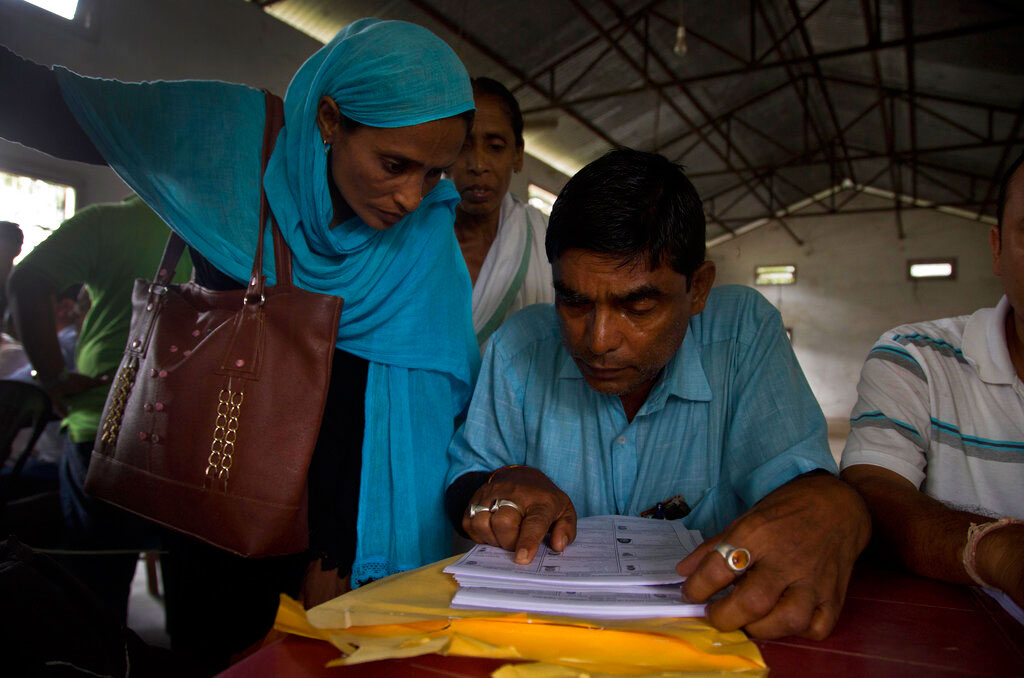 Villagers check their names in the final list of the National Register of Citizens in Buraburi village, in Morigaon district, Assam, on August 31, 2019.
(AP)
---
Alipurduar
|
Published 01.09.19, 08:37 PM
|
---
Some Assam residents living close to the border are considering shifting to Bengal, banking on chief minister Mamata Banerjee's assurance four months ago that the NRC would not be implemented in the state.
Nimai Mondal, a jhalmuri seller in Srirampur of Kokrajhar district, said he had learnt that the names of his three brothers and their families were on the list. Not his and that of his family.
"People are speaking about foreigners' tribunals, high court and the Supreme Court. I make a living selling jhalmuri and cannot afford the legal costs. I will wait for a few more days and if I do not find my names, I will shift to Bengal with my family. Mamata Didi had said her party will stand by us and we hope we will be allowed to live in her state. We have been living with tension for several months now and can no longer bear it," said Mondal.
Mamata had made the announcement at a rally in Dhubri, close to the Bengal border, during the Lok Sabha poll campaign. She had slammed the BJP over the NRC issue and asserted that Trinamul will stand by those left out of the list, irrespective of religion.
Many in Simultapu and Srirampur, other areas near the border, were on Sunday huddled at tea stalls and under trees, discussing the fate of those who could not make it to the NRC.
Concerns mounted on the Bengal side too, particularly among those with relatives in Assam. Many have been making calls to Assam since Saturday.
"My in-laws stay at Gossaigaon in Assam. So far, they have not confirmed whether their names are there on the list. I have told them that if they do not find their names, they can sell off their properties and move to my place. I will make arrangements for their stay," said Pranab Pal, a trader in Kumargram, which borders Bengal's Alipurduar.
Security
The scene in the border areas on Sunday was different from that of December 2018 when the second draft of the NRC was published. Then, the Bengal government had beefed up security, with police intensifying checks on those entering the state from Assam. This time, there is no additional deployment. "We have not seen any major change in the situation. Only the number of vehicles moving between the states is a bit less," said a trader in Barobisha.