Bengal lockdown: train travellers stranded for hours on Day 1
Police make Trinamul supporters close office and return home, baton charge violators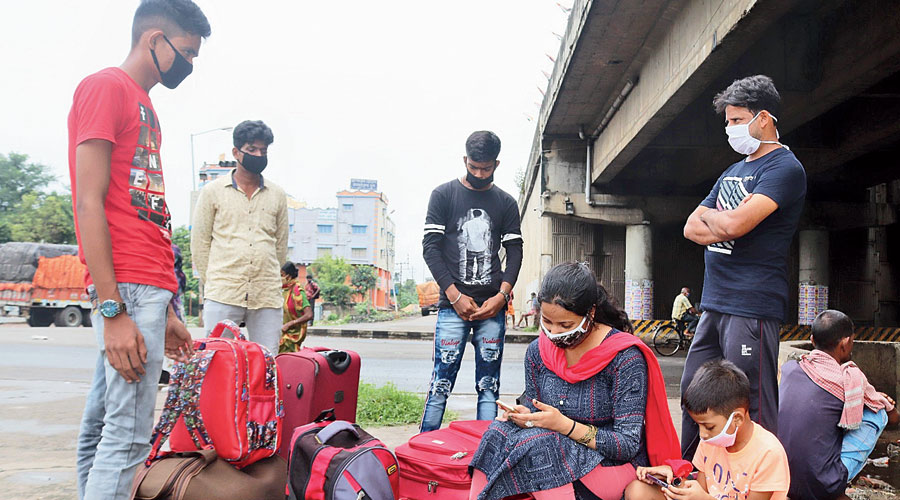 Shefali Begum and her son, who were stuck at the Burdwan railway station upon their return from New Delhi on Thursday.
Picture by Munshi Muklesur Rahman
---
Published 24.07.20, 03:53 AM
|
---
Bengal began its twice-a-week lockdown on Thursday to arrest the spike in Covid-19 cases. The Telegraph presents a collage of incidents that happened across south Bengal on the first day of the fresh spell of lockdown
Spilt milk
The state government had exempted essential services from the purview of the lockdown. Banking on his experience during the earlier phases of the lockdown, Amal Rout, a milk seller in East Midnapore's Haldia township, had procured milk packets worth Rs 12,000 on Thursday. 
As he began business for the day, Haldia police arrived and asked him to shut the shop. The trader tried to reason with the police but in vain.
"I told the police that milk is an essential commodity and I had sold milk during the earlier phases of the lockdown. I pleaded with them because closing the shop would mean a big loss for a small trader like me. The cops were not ready to buy my argument. I was forced to close my shop and as a mark of protest, I threw away 500 packets of milk on the road," Rout said.
Haldia subdivisional police officer Tanmoy Mukherjee said: "I don't know about the incident. I will look into it if such an incident has happened."
Stranded at stations
A group of five migrant workers, including a woman, from Bankura's Indus had got down from a special train at Burdwan railway station but there was no bus to take them home. They contacted their family members in Bankura and a car was sent to bring them back home.
"If there was a lockdown, then train services should have been stopped in the state. We had to wait for at least three hours on the road as there was no vehicle. Finally, we reached home but had to shell out much more than what a bus journey would have cost us," said Shefali Begum, a woman whose husband works in a private company in Delhi.
East Burdwan police chief Bhaskar Mukherjee said: "I can't confirm whether we had information about the arrival of a special train at Burdwan station on Thursday."
Chief public relations officer of Eastern Railway Nikhil Kumar Chakraborty, however, said: "The train is running as per schedule. The question of sharing information comes if there is any change in the schedule."
A large number of passengers, who had come from Delhi and Mumbai, got down at West Burdwan's Asansol station and had a similar experience. However, the local administration arranged for a bus to take them to their respective destinations.
No politics please
Around half a dozen Trinamul workers in Birbhum's Nalhati town had opened the local party office on Thursday morning and were busy discussing the impending leadership change that was announced later in the day. Police, however, played spoilsports to their discussion. A team led by SDO of Rampurhat Sweta Agrawal and SDPO Sowmojit Barua asked the party workers engaged in the animated discussion to lock the office and head for home.
Baton for violators
Police had to use batons across Birbhum, East Burdwan and Nadia districts. In Birbhum's Sainthia, the police stopped around half a dozen persons who had stepped out of home without any emergency. The cops forced many lockdown violators to squat at various places in Nadia and North 24-Parganas.