OH! NO! So long, and thanks for no fish?
Buzz is that Bengal is heading for pisci-scarcity, and what will arrive will be costlier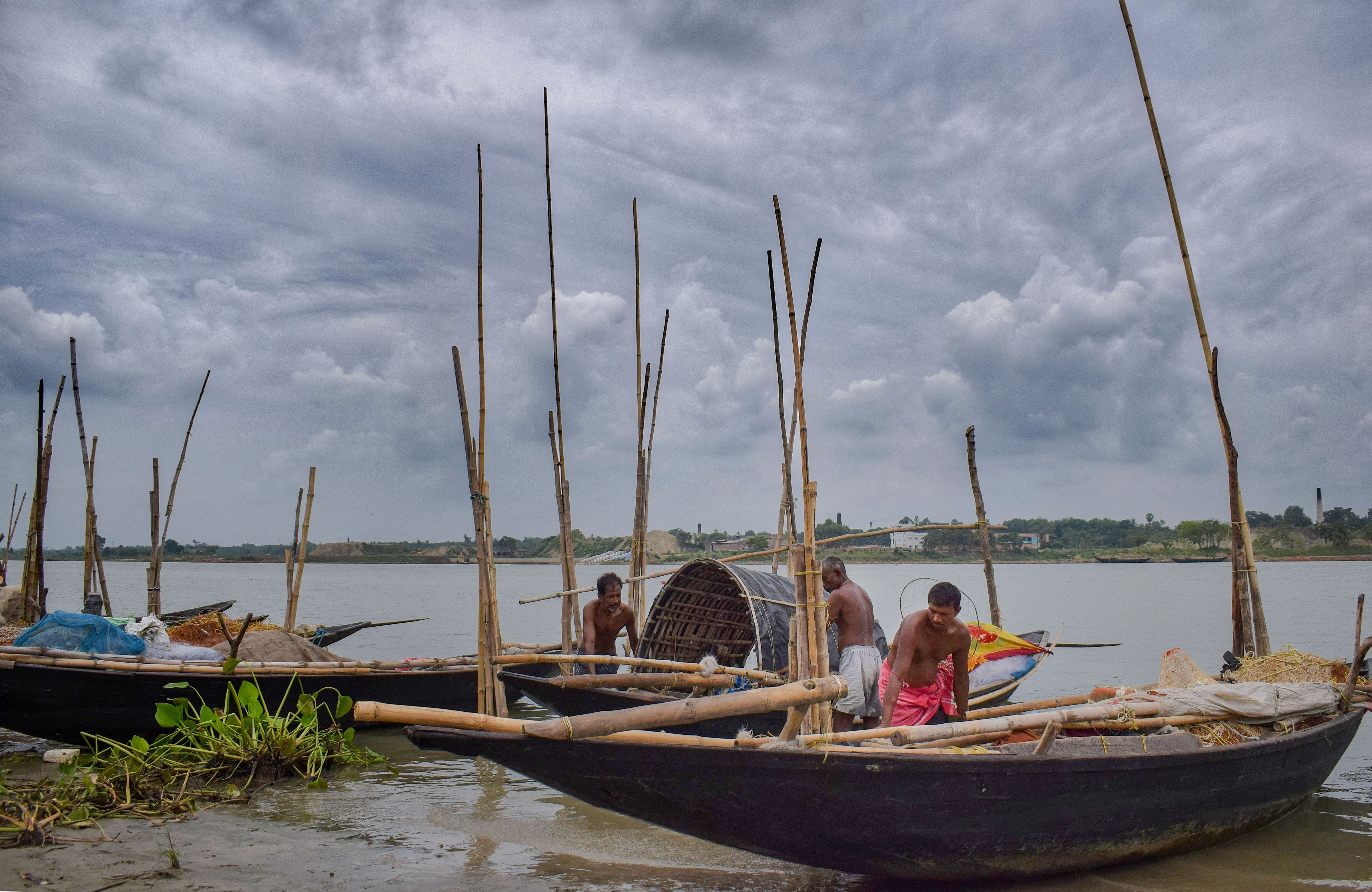 ---
Published 13.06.20, 09:23 PM
|
---
Every year at this time, fishermen get ready to set sail once the annual deep-sea fishing ban ends mid-June. The harbour at Digha in West Bengal's East Midnapore district is typically chock-a-block with expectant trawlers and motorised boats, nets are spread out on the ground and needles fly as everything has to be in working condition before the annual launch. Labourers stack the underground decks of trawlers with ice, drums of drinking water and food.
But this is 2020; nothing is moving to plan. First the lockdown battered the fisherfolk of Bengal and then Cyclone Amphan brought them to their knees. Next, on May 25, came the revised deep-sea fishing ban order from the Centre. While the implications extend to all fisherfolk, they perhaps weigh heaviest on the small-scale fishermen.
At the mouth of the chain that is the fishing industry lies the fishing sector. It is made up of three types of players — large-scale, middle-scale and small-scale fishermen. Type 1 comprises fishermen who use mechanised trawlers. These vessels can travel up to 370 kilometres into the waters. They stay at sea for a week to 10 days and then return. Of their catch, 75 per cent is exported. Type 2 uses motorised fishing boats. They too can do deep-sea fishing like Type 1 but cannot stay in the waters for so long and generally come back the same day or the next. These fishermen cater mostly to the Indian domestic market; only a fraction of their catch makes its way into the Bengal market. Type 3 is made up of small-scale fishermen.
There are different categories of small-scale fishermen. While some have motorised boats, others use the dinghy or small boat. They fish in the shallow seas, in the inland waters, estuaries, lakes and reservoirs. Some of them do not use a boat and catch fish with fishing nets. All these fishermen cater to the local market. Most of the fish that lands up at auction centres in Canning, Namkhana, Contai are supplied by them. These small-scale fishermen supply 80 per cent of the fish that is available in markets across Bengal.
Bengal's small-scale fisheries have an annual turnover of Rs 500 crore. The peak season for small-scale fishermen is between October and February and for large and medium-scale players it is between June and April. After Prime Minister Narendra Modi announced the nationwide lockdown on March 23, all fishing activity came to a standstill. The trawlers that were still at sea had to hurry back with their catch but the smaller players were left holding nothing.
Fish travels from the fisherman to the arat, or wholesale market. But all of April and May, Bengal's wholesale fish markets — Sealdah's Baithakkhana Bazar and Koley Market, the Howrah wholesale fish market, the Digha Mohana storehouse and the Canning arat — remained shut. "We could not have the auctions as fish traders and wholesalers come in huge numbers from local markets and adjoining districts such as Howrah, Calcutta, Hooghly, Haldia as well as north Bengal; it is against social distancing norms," says Batakrishna Patra, who owns an arat in Digha. "There was no fishing activity except for those who fish manually during high tide," says Gobinda Das, another arat-dar from Canning. In such a scenario, cold storages were thrown open.
In normal years too, the arats shut in summer. Patra says in April, May and June, local business is completely dependent on fish pulled out of cold storage. But with all fishing activity suspended due to lockdown this year, there will be only half the regular volume of fish in cold storage. "In the long run, the supply of fish will be hit and prices will be sky-high," says Pradip Chatterjee, who is convener of the National Platform for Small Scale Fish Workers (NPSSFW).
Chatterjee elaborates, "The small-scale fishermen who go out to sea also contribute to the dried fish sector." According to Debasis Shyamal, who is national council member of NPSSFW, while Midnapore processes dried fish that makes for 60 to 70 per cent poultry and cattle feed for the state, the supply from South 24-Parganas is almost entirely for human consumption as the quality of fish is better. Apart from its domestic use, dried fish is also exported to Bangladesh, Southeast Asia, the European countries and the US, and earns the state more than Rs 1,000 crore annually.
Over and above the hurdles put forth by Covid-19, small fishermen are now having to grapple with the widespread spoils and ravages of Amphan. Abdar Mallick, a fisherman from Sagar Island in South 24-Parganas, says, "The cyclone has destroyed our homes and property. Our fishing nets have been damaged. Our boats have broken into two. We are not in a position to go out fishing."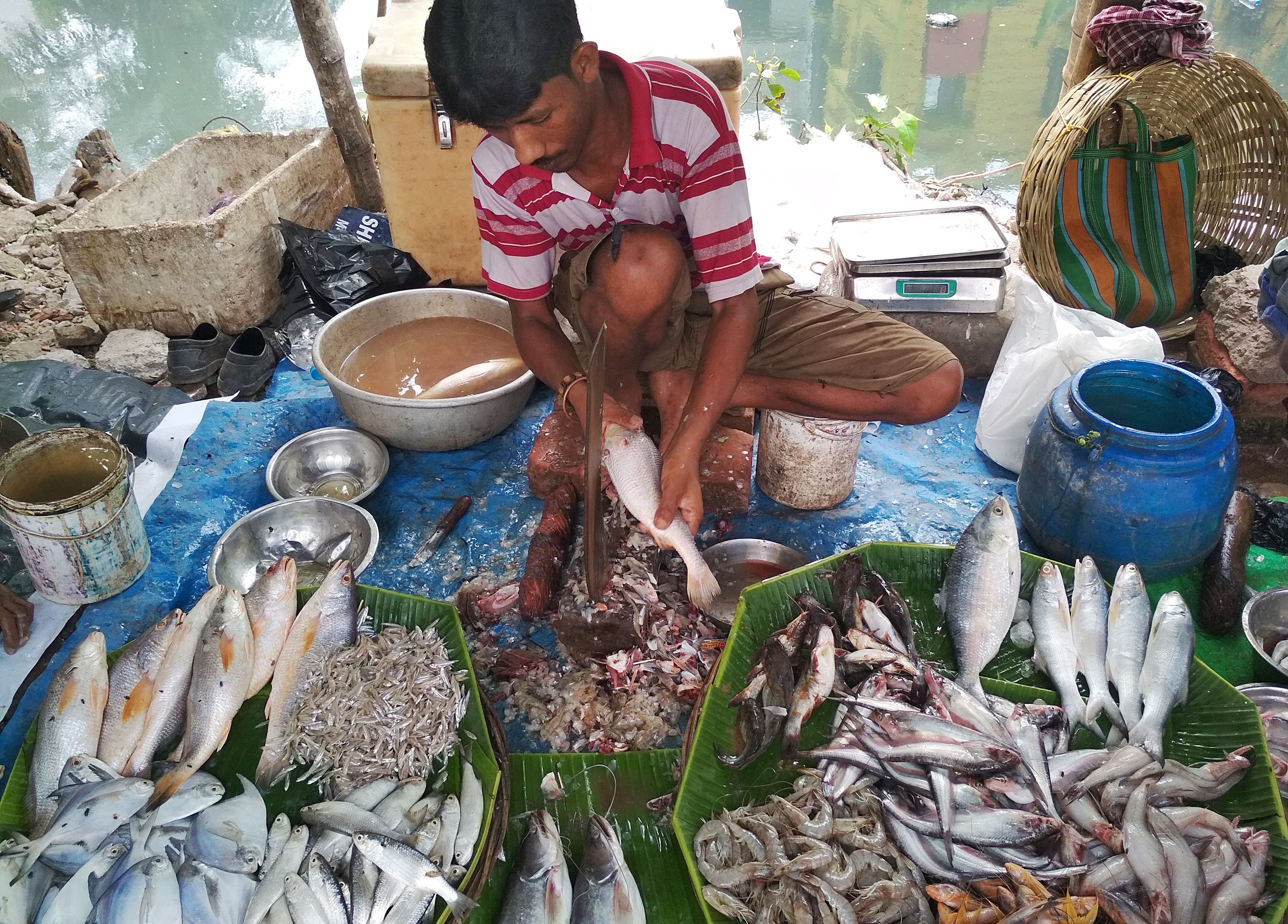 According to the marine fisheries census conducted in 2010 by the Central Marine Fisheries Research Institute and the department of animal husbandry, dairying and fisheries, there are 188 marine fishing village panchayats in Bengal along four coastal districts. There are 76,981 "fishermen households" in the state. Among these, 53,532 are families of traditional fishermen who are also small-scale fishermen. The maximum number of households are in South 24-Parganas, followed by East Midnapore.
Says Shyamal, "We do not have the exact number of fishermen affected by Amphan. But 90 per cent of them have lost their homes. The traditional fishermen live in houses with roofs made of tin, asbestos or clay tiles. They have nothing left now." The state government has promised a cash dole of Rs 10,000 to every small-scale fisherman in order to procure new boats and nets. It must be noted that the smallest fishing dinghy costs Rs 80,000 and a small gill-net comes for Rs 25,000.
Not all of it is bad news though, at least not for everyone. Patra's mind wanders about the waters teeming with fish. He says, "Hilsa will have arrived in huge quantity by the time fishing starts again, provided the monsoons are on time. Last year, it was almost September by the time we caught the first glimpse of the season's hilsa." After a pause he adds, "But hilsa or any other fish will be available in abundance, only and only if the ban is observed."
Patra is referring to the uniform deep-sea fishing ban that was introduced in 2015 by the department of fisheries, keeping in mind the time the sea fish need to grow and multiply. It was decided that, every year, fishing activity would be banned between April 15 and June 14 for the east coast, and June 1 and July 31 for the west coast. But this year, on May 25, the Centre issued a revised ban in order to offset the damage to business caused by the lockdown. According to it, the ban period for both coasts will be reduced by 14 days. Inland fisheries is fully managed by state governments, but marine fisheries is a shared responsibility of the state and the Centre.
This ban includes each and every fisherman, large, medium and small. And there is a reason why the revised timeline is equally worrying for all.
"What has not been taken into consideration is that this [premature start to fishing season] is going to harm marine life immensely," says Chatterjee of NPSSFW. Shyamal adds, "If we venture out to sea ahead of time, we will end up catching breeding fish and also destroy the seedlings and fish habitat at the bottom of the sea. If the trawlers sail out, they will catch the small fish as well. The small-scale fishermen will have to wait it out despite the waiver as they are not equipped to handle bad weather and angry waters."
Sahodev Mondal, a small-scale fisherman based out of Nandigram in East Midnapore, agrees. He says, "Trawling means hauling the fish for several kilometres. Most of the small fish are dragged along with large fish; they get killed in the process. I use gill-nets for fishing; I cast them into the waters and pull back after half an hour or so. This means only those fish would be hauled up that have got entangled. It does not damage the small fish as they can pass through the nets easily."
The solution prescribed by Chatterjee is to have a 120-day ban for trawlers and a 90-day ban for all small players. He says, "It is the minimum time the sea requires to recuperate and rejuvenate."