Bengal governor blows hot and cold
Jagdeep Dhankhar indicated he intends to improve ties with Nabanna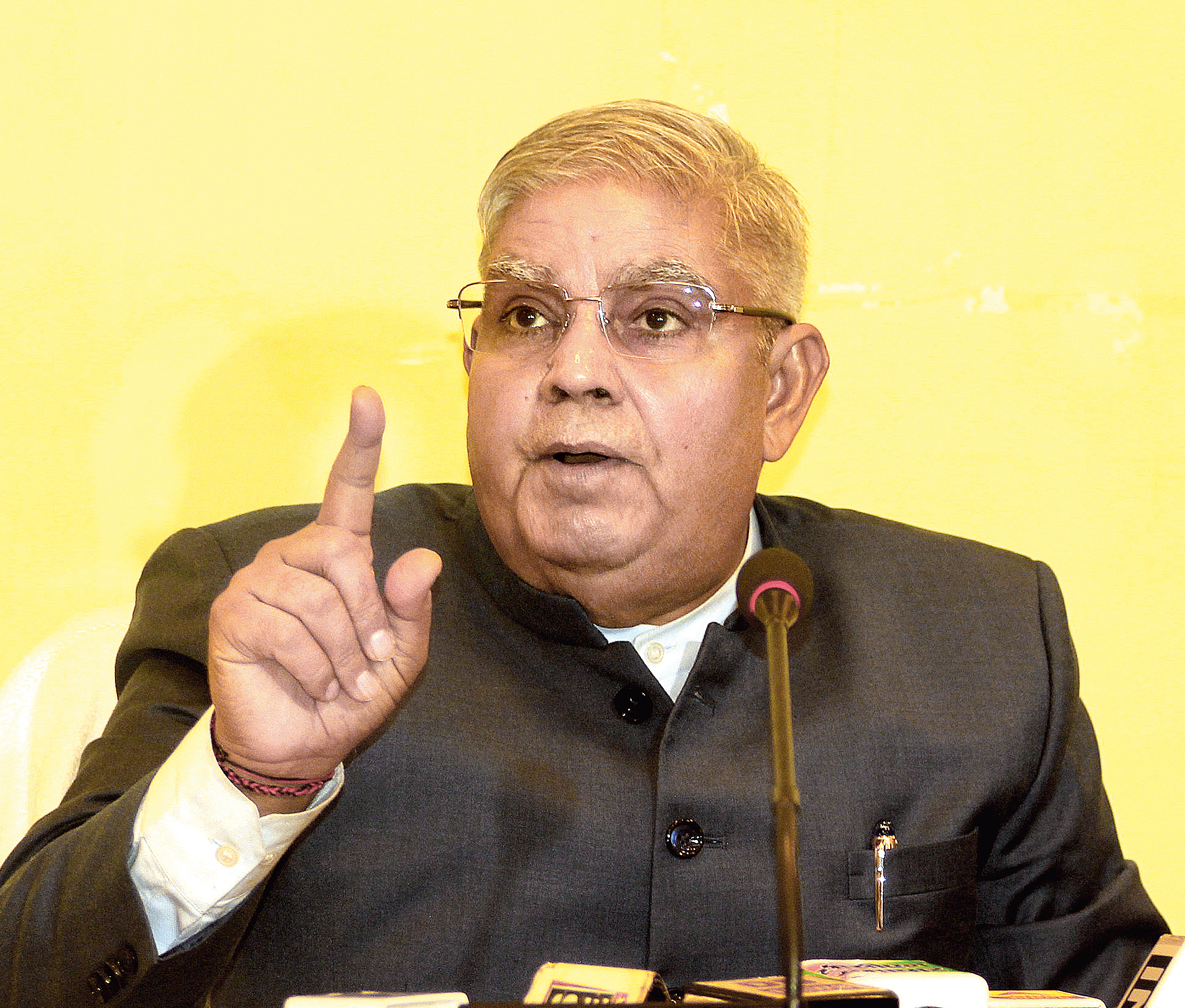 Governor Jagdeep Dhankhar at the ICC event in Siliguri on Tuesday.
Picture by Passang Yolmo
---
Siliguri
|
Published 24.09.19, 09:13 PM
|
---
Bengal governor Jagdeep Dhankhar on Tuesday expressed disappointment at the "virtual absence" of the state government and administration during his one-day visit here on Tuesday but indicated he intends to improve ties with Nabanna.
Dhankhar held talks with elected representatives and officials of Darjeeling — he spoke about being "active" — sparking murmurs, particularly because the district is one of the two in the state with no Trinamul MLA. The other is Kalimpong.
This was Dhankhar's first visit to the districts since he assumed office on July 30. The governor later met three MLAs and the MP of Darjeeling. Two other MLAs, a Rajya Sabha MP, and the district magistrate were not present.
As Dhankhar attended an event hosted by the Indian Chamber of Commerce and later spoke to reporters, he addressed a range of issues, from being "active" to his visit to Jadavpur University to Darjeeling.
Message to Mamata
She would be a friend to me. She must be a friend to me. We will be friends… and we do not have any other option. Why no other option… because people of the state of West Bengal have to be served.
What he meant: He wants improve connections with the state government.
Choosing Darjeeling
Why he picked Darjeeling district, where there is no Trinamul MLA, for his first trip outside Calcutta as governor: Siliguri is an important place and I felt it necessary to come here. In due course, I will visit all districts of Bengal and will hold such talks (like in Siliguri). The political affiliation of the elected representatives does not matter to me.
What he meant: The governor is not going to sit back. He will continue such interactions across the state. Like in Siliguri, he will receive any representation from elected representatives and, if required, will raise the matter with the state.
Absence of state
Honourable minister Gautam Deb (tourism minister) and principal secretary (home) were invited to the event (of Indian Chamber of Commerce) but it seems they could not make it due to some unavoidable state commitments.
Also, I learnt that the district magistrate is on leave. I had asked for the ADM so that he comes and takes some notes but I could not find him. Also, the man in charge of the police here was supposed to be seen. This lukewarm response of the state does not fit the culture of Bengal. I am not being judgemental and want a consensual approach.
Anyway, we had a productive meeting here and we hope that in due course, we will be able to connect with the minister and other officials, and work for the cause of public. As I said, I will continue holding such talks and it does not matter to me whether any elected representative attends the talks or not.
What he meant: An oblique indication that the minister and the state officials have avoided the event and the meeting. But the governor will continue his exercise even if Trinamul's elected representatives and state officials continue to remain absent from his meetings.
Jadavpur University
Universities should be left free. It should not act as a department of the state government or as an extension of Raj Bhavan. No one should impose anything on the varsity as the statute gives authority to the chancellor and vice-chancellor and the bodies created by them at the varsity to act on day-to-day matters. No one else has any such authority. I took up the task of connecting with their students and they gave their highest respect to their chancellor.
What he meant: He his intervention in the Jadavpur University stand-off was justified as he is the chancellor.
Hill Raj Bhavan
The Raj Bhavan in Darjeeling remains operational only when the governor is there. But this should not be the case. It is true that I did not go to the hills … I would love to see the Mount Kanchenjungha. If my work is not dictated by official work, how can I go there?
What he meant: He is not going to visit Darjeeling unless there is an official reason to.
Being 'active'
I need to be active. But I am active and I feel being active is good. If I do not get active, you (the media) will say the governor is inactive. Also, it is up to me how I do my job. I can do it by writing, meeting, visiting, typing… and explore all my options.
What he meant: That he is not going to sit back. He will continue visiting Bengal and meeting people, including elected representatives.
Friend of business
You will find a foot-soldier in Raj Bhavan. If you have a problem which needs to be raised before the state or the Centre or needs to intellectually appreciated, I will be there. This foot-soldier will also help when you don't find justice…. you can flag the issue to me;
What he meant: The governor is ready to extend all help to the business fraternity and to take up their issues with the governments.
Rajeev Kumar
There are several instances which have shown that nobody is above the law. Any person who knows the law more than others should be the first to follow the rule of law. Some people can have pretensions that he or she is above law but they are not.
What he meant: That Kumar, who is a senior police officer and a law-enforcer, should not evade the law.