Housing cash for rural poor
Fund transfer will keep the rural economy alive as the beneficiaries will have money to spend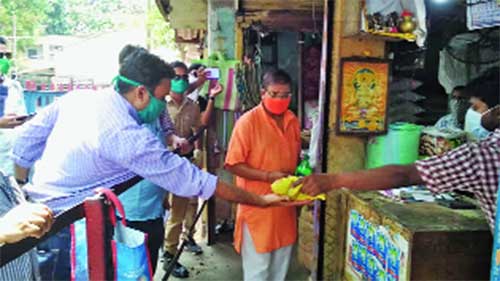 ---
|
Suri
|
Published 18.04.20, 10:34 PM
---
The Bengal government has issued an order to deposit cash in advance in the accounts of lakhs of beneficiaries of the rural housing scheme in an attempt to pump money into the rural economy through direct benefit transfer to the poor during the lockdown.
Under the Pradhan Mantri Awas Yojana, which is known as the Bangla Awas Yojana in Bengal, each beneficiary gets Rs 1.2 lakh to build a house.
The Centre and the state government contribute 60 per cent and 40 per cent, respectively, to the dole, given to the beneficiaries after they are selected as per a deprivation list prepared on the basis of socio-economic and caste census data.
Apart from the Rs 1.2 lakh, each beneficiary gets an additional Rs 18,000 as wages for 90 days under the MGNREGA for building their own house. For each day's work a beneficiary gets Rs 204.
In view of the lockdown, the state government is transferring amounts ranging between Rs 4,000 and Rs 18,000, depending on the availability of funds and the amount due to each beneficiary," said a source in Nabanna.
The fund transfer, several official said, will keep the rural economy alive as the beneficiaries will have money to spend.
Sources said that the decision to release the money in advance followed suggestions from Nobel laureate economist Abhijit Vinayak Banerjee, who is heading the global advisory board set up by the government to tackle the coronavirus pandemic and prepare a roadmap for economic recovery after the crisis is over.
According to the rules of the rural housing project, the beneficiaries get their wages in three instalments along with the funds to build the houses.
"As the brakes have been slammed on construction due to social distancing and lack of materials, the wage instalments were not released. But then, there was this realisation that the poor were facing a cash crunch due to lack of economic activities and so it was decided that wages would be disbursed among them in advance," a senior state government official said.
"The beneficiaries are very poor. They are mostly daily labourers.… Demand for commodities among this section has dried up in the past few weeks as their earnings dropped. Now, if they get cash, they will start spending and the aggregate demand in rural areas will rise, which will keep the rural economy alive," said a senior official.
According to him, the total number of beneficiaries under the housing scheme in Bengal was 11 lakh last fiscal.
"If the wages start getting deposited and the beneficiaries begin to spend again, there will surely be a spike in rural demand and that's what we want," the official said.