Bengal government readies to-do list on Omicron
Senior state government officials identified the Beliaghata ID hospital as the centre where patients of the new Covid-19 variant could be treated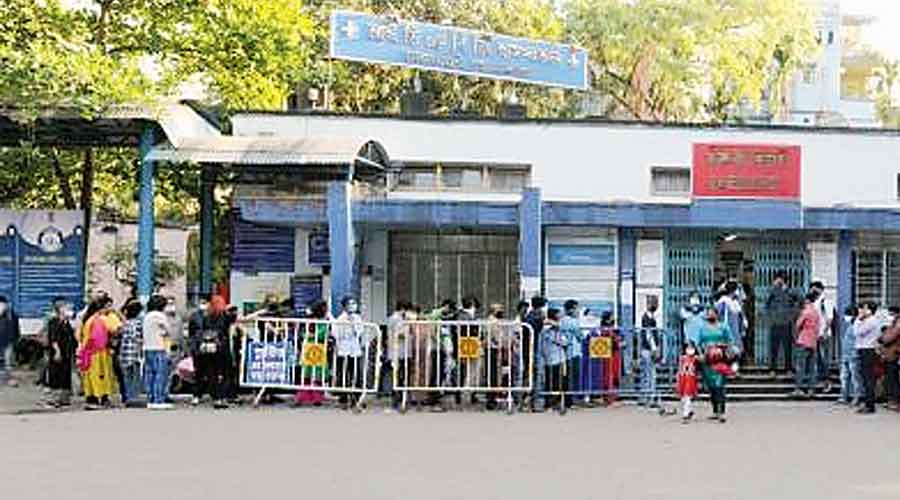 ---
Calcutta
|
Published 04.12.21, 01:28 AM
|
---
The Bengal government is planning to set up a separate wing at the Beliaghata ID hospital here for  treatment of all Omicron positive cases, if found, in the state.
During a meeting at Nabanna on Friday, senior state government officials identified the Beliaghata ID hospital as the centre where patients of the new Covid-19 variant could be treated.
From the very beginning of Covid-19 pandemic, Beliaghata ID hospital remained as the centre of excellence in Bengal. The first few hundred cases in the state were all treated here as no other hospital had the facilities to treat such an infectious disease.
"In case of Omicron too, we will rely on the Beliaghata ID hospital till we develop some additional facilities in other Covid hospitals. A separate wing will be developed for all suspected Omicron infections," said an official.
During the meeting at Nabanna, state government and Calcutta airport officials chalked out a detailed plan on how to screen international passengers and the steps thereafter to prevent the spread of the Omicron variant.
Under the plan, all passengers flying in from countries "at risk" (for Omicron) will have to undergo RT-PCR test on arrival. If anyone tests positive, his or her sample has to be sent for genomic testing and the person concerned should be admitted at a separate isolation facility for treatment till the genomic report comes. If the report is negative for Omicron variant, the person would be released according to the doctor's discretion.
In case the genomic report is Omicron positive, strict isolation and treatment protocol is to be followed till the person tests negative.
If the passengers coming in from countries "at risk" test negative, they would have to be home quarantined for seven days and undergo retest on eighth day. If the report is negative, self health monitoring is advised for another seven days.
If the passenger tests positive in the repeat test, his or her samples have to be sent for genomic testing. He or she has to follow the same procedures applicable for those who tested positive at the airport.
In case of passengers arriving from the countries which are not "at risk", RT-PCR test would be conducted on 5 per cent of passengers based on random sampling. If anybody is found positive, samples have to be sent for genomic testing and treatment should be carried out according to protocol till the genome testing report comes. The rest of the passengers are advised self health monitoring for 14 days.