Covid-19: District magistrates asked to use gram panchayat funds to cremate bodies
Many patients in rural areas die in home isolation and their families face problems in arranging cremations as private facilitators demand high fees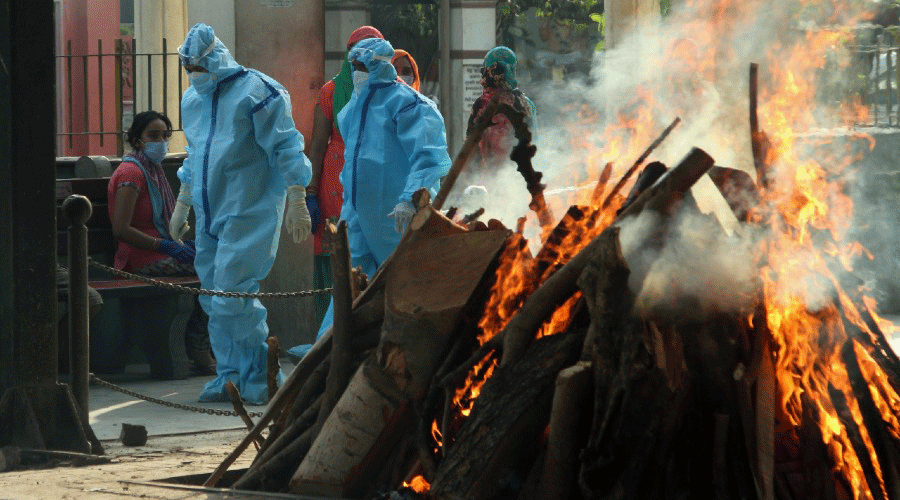 ---
---
The Bengal government has asked district magistrates to use funds available with gram panchayats and panchayat samitis to cremate the bodies of Covid-19 victims to save poor and bereaved families in rural areas from harassment.
In an order issued by the department of panchayat and rural development, district magistrates have also been directed to seek funds from the department in case gram panchayats and panchayat samitis have no funds for this task.
"I am directed to state that the dead bodies of persons affected with Covid-19 from rural areas are (to be) either brought to the crematorium/ burial ground of the adjacent municipality areas or to the local burning ghats/burial grounds for disposal…," the order signed by the special secretary of panchayat and rural development department reads.
"In this context, I am therefore directed to request you to use the available funds lying with the gram panchayats and panchayat samitis for the purposes mentioned above. In case of any shortfall of funds, a proposal may be sent to this department for taking further necessary arrangement from its end," the order added.
Sources in several districts said it was a challenge to handle the bodies of Covid-19 victims minus a directive so far on using government funds so far. Several poor families in rural areas find it tough to bear the cost of cremation in accordance to Covid protocol as individuals engaged in such jobs demand steep fees.
"Many patients in rural areas die in home isolation and their families face problems in arranging cremations as private facilitators demand fees as high as Rs 30,000 (for the job)," a district official in Birbhum said.
Last Friday, family members of a Covid patient, who died in home isolation, had to spend over 26 hours trying to cremate the body, which was finally done following the intervention of the block administration.
"Now the government will bear the cost and arrange everything to cremate the bodies of persons who die in home isolation in rural areas. In case of urban areas, municipal bodies have formed teams to cremate Covid bodies," said an official.
Sources said the government asked district magistrates verbally to use funds available with them to pay for the cremation of Covid bodies if panchayats are unable to do so amid pandemic-induced staff shortage.
"If the rural bodies have no funds, then we will give funds from the district (corpus). There will be no delay in disposing of the bodies in both urban and rural areas," said Devi Prasad Karanam, the Birbhum DM.
Sources said that people in several rural areas are not allowing cremation of Covid bodies at local crematoriums. This has led the government to ask district officials to arrange the cremation of these bodies at burial grounds or crematoriums at the nearest municipality areas.