Bengal Global Business Summit: Border bond for business boost
Bangladesh, Nepal hail Mamata Banerjee's efforts to attract investments to Bengal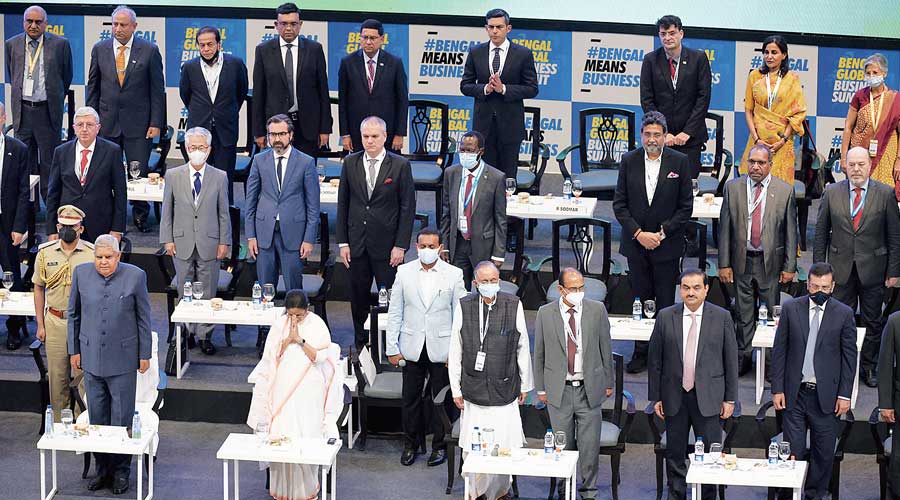 Governor Jagdeep Dhankhar, chief minister Mamata Banerjee and other dignitaries at the Bengal Global Business Summit on Wednesday.
Picture by Sanat Kr Sinha
---
Calcutta
|
Published 21.04.22, 02:50 AM
|
---
Two senior ministers from neighbouring Bangladesh and Bhutan on Wednesday praised the efforts of the Mamata Banerjee government in attracting investments to Bengal and endorsed the chief minister's view that growth in the state would have positive spin-offs beyond its international borders.
"The manner in which West Bengal has progressed and is progressing makes it apparent that people of the state did the right thing by giving responsibility to her (Mamata) .… We also want West Bengal to grow as it will also help us," Bangladesh commerce minister Tipu Munshi said at the inaugural session of the sixth edition of the Bengal Global Business Summit in Calcutta. 
"I must say, the chief minister's approach touched me deeply," he added. 
Bhutan minister for economic affairs Loknath Sharma went a step further in showering praises on Mamata as he said: "Sonar Bangla has become more Sonar Bangla under Mamata didi's leadership." 
The appreciation from the two immediate neighbours must be good news for the chief minister, who has always taken an interest in keeping a personal connection with both Dhaka and Thimphu.
Sources in the state government said as Mamata had always shared a personal rapport with Bangladeshi Prime Minister Sheikh Hasina and the royal family in Bhutan, the chief minister made it a point to invite representatives of the governments in Bangladesh and Bhutan to the summit. Both Bangladesh and Bhutan share long borders with Bengal.
As an important leader of the region, Mamata always said how both industry leaders and the entire region could benefit through investments in the state. 
"Bengal is the gateway to not only the Northeast of the country but also neighbouring countries like Bangladesh, Nepal and Bhutan," Mamata said in her inaugural address as she explained how the companies could get a larger market access and facilitate in the growth of the region.
Speaking in Bengali, Munshi appreciated the role of the chief minister and stressed the connection between the two Bengals on two sides of the border. "Here West Bengal is progressing, and on the other side, Bangladesh is also growing under the leadership of Sheikh Hasina.... Yes, we Bengalis can and we will surge ahead," said Munshi, drawing a huge round of applause. 
He added that several Bangladeshi companies were exploring investment opportunities in the state. Later, Mamata sent her greetings to Hasina through the minister. 
Sharma referred to Bhutan's long-standing relationship with India and hoped that the bonding would be strengthened further. 
"Around 90 per cent of Bhutan's trade is with India.… If Bengal grows, it will also help us," he said.