Bengal forest job queue amid language haze
Criterion of reading and writing in Bengali, with 60 marks, created a flutter in north Bengal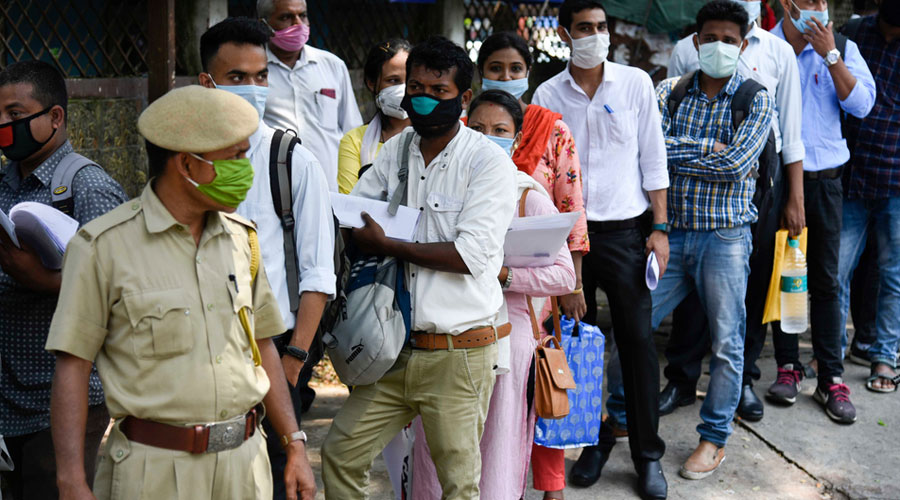 ---
---
Thousands flocked to offices of the state forest department in north Bengal to apply for the contractual job of Bana Sahayak even as chaos prevailed over the Bengali language criterion in the recruitment process.
On July 30, the state forest department issued a notice to recruit 2,000 Bana Sahayaks across the state to conserve forests and wildlife on contract with a monthly pay of Rs 10,000.
But the criterion of reading and writing in Bengali, with 60 marks, created a flutter in north Bengal, with many political parties and community organisations pointing out that thousands of youths who studied in other mediums would be deprived of the opportunity.
On Monday, thousands stood in queues in front of the offices of the deputy field directors (east and west divisions) of Buxa Tiger Reserve in Alipurduar. Some candidates had studied in other mediums but were confident of their Bengali skills, others hoped the department would eventually include languages like Nepali and Hindi in the selection process.
Ramesh Oraon, standing in the queue, said: "I have studied in Hindi medium. Questions in some other language should be there."
Senior officials of the state forest department said the issue had been referred to the state government and further instructions were awaited.
"It is true there are many prospective candidates who have not studied in Bengali medium schools," said a senior forest official, but added that proficiency in Bengali was needed to handle the daily demands of the job.
As per the notice, the test-cum-interview will be conducted on 100 marks, out of which 60 marks has been allotted for reading and writing Bengali, 20 marks for general knowledge, 10 marks for reading English or Hindi and the remaining 10 for personality fitness for forestry works.