Bengal forest department repairs storm-hit fence in Sunderbans Tiger Reserve
The artificial barrier meant to protect villagers from tigers had been heavily damaged during Cyclone Yaas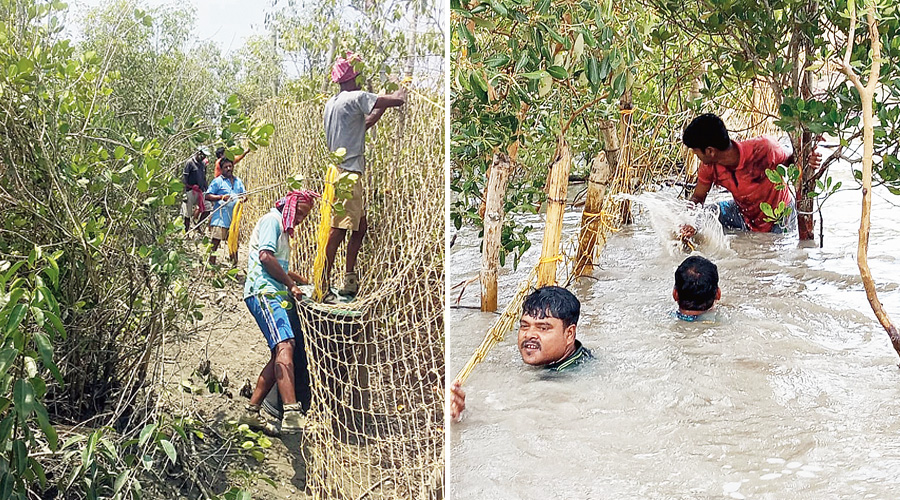 Forest department employees and local people repair nylon fences at Sajnekhali in the Sunderbans.
Telegraph Picture
---
Calcutta
|
Published 31.05.21, 01:43 AM
|
---
The Bengal forest department has started repairing a 30km stretch of nylon fence in the Sunderbans Tiger Reserve, days after Cyclone Yaas wrecked havoc in the region.
The artificial barrier meant to protect villagers from tigers had been heavily damaged in the cyclone on May 26.
A 105 km stretch of nylon fencing had been erected a few years ago to prevent man-animal conflicts, a daily reality for villagers whose livelihoods include fishing and honey foraging.
Sources said the fence had been damaged during Cyclone Amphan last year as well.
They, however, said the repair had been hindered this time because a large part of the tiger reserve had also been flooded.
"Around 30 per cent of the nylon fencing was damaged during Yaas and it is important to repair it as soon as possible to stop the entry of tigers into human habitats. Forty of our staff are working hard to repair the fences even though the bases are submerged," said Jones Justin, deputy field director of the reserve.
"It will take more than three or four days to repair the fencing completely," he added.
A survey carried out between November 2019 and January 2021 had pegged the population of royal Bengal tigers in the Sunderbans at 96.
The foresters said the repair of nylon nets was important even in inundated areas as the animals were adept at swimming and they could intrude into human habitats. Asked whether there was a threat to the staff working in high water to repair the nets, the forest officers said the risk was minimal as tigers were unable to jump out of water without land under their feet.
After the experience with Cyclone Amphan in 2020, foresters in the Sunderbans formed four separate teams and equipped them with huge nylon nets and bamboo poles at different strategic points following the landfall of Yaas so that they could start repairing the damaged fence without delay.
"We had stockpiled huge nylon nets and bamboo poles and divided them among the four separate teams to start the repairs immediately. It is normal that any animal should try to find high land after any type of natural disaster," said deputy director Justin.
The nylon fences play an important role in preventing tigers from straying into villages. There are dedicated employees, including local inhabitants, in the Sunderbans who take care of maintaining the fencing, a forester said.
During Cyclone Amphan, different parts of a 52km stretch of the nylon fencing in the tiger reserve had been damaged severely. Since the forest department was not fully equipped to face the challenge, it had deployed several teams to monitor whether tigers had then entered the villages.
The sources said apart from the nylon nets, as many as 30 departmental outposts in the mangrove's interior pockets remained partially submerged.