Bengal floods: Severe drinking water scarcity in three districts
Sources said 9,000 tube wells in West Midnapore, mainly in Ghatal subdivision, were affected, while 4,000 tube wells had become useless in Hooghly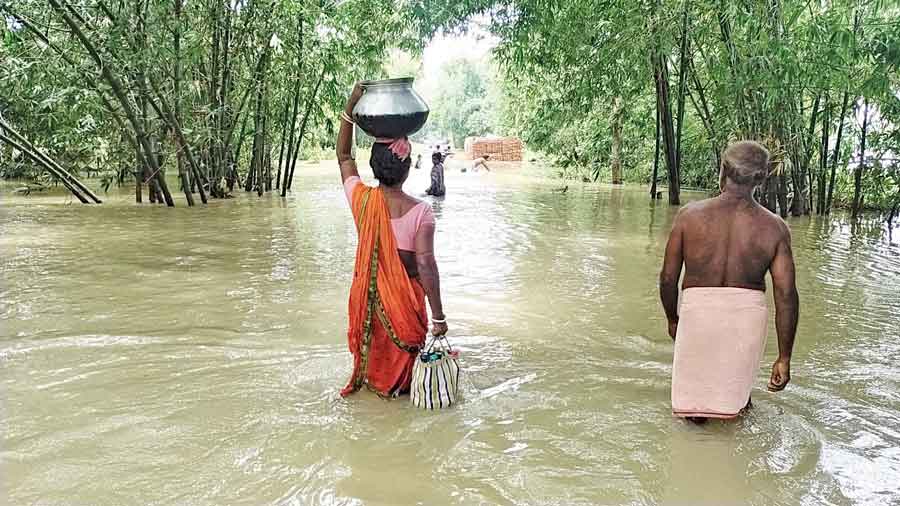 A woman carries drinking water in bottles and an aluminium pot in the flood-hit Khanakul on Thursday.
Ananda Adhikari
---
Khanakul
|
Published 06.08.21, 03:56 AM
|
---
The Bengal public health engineering department is struggling hard to combat severe scarcity of drinking water in three flood-affected districts — West Midnapore, Hooghly and Howrah — as around 15,000 tube wells have been lying inundated for several days.
After floods hit parts of Bengal, the PHE department conducted a survey which found that around 15,000 tube wells in 15 blocks of the three districts had become defunct as they were under water.
Sources said 9,000 tube wells in West Midnapore, mainly in Ghatal subdivision, were affected, while 4,000 tube wells had become useless in Hooghly. In Howrah, around 1,600 such tube wells have gone under water.
"The main problem during floods is the crisis of drinking water as tube wells go under water and remain out of use for a long time. We are struggling hard to provide water pouches by boats in remote pockets. We have distributed at least 15 lakh water pouches so far," said Pulak Roy, the PHE minister.
Officials said seven motorised pouch making units had been deployed in flood-affected districts and 15 lakh litres of water through van-mounted tanks provided so far.
"The demand for water is high and we are struggling hard to meet the demand. Although we are extending our full strength to combat the situation, the supply can't be the same as demand," said a senior PHE official.
Heavy rain and water discharge from several barrages, including the DVC, have resulted in devastating floods in areas of Hooghly's Khanakul, West Midnapore's Ghatal and Udaynarayanpur in Howrah. Chief minister Mamata Banerjee on Wednesday visited Howrah's Amta to witness the situation.
The sources said thousands of people in remote pockets of the flood-affected areas were inundated and had taken shelter on rooftops of concrete buildings. Several people, who have taken shelter on rooftops, complained that they were forced to go without food as they were unable to cook because of the lack of potable water.
"There is water everywhere but no source of drinking water. We have been staying on a rooftop for the past four days but lack of drinking water has forced us to fast," said Bimal Samanta, a resident of Khanakul's Dhanyagheri.
Asima Bauri, a 50-year-old woman from Khanakul's Bagnan, waded through flood water for around 3km to fetch drinking water for her family.
"I went with 10 small bottles and an aluminium pot to bring water from a tank installed by the government 3km from my village. We have many tube wells in our village but all have been inundated," said Asima.
PHE officials said they had sent several teams to restore the tube wells in places where water level had dropped.
"Our team to repair tube wells are on the ground but they can do little till the water recedes. We have already restored 200 tube wells in the past two days," said an official.