Bengal farmer's switch to maize pays off
By the end of the financial year, Halima had emerged as one of the largest growers of maize in Bengal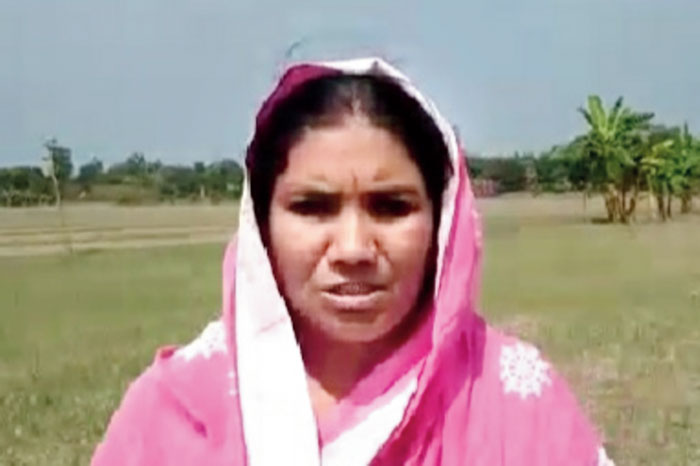 ---
|
Malda
|
Published 19.10.19, 01:01 AM
---
A small step Halima Bibi took two years ago has turned into a stride that will take the unassuming mother of two from Malda to the national capital to receive a central government award.
Life changed for Halima, who used to divide her time between domestic chores and odd jobs, when she suddenly decided the family should switch from growing paddy to maize in the summer of 2017 and threw herself into the effort.
By the end of the financial year, Halima had emerged as one of the largest growers of maize in Bengal. She will receive the Agriculture Minister's Krishi Samman for Progressive Farmers from the Union agriculture ministry later this year.
With her will be feted Bikash Burman, a farmer from Kaliaganj block in neighbouring North Dinajpur, for the same reason.
"I couldn't believe my ears when officials from the state agriculture department told me I had won the award. I have been told to prepare myself for the ceremony — the date will be announced soon," she said.
Halima and husband Zakir Hossain own 10 bighas of farmland in their village in the Narhatta panchayat of Englishbazar block. Halima had never dabbled in agriculture till three or four years ago, preferring to devote her free hours to working for a local women's self-help group.
Halima said: "When I learnt about the high demand for maize, we started cultivating the crop on half of our land but gradually shifted to growing maize across our entire 10 bighas. The agriculture department helped me a lot."
State agriculture department officials said Halima represented a changing trend in Bengal's crop fields.
"By investing Rs 8,000 to Rs 10,000 per bigha on maize, a farmer can earn a profit of Rs 30,000 to Rs 35,000. This is one reason that many farmers in Bengal are shifting to maize," an official in Malda said.
Biswajit Maitra, an economics teacher at Gour Banga University in Malda, said: "Maize commands a huge demand across India because of a change in food habits. More and more people are buying this cereal."
With farmers like Halima quickly learning the lesson, Bengal topped the country in maize production in 2017-18 and has been selected for the Centre's Krishi Karman award.
The announcement, made last month, had prompted a tweet from chief minister Mamata Banerjee.
"I am happy to share that West Bengal has been selected once again for Krishi Karman award by Govt of India for the year 2017-18, primarily for maize production. Earlier we received it for five consecutive years from 2011-12 to 2015-16," Mamata had posted.
State agriculture department sources said Bengal had won the earlier awards for pulses, and this was its maiden prize for its maize crop. They said the north Bengal districts had contributed heavily to the feat.
"As maize production in Malda has risen significantly, 15 women who were into cultivating the crop were short-listed for the award following an instruction from higher authorities. Halima Bibi outshone the rest," a senior agriculture official said.
Safeur Rahaman, a researcher and an assistant director of agriculture posted in Malda, said he was surprised at the zeal with which Halima had taken up maize cultivation. "Her selection was obvious," Rahaman said.
Maize was cultivated across 26,545 hectares in Malda during the rabi (post-monsoon) season in 2016-17, figures show.
"Now that the farmers have realised the financial advantages of producing maize, we expect the figure to soon touch 40,000 hectares," an agriculture official said.